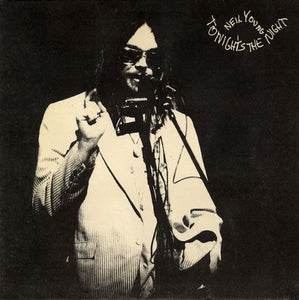 The copy we are selling is similar to the one pictured above.
Sonic Grade
Side One:
Side Two:
Vinyl Grade
Side One: Mint Minus Minus (often quieter than this grade)
Side Two: Mint Minus Minus (often quieter than this grade)*
An original (and very cool) Black Label Reprise pressing of Neil Young's brilliant sixth studio album with superb Double Plus (A++) grades on both sides - fairly quiet vinyl too
You get clean, clear, full-bodied, lively and musical ANALOG sound from first note to last
Spaciousness, richness and freedom from grit and grain are key to the better pressings, and here you will find all three
Marks in the vinyl are sometimes the nature of the beast with these vintage LPs - there simply is no way around them if the superior sound of vintage analog is important to you
5 stars: "...Young's musical expression of grief, combined with his rejection of the stardom he had achieved in the late '60s and early '70s ... was immediately recognized as a unique masterpiece by critics, and it has continued to be ranked as one of the greatest rock & roll albums ever made."
100% Money Back Guarantee on all Hot Stampers
FREE Domestic Shipping on all LP orders over $150
*NOTE: There is a mark that plays at a light to moderate level for approx. the first :40 of track 1 on side 2, "Roll Another Number (For The Road)." There is another mark that plays 18 times at a moderate level about 1/4" into track 5, "Tired Eyes."
This original Reprise pressing has the kind of Tubey Magical Midrange that modern records can barely BEGIN to reproduce. Folks, that sound is gone and it sure isn't showing signs of coming back. If you love hearing INTO a recording, actually being able to "see" the performers, and feeling as if you are sitting in the studio with the band, this is the record for you. It's what vintage all analog recordings are known for -- this sound.
If you exclusively play modern repressings of vintage recordings, I can say without fear of contradiction that you have never heard this kind of sound on vinyl. Old records have it -- not often, and certainly not always -- but maybe one out of a hundred new records do, and those are some pretty long odds.
What The Best Sides Of Tonight's the Night Have To Offer Is Not Hard To Hear
The biggest, most immediate staging in the largest acoustic space
The most Tubey Magic, without which you have almost nothing. CDs give you clean and clear. Only the best vintage vinyl pressings offer the kind of Tubey Magic that was on the tapes in 1975
Tight, note-like, rich, full-bodied bass, with the correct amount of weight down low
Natural tonality in the midrange -- with all the instruments having the correct timbre
Transparency and resolution, critical to hearing into the three-dimensional studio space
No doubt there's more but we hope that should do for now. Playing the record is the only way to hear all of the qualities we discuss above, and playing the best pressings against a pile of other copies under rigorously controlled conditions is the only way to find a pressing that sounds as good as this one does.
Learning the Record
For our shootout for Tonight's the Night, we had at our disposal a variety of pressings that had the potential for Hot Stamper sound. We cleaned them carefully, then unplugged everything in the house we could, warmed up the system, Talisman'd it, found the right VTA for our Triplanar arm (by ear of course) and proceeded to spend the next hour or so playing copy after copy on side one, after which we repeated the process for side two.
If you have five or more copies of a record and play them over and over against each other, the process itself teaches you what's right and what's wrong with the sound of the album. Once your ears are completely tuned to what the best pressings do well that the other pressings do not do as well, using a few carefully chosen passages of music, it quickly becomes obvious how well a given copy can reproduce those passages. You'll hear what's better and worse -- right and wrong would be another way of putting it -- about the sound.
This approach is simplicity itself. First, you go deep into the sound. There you find a critically important passage in the music, one which most copies struggle -- or fail -- to reproduce as well as the best. Now, with the hard-won knowledge of precisely what to listen for, you are perfectly positioned to critique any and all pressings that come your way.
It may be a lot of work but it sure ain't rocket science, and we've never pretended otherwise. Just the opposite: from day one we've explained step by step precisely how to go about finding the Hot Stampers in your own collection. Not the good sounding pressings you happen to own -- those may or may not have Hot Stampers -- but the records you actually cleaned, shot out, and declared victorious.
What We're Listening For On Tonight's the Night
Energy for starters. What could be more important than the life of the music?
Then: presence and immediacy. The vocals aren't "back there" somewhere, lost in the mix. They're front and center where any recording engineer worth his salt would put them.
The Big Sound comes next -- wall to wall, lots of depth, huge space, three-dimensionality, all that sort of thing.
Then transient information -- fast, clear, sharp attacks, not the smear and thickness so common to these LPs.
Tight punchy bass -- which ties in with good transient information, also the issue of frequency extension further down.
Next: transparency -- the quality that allows you to hear deep into the soundfield, showing you the space and air around all the instruments.
Extend the top and bottom and voila, you have The Real Thing -- an honest to goodness Hot Stamper.
Vinyl Condition
Mint Minus Minus and maybe a bit better is about as quiet as any vintage pressing will play, and since only the right vintage pressings have any hope of sounding good on this album, that will most often be the playing condition of the copies we sell. (The copies that are even a bit noisier get listed on the site are seriously reduced prices or traded back in to the local record stores we shop at.)
Those of you looking for quiet vinyl will have to settle for the sound of other pressings and Heavy Vinyl reissues, purchased elsewhere of course as we have no interest in selling records that don't have the vintage analog magic of these wonderful recordings.
If you want to make the trade-off between bad sound and quiet surfaces with whatever Heavy Vinyl pressing might be available, well, that's certainly your prerogative, but we can't imagine losing what's good about this music -- the size, the energy, the presence, the clarity, the weight -- just to hear it with less background noise.
A Must Own Record
Tonight's the Night is a recording that belongs in any serious Rock Collection. Others that belong in that category can be found here.
Side One
Tonight's the Night
Speakin' Out
World On A String
Borrowed Tune
Come On Baby Let's Go Downtown
Mellow My Mind
Side Two
Roll Another Number (For The Road)
Albuquerque
New Mama
Lookout Joe
Tired Eyes
Tonight's the Night - Part II
AMG 5 Star Rave Review
Written and recorded in 1973 shortly after the death of roadie Bruce Berry, Neil Young's second close associate to die of a heroin overdose in six months (the first was Crazy Horse guitarist Danny Whitten), Tonight's the Night was Young's musical expression of grief, combined with his rejection of the stardom he had achieved in the late '60s and early '70s. The title track, performed twice, was a direct narrative about Berry: "Bruce Berry was a working man/He used to load that Econoline van." Whitten was heard singing "Come On Baby Let's Go Downtown," a live track recorded years earlier.
Elsewhere, Young frequently referred to drug use and used phrases that might have described his friends, such as the chorus of "Tired Eyes," "He tried to do his best, but he could not." Performing with the remains of Crazy Horse, bassist Billy Talbot and drummer Ralph Molina, along with Nils Lofgren (guitar and piano) and Ben Keith (steel guitar), Young performed in the ragged manner familiar from Time Fades Away -- his voice was often hoarse and he strained to reach high notes, while the playing was loose, with mistakes and shifting tempos. But the style worked perfectly for the material, emphasizing the emotional tone of Young's mourning and contrasting with the polished sound of CSNY and Harvest that Young also disparaged.
He remained unimpressed with his commercial success, noting in "World on a String," "The world on a string/Doesn't mean anything." In "Roll Another Number," he said he was "a million miles away/From that helicopter day" when he and CSN had played Woodstock. And in "Albuquerque," he said he had been "starvin' to be alone/Independent from the scene that I've known" and spoke of his desire to "find somewhere where they don't care who I am." Songs like "Speakin' Out" and "New Mama" seemed to find some hope in family life, but Tonight's the Night did not offer solutions to the personal and professional problems it posed. It was the work of a man trying to turn his torment into art and doing so unflinchingly.
Depending on which story you believe, Reprise rejected it or Young withdrew it from its scheduled release at the start of 1974 after touring with the material in the U.S. and Europe. In 1975, after a massive CSNY tour, Young at the last minute dumped a newly recorded album and finally put Tonight's the Night out instead. Though it did not become one of his bigger commercial successes, the album was immediately recognized as a unique masterpiece by critics, and it has continued to be ranked as one of the greatest rock & roll albums ever made.