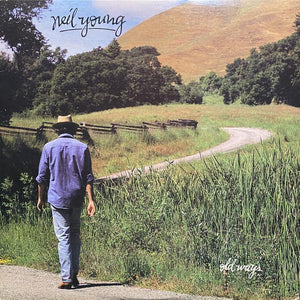 The copy we are selling is similar to the one pictured above.
Sonic Grade
Side One:
Side Two:
Vinyl Grade
Side One: Mint Minus Minus (often quieter than this grade)
Side Two: Mint Minus Minus (often quieter than this grade)
A vintage pressing with superb Double Plus (A++) grades throughout - fairly quiet vinyl too
Big, full-bodied and energetic, with remarkably present vocals - shocking for a recording from 1985
Neil's unabashed country album is guaranteed to make your MoFI pressing sound like the bad joke it was in '96
"... this turns out to be his most carefully crafted album since Comes a Time... Pretty amazing." - Rolling Stone
"Old Ways [is]...cut in the style of Harvest and Comes a Time, but with a stronger country leaning."
100% Money Back Guarantee on all Hot Stampers
FREE Domestic Shipping on all LP orders over $150
This is Neil heading out to the sticks with his buddies, authentic country greats such as Willie Nelson, Waylon Jennings and others (nice friends to have), doing what Neil loves to do -- making the music that he wants to make, not the music that anyone else wants him to, including David Geffen and his lawyers. Old friend Ben Keith (a huge part behind the sound of Harvest) shows up with his pedal steel guitar on a couple of tracks.
This probably wasn't anyone's favorite Neil Young album, but when it sounds like it does here it sure makes a lot more sense than it did when we heard it on the more mediocre pressings. The MoFi is a muckfest, as was to be expected from a record mastered during the Anadisq era, the darkest chapter in the dark and disgraceful history of Mobile Fidelity.
What The Best Sides Of Old Ways Have To Offer Is Not Hard To Hear
The biggest, most immediate staging in the largest acoustic space
The most Tubey Magic, without which you have almost nothing. CDs give you clean and clear. Only the best vintage vinyl pressings offer the kind of Tubey Magic that was on the tapes even as late as 1985
Tight, note-like, rich, full-bodied bass, with the correct amount of weight down low
Natural tonality in the midrange -- with all the instruments having the correct timbre
Transparency and resolution, critical to hearing into the three-dimensional studio space
No doubt there's more but we hope that should do for now. Playing the record is the only way to hear all of the qualities we discuss above, and playing the best pressings against a pile of other copies under rigorously controlled conditions is the only way to find a pressing that sounds as good as this one does.
Copies with rich lower mids and nice extension up top (to keep the string arrangements from becoming shrill) did the best in our shootout, assuming they weren't veiled or smeary of course.
Learning the Record
For our shootout for Old Ways, we had at our disposal a variety of pressings that had the potential for Hot Stamper sound. We cleaned them carefully, then unplugged everything in the house we could, warmed up the system, Talisman'd it, found the right VTA for our Triplanar arm (by ear of course) and proceeded to spend the next hour or so playing copy after copy on side one, after which we repeated the process for side two.
If you have five or more copies of a record and play them over and over against each other, the process itself teaches you what's right and what's wrong with the sound of the album. Once your ears are completely tuned to what the best pressings do well that the other pressings do not do as well, using a few carefully chosen passages of music, it quickly becomes obvious how well a given copy can reproduce those passages. You'll hear what's better and worse -- right and wrong would be another way of putting it -- about the sound.
This approach is simplicity itself. First, you go deep into the sound. There you find a critically important passage in the music, one which most copies struggle -- or fail -- to reproduce as well as the best. Now, with the hard-won knowledge of precisely what to listen for, you are perfectly positioned to critique any and all pressings that come your way.
It may be a lot of work but it sure ain't rocket science, and we've never pretended otherwise. Just the opposite: from day one we've explained step by step precisely how to go about finding the Hot Stampers in your own collection. Not the good sounding pressings you happen to own -- those may or may not have Hot Stampers -- but the records you actually cleaned, shot out, and declared victorious.
What We're Listening For On Old Ways
Energy for starters. What could be more important than the life of the music?
Then: presence and immediacy. The vocals aren't "back there" somewhere, lost in the mix. They're front and center where any recording engineer worth his salt would put them.
The Big Sound comes next -- wall to wall, lots of depth, huge space, three-dimensionality, all that sort of thing.
Then transient information -- fast, clear, sharp attacks, not the smear and thickness so common to these LPs.
Tight punchy bass -- which ties in with good transient information, also the issue of frequency extension further down.
Next: transparency -- the quality that allows you to hear deep into the soundfield, showing you the space and air around all the instruments.
Extend the top and bottom and voila, you have The Real Thing -- an honest to goodness Hot Stamper.
The Players and Personnel
Neil Young: guitar, banjo-guitar, harmonica, vocal
Waylon Jennings: guitar, vocal
Willie Nelson: guitar, vocal
Rufus Thibodeaux: fiddle
Ben Keith: pedal steel guitar, dobro
Tim Drummond: bass
Karl Himmel: drums
Joe Allen: bass (electric & upright)
Ralph Mooney: pedal steel guitar
Hargus "Pig" Robbins: piano
Gordon Terry: fiddle
Joe Osborn: bass
Anthony Crawford: mandolin, vocal
Terry McMillan: harmonica, jew's harp
Béla Fleck: banjo
Bobby Thompson: banjo
David Kirby: guitar
Grant Boatwright: guitar
Johnny Christopher: guitar
Ray Edenton: guitar
Gove Scrivenor: autoharp
Farrell Morris: percussion
Marty Stuart: mandolin
... as well as too many string players and other singers to list.
Vinyl Condition
Mint Minus Minus is about as quiet as any vintage pressing will play, and since only the right vintage pressings have any hope of sounding good on this album, that will most often be the playing condition of the copies we sell. (The copies that are even a bit noisier get listed on the site are seriously reduced prices or traded back in to the local record stores we shop at.)
Those of you looking for quiet vinyl will have to settle for the sound of other pressings and Heavy Vinyl reissues, purchased elsewhere of course as we have no interest in selling records that don't have the vintage analog magic of these wonderful recordings.
If you want to make the trade-off between bad sound and quiet surfaces with whatever Heavy Vinyl pressing might be available, well, that's certainly your prerogative, but we can't imagine losing what's good about this music -- the size, the energy, the presence, the clarity, the weight -- just to hear it with less background noise.
Side One
The Wayward Wind
Get Back to the Country
Are There Any More Real Cowboys?
Once an Angel
Misfits
Side Two
California Sunset
Old Ways
My Boy
Bound for Glory
Where Is the Highway Tonight?
AMG Review
In 1984, Geffen Records sued Neil Young on the grounds that he had submitted uncharacteristic, uncommercial records to the label. By the time a settlement had been reached, Young had been on the road with a country band called the International Harvesters for over a year and recorded a revamped version of Old Ways, a 1982 recording originally rejected by Geffen that was cut in the style of Harvest and Comes a Time, but with a stronger country leaning. Young depends heavily on friends, especially for vocals — Waylon Jennings sings harmony on six out of the ten tracks, and one of the others is a duet with Willie Nelson.
Though populated by cowboys and country references, Young's take on the genre is typically idiosyncratic, including a reworked version of his autobiography in "Get Back to the Country," a cover of the 1956 Gogi Grant hit "The Wayward Wind," and the uncategorizable "Misfits," which portrays astronauts watching Muhammad Ali fights on television in space.