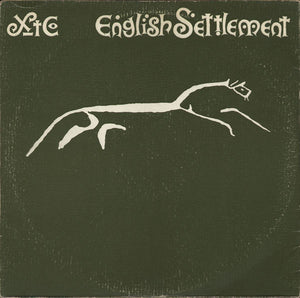 The copy we are selling is similar to the one pictured above.
Sonic Grade
Side One:
Side Two:
Side Three:
Side Four:
Vinyl Grade
Side One: Mint Minus to Mint Minus Minus
Side Two: Mint Minus to Mint Minus Minus
Side Three: Mint Minus to Mint Minus Minus
Side Four: Mint Minus to Mint Minus Minus
These early Virgin UK import pressings were doing just about everything right, earning seriously good Double Plus (A++) grades or close to them on all FOUR sides - exceptionally quiet vinyl too
You won't believe how good these records sound (particularly on sides two and three) – on a Big System with lots of firepower down low, this is a sonic tour de force, a Monster Demo Disc
Sides two and three of this copy have huge amounts of open studio space and that Tubey Magical, rich, fat, dense, bass-heavy British Rock Sound we love, and sides one and four aren't far behind in all those areas
It takes us years to get this shootout going - what happened to all the clean British pressings? They have disappeared over the last five years it seems
4 stars: "There are plenty of pop gems - 'Senses Working Overtime' stands as one of their finest songs -- but the main focus seems to be the more expansive sound...the textural sound of the album is quite remarkable."
100% Money Back Guarantee on all Hot Stampers
FREE Domestic Shipping on all LP orders over $150
Vintage covers for this album are hard to find in exceptionally clean shape. Most of the will have at least some amount of ringwear, seam wear and edge wear. We guarantee that the cover we supply with this Hot Stamper is at least VG
---
This is an amazingly well-recorded album, with huge amounts of open studio space and that Tubey Magical, rich, fat, dense British Rock Sound. That sound isn't easy to reproduce, but this copy nails it.
If you have big speakers and the room to play to play them good and loud , this is quite the sonic tour de force.
Credit Hugh Padgham, producer and engineer, who's worked with the likes of Peter Gabriel, Genesis, The Police, Yes and Emerson, Lake and Palmer. Those bands recorded music that makes good use of Padgham's trademark sound: wall-to-wall, deep, layered, smooth, rich and stuffed to the gills. XTC, with Padgham's help, have here produced a real steamroller of an album in English Settlement.
The big hit on this album is one that most audiophiles will probably know: "Senses Working Overtime." Even over the radio you can hear how dense the production is. Imagine what it sounds like on an original British pressing with Hot Stampers, played on a modern audiophile rig. Simply put, it rocks.
These vintage UK pressings have the kind of Tubey Magical Midrange that modern records can barely BEGIN to reproduce. Folks, that sound is gone and it sure isn't showing signs of coming back. If you love hearing INTO a recording, actually being able to "see" the performers, and feeling as if you are sitting in the studio with the band, these are the records for you. It's what vintage all analog recordings are known for -- this sound.
If you exclusively play modern repressings of vintage recordings, I can say without fear of contradiction that you have never heard this kind of sound on vinyl. Old records have it -- not often, and certainly not always -- but maybe one out of a hundred new records do, and those are some pretty long odds.
What The Best Sides Of English Settlement Have To Offer Is Not Hard To Hear
The biggest, most immediate staging in the largest acoustic space
The most Tubey Magic, without which you have almost nothing. CDs give you clean and clear. Only the best vintage vinyl pressings offer the kind of Tubey Magic that was on the tapes even as late as 1982
Tight, note-like, rich, full-bodied bass, with the correct amount of weight down low
Natural tonality in the midrange -- with all the instruments having the correct timbre
Transparency and resolution, critical to hearing into the three-dimensional studio space
No doubt there's more but we hope that should do for now. Playing these records are the only way to hear all of the qualities we discuss above, and playing the best pressings against a pile of other copies under rigorously controlled conditions are the only way to find pressings that sound as good as these two do.
What We're Listening For On English Settlement
For Big Production Rock Albums such as this there are some obvious problem areas that are often heard on at least one or two sides of practically any copy of this four-sided album.
With so many heavily-produced instruments crammed into the soundfield, if the overall sound is at all veiled, recessed or smeared -- problems common to 90+% of the records we play in our shootouts -- the mix quickly becomes opaque, forcing the listener to work too hard to separate out the elements of interest. Exhaustion, especially on this album, soon follows.
Transparency, clarity and presence are key. Note that none of the British copies we played were thin and anemic. (The domestic copies are made from dubs and can't begin to compete.) Almost all had plenty of tubey magic and bottom end, so thankfully that was almost never a problem. They did, however, tend to lack top end extension and transparency, and many were overly compressed. The sides that had sound that jumped out of the speakers, with driving rhythmic energy, worked the best for us. They really brought this complex music to life and allowed us to make sense of it.
This is yet another definition of a Hot Stamper -- it's the copy that lets the music work as music.
We're Big Fans
If you love Big Production Rock, exemplified by the work of Ambrosia, Yes, Supertramp, ELP, Jethro Tull and others too numerous to name, this album should be quite an experience. Over the course of a long day -- four sides for each of about ten copies is a big job, trust me -- we grew to really like this band. Their music is sophisticated and innovative, with attention to detail second to none. Add top quality musicianship -- the drummer was a real standout on practically every side -- and you have an album that will reward repeated listenings for many years to come. And really put your system to the test to boot.
Vinyl Condition
Mint Minus Minus and maybe a bit better is about as quiet as any vintage pressing will play, and since only the right vintage pressings have any hope of sounding good on this album, that will most often be the playing condition of the copies we sell. (The copies that are even a bit noisier get listed on the site are seriously reduced prices or traded back in to the local record stores we shop at.)
Those of you looking for quiet vinyl will have to settle for the sound of other pressings and Heavy Vinyl reissues, purchased elsewhere of course as we have no interest in selling records that don't have the vintage analog magic of these wonderful recordings.
If you want to make the trade-off between bad sound and quiet surfaces with whatever Heavy Vinyl pressing might be available, well, that's certainly your prerogative, but we can't imagine losing what's good about this music -- the size, the energy, the presence, the clarity, the weight -- just to hear it with less background noise.
Side One
Runaways
Ball and Chain
Senses Working Overtime
Jason and the Argonauts
Side Two
No Thugs in Our House
Yacht Dance
All of a Sudden (It's Too Late)
Side Three
Melt the Guns
Leisure
It's Nearly Africa
Knuckle Down
Side Four
Fly on the Wall
Down in the Cockpit
English Roundabout
Snowman
AMG 4 Star Review
Several new instruments within the band -- Dave Gregory's Rickenbacker 12-string, Andy Partridge's new acoustic guitar, and Terry Chambers' new drum synthesizer, along with Colin Moulding's fretless bass -- set the tone for English Settlement, an album that moved away from the pop gloss of Black Sea in favor of light, though still rhythmically heavy, acoustic numbers with more complex and intricate instrumentation.
There are plenty of pop gems -- "Senses Working Overtime" stands as one of their finest songs -- but the main focus seems to be the more expansive sound; most of the songs are drawn out to near-epic length, ultimately taking away some of the songs' impact. Despite several terrific tracks, English Settlement seems more a transitional album than anything else, although the textural sound of the album is quite remarkable, indicating the direction they would take in their post-touring incarnation.