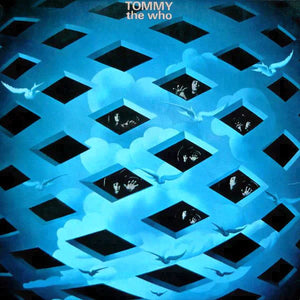 The copy we are selling is similar to the one pictured above.
Sonic Grade
Side One:
Side Two:
Side Three:
Side Four:
Vinyl Grade
Side One: Mint Minus Minus (often quieter than this grade)
Side Two: Mint Minus Minus (often quieter than this grade)
Side Three: Mint Minus Minus (often quieter than this grade)
Side Four: Mint Minus Minus (often quieter than this grade)
Boasting solid Double Plus (A++) grades on all FOUR sides, this vintage UK import copy is doing just about everything right - fairly quiet vinyl too
Both of these early Black Label British Track pressings have the rich, spacious, Tubey Magical sound that has the power to immerse you in the story of a deaf, dumb and blind boy named Tommy
Top 100, and clearly our pick for the best sounding album The Who ever made - when you play a copy that sounds as good as this one we think you'll have no problem seeing our point
4 1/2 stars: "...Townshend's ability to construct a lengthy conceptual narrative brought new possibilities to rock music."
More of The Who / More of the Most Tubey Magical Rock Recordings of All Time
100% Money Back Guarantee on all Hot Stampers
FREE Domestic Shipping on all LP orders over $150
Vintage covers for this album are hard to find in exceptionally clean shape. Most of the will have at least some amount of ringwear, seam wear and edge wear. We guarantee that the cover we supply with this Hot Stamper is at least VG
---
I know of no other Who album with such consistently good sound -- song to song, not copy to copy, of course. Just about every song on here can sound wonderful on the right pressing. If you're lucky enough to get a Hot Stamper copy, you're going to be blown away by the Tubey Magical Guitars, the rock-solid bottom end, the jumpin'-out-of-the-speakers presence and dynamics, and the silky vocals and top end.
Usually the best we can give you for The Who is "Big and Rockin," but on Tommy, we can give you 60s analog magic that will all but disappear in the decades to follow.
Acoustic guitar reproduction is key to this recording, and on the better copies the harmonic coherency, the richness, the body and the phenomenal amounts of Tubey Magic can be heard in every strum.
What The Best Sides Of Tommy Have To Offer Is Not Hard To Hear
The biggest, most immediate staging in the largest acoustic space
The most Tubey Magic, without which you have almost nothing. CDs give you clean and clear. Only the best vintage vinyl pressings offer the kind of Tubey Magic that was on the tapes in 1969
Tight, note-like, rich, full-bodied bass, with the correct amount of weight down low
Natural tonality in the midrange -- with all the instruments having the correct timbre
Transparency and resolution, critical to hearing into the three-dimensional studio space
No doubt there's more but we hope that should do for now. Playing these records are the only way to hear all of the qualities we discuss above, and playing the best pressings against a pile of other copies under rigorously controlled conditions are the only way to find pressings that sound as good as these two do.
This is some of the best High-Production-Value rock music of the 60s and 70s. The amount of effort that went into the recording of this album is comparable to that expended by the engineers and producers of bands like Supertramp, Yes, Jethro Tull, Ambrosia, Pink Floyd and too many others to list. It seems that no effort or cost was spared in making the home listening experience as compelling as the recording technology of the day permitted.
Big Production Tubey Magical British Rock & Roll just doesn't get much better than Tommy.
What We're Listening For On Tommy
Energy for starters. What could be more important than the life of the music?
Then: presence and immediacy. The vocals aren't "back there" somewhere, lost in the mix. They're front and center where any recording engineer worth his salt would put them.
The Big Sound comes next -- wall to wall, lots of depth, huge space, three-dimensionality, all that sort of thing.
Then transient information -- fast, clear, sharp attacks, not the smear and thickness so common to these LPs.
Tight punchy bass -- which ties in with good transient information, also the issue of frequency extension further down.
Next: transparency -- the quality that allows you to hear deep into the soundfield, showing you the space and air around all the instruments.
Extend the top and bottom and voila, you have The Real Thing -- an honest to goodness Hot Stamper.
The Tubey Magic Top Ten
You don't need tube equipment to hear the prodigious amounts of Tubey Magic that exist on this recording. For those of you who've experienced top quality analog pressings of Meddle or Dark Side of the Moon, or practically any jazz album on Contemporary, whether played through tubes or transistors, that's the luscious sound of Tubey Magic, and it is all over Tommy.
Ranked strictly in terms of Tubey Magic I would have to put this album on our list of Most Tubey Magical Rock Recordings of All Time, right up there with, and in no particular order:
Sgt. Pepper (1967)
Meddle (1971)
Dark Side of the Moon (1973)
The Eagles (1972)
Tommy (1969)
Dire Straits (1977, and clearly the outlier in this group)
The Doors (1967)
Ziggy Stardust (1972)
Tumbleweed Connection (1970)
A Space in Time (1970)
... and a handful of others to be named later.
Vinyl Condition
Mint Minus Minus and maybe a bit better is about as quiet as any vintage pressing will play, and since only the right vintage pressings have any hope of sounding good on this album, that will most often be the playing condition of the copies we sell. (The copies that are even a bit noisier get listed on the site are seriously reduced prices or traded back in to the local record stores we shop at.)
Those of you looking for quiet vinyl will have to settle for the sound of other pressings and Heavy Vinyl reissues, purchased elsewhere of course as we have no interest in selling records that don't have the vintage analog magic of these wonderful recordings.
If you want to make the trade-off between bad sound and quiet surfaces with whatever Heavy Vinyl pressing might be available, well, that's certainly your prerogative, but we can't imagine losing what's good about this music -- the size, the energy, the presence, the clarity, the weight -- just to hear it with less background noise.
A Must Own Who Album
We consider this concept album a Masterpiece. It's a recording that belongs in any serious Rock Music Collection.
Others that belong in that category can he found here.
Side One
Overture
It's a Boy
1921
Amazing Journey
Sparks
The Hawker
Side Two
Christmas
Cousin Kevin
The Acid Queen
Underture
Side Three
Do You Think It's Alright?
Fiddle About
Pinball Wizard
There's a Doctor
Go to the Mirror!
Tommy, Can You Hear Me?
Smash the Mirror
Sensation
Side Four
Miracle Cure
Sally Simpson
I'm Free
Welcome
Tommy's Holiday Camp
We're Not Gonna Take It
AMG 4 1/2 Star Review
... the double album has many excellent songs, including "I'm Free," "Pinball Wizard," "Sensation," "Christmas," "We're Not Gonna Take It," and the dramatic ten-minute instrumental "Underture." Though the album was slightly flawed, Townshend's ability to construct a lengthy conceptual narrative brought new possibilities to rock music.
Despite the complexity of the project, he and the Who never lost sight of solid pop melodies, harmonies, and forceful instrumentation, imbuing the material with a suitably powerful grace.