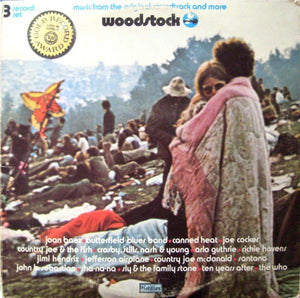 The copy we are selling is similar to the one pictured above.
Sonic Grade
Side One:
Side Two:
Side Three:
Side Four:
Side Five:
Side Six:
Vinyl Grade
Side One: Mint Minus Minus
Side Two: Mint Minus Minus
Side Three: Mint Minus Minus
Side Four: Mint Minus Minus
Side Five: Mint Minus Minus
Side Six: Mint Minus Minus
These original pressings boast seriously good Double Plus (A++) sound or BETTER on all SIX sides
With Mint Minus Minus vinyl and no marks that can be heard, you will have a very hard time finding a copy that plays this well
We guarantee there is dramatically more richness, fullness, vocal presence, and performance energy on this copy than others you've heard, and that's especially true if you made the mistake of buying whatever Heavy Vinyl pressing is currently on the market
"As potent a musical time capsule as ever existed, it captures the three-day, 1969 concert event that united close to half a million members of what came to be known as the 'Woodstock Generation.' It topped the Billboard Charts for four weeks and sold two million copies."
100% Money Back Guarantee on all Hot Stampers
FREE Domestic Shipping on all LP orders over $150
You will have a hard time finding a quieter copy!
Folks, it was a struggle, let me tell you! Not as much of a struggle as putting on the concert itself to be sure, but a struggle for those of us charged with finding good sound on this famously badly recorded album.
First off there are six sides to play for every copy.
Secondly the sound is problematical at best; figuring out what the better copies do well that the run-of-the-mill copies don't takes quite a bit of concentration, and one has to stay focused for a long time (most of the day in fact). After a while it can really start to wear on your nerves.
What The Best Sides Of Woodstock Have To Offer Is Not Hard To Hear
The biggest, most immediate staging in the largest acoustic space
The most Tubey Magic, without which you have almost nothing. CDs give you clean and clear. Only the best vintage vinyl pressings offer the kind of Tubey Magic that was on the tapes in 1970
Tight, note-like, rich, full-bodied bass, with the correct amount of weight down low
Natural tonality in the midrange -- with all the instruments having the correct timbre
Transparency and resolution, critical to hearing into the three-dimensional studio space
No doubt there's more but we hope that should do for now. Playing these records are the only way to hear all of the qualities we discuss above, and playing the best pressings against a pile of other copies under rigorously controlled conditions is the only way to find pressings that sound as good as these three do.
Standard Operating Procedures
What are the criteria by which a record like this should be judged? Pretty much the ones we discuss in most of our Hot Stamper listings: energy, vocal presence, frequency extension (on both ends), transparency, harmonic textures (freedom from smear is key), rhythmic drive, tonal correctness, fullness, richness, and so on down through the list.
When we can get all, or most all, of the qualities above to come together on any given side we provisionally award it a grade of "contender." Once we've been through all our copies on one side we then play the best of the best against each other and arrive at a winner for that side. Repeat the process for the other side and the shootout is officially over. All that's left is to see how the sides matched up.
Record shootouts may not be rocket science, but they're a science of a kind, one with strict protocols developed over the course of many years to ensure that the sonic grades we assign to our Hot Stampers are as accurate as we can make them.
The result of all our work speaks for itself, on this very record in fact. We guarantee you have never heard this music sound better than it does on our Hot Stamper pressing -- or your money back.
What We're Listening For On Woodstock
Energy for starters. What could be more important than the life of the music?
Then: presence and immediacy. The vocals aren't "back there" somewhere, lost in the mix. They're front and center where any recording engineer worth his salt would put them.
The Big Sound comes next -- wall to wall, lots of depth, huge space, three-dimensionality, all that sort of thing.
Then transient information -- fast, clear, sharp attacks, not the smear and thickness so common to these LPs.
Tight punchy bass -- which ties in with good transient information, also the issue of frequency extension further down.
Next: transparency -- the quality that allows you to hear deep into the soundfield, showing you the space and air around all the instruments.
Extend the top and bottom and voila, you have The Real Thing -- an honest to goodness Hot Stamper.
Vinyl Condition
Mint Minus Minus and maybe a bit better is about as quiet as any vintage pressing will play, and since only the right vintage pressings have any hope of sounding good on this album, that will most often be the playing condition of the copies we sell. (The copies that are even a bit noisier get listed on the site are seriously reduced prices or traded back in to the local record stores we shop at.)
Those of you looking for quiet vinyl will have to settle for the sound of other pressings and Heavy Vinyl reissues, purchased elsewhere of course as we have no interest in selling records that don't have the vintage analog magic of these wonderful recordings.
If you want to make the trade-off between bad sound and quiet surfaces with whatever Heavy Vinyl pressing might be available, well, that's certainly your prerogative, but we can't imagine losing what's good about this music -- the size, the energy, the presence, the clarity, the weight -- just to hear it with less background noise.
Side One
John B. Sebastian - I Had a Dream
Canned Heat - Going Up the Country
Stage Announcements
Richie Havens - Freedom
Country Joe & The Fish - Rock and Soul Music
Arlo Guthrie - Coming Into Los Angeles
Sha Na Na - At the Hop
Side Two
Country Joe McDonald - The 'Fish' Cheer / I-Feel-Like-I'm-Fixin'-To-Die Rag
Joan Baez feat. Jeffrey Shurtleff - Drug Store Truck Drivin' Man
Joan Baez - Joe Hill
Stage Announcements
Crosby, Stills & Nash - Suite: Judy Blue Eyes
Crosby, Stills, Nash & Young - Sea of Madness
Side Three
Crosby, Stills, Nash & Young - Wooden Ships
The Who - We're Not Gonna Take It
Stage Announcements
Joe Cocker - With a Little Help From My Friends
Side Four
Crowd Rain Chant
Santana - Soul Sacrifice
Stage Announcements
Ten Years After - I'm Going Home
Side Five
Jefferson Airplane - Volunteers
Max Yasgur
Sly and the Family Stone - Medley: Dance to the Music / Music Lover / I Want to Take You Higher
John B. Sebastian - Rainbows All Over Your Blues
Side Six
Butterfield Blues Band - Love March
Jimi Hendrix - Star Spangled Banner / Purple Haze & Instrumental Solo
AMG Review
It's almost impossible to regard the soundtrack albums for the Michael Wadleigh documentary Woodstock, simply as music, apart from the event that inspired them or what that event has come to represent. Music from the Original Soundtrack and More: Woodstock was originally released by Atlantic's Cotillion imprint as a three-LP set in a gatefold sleeve. It topped the Billboard Charts for four weeks and sold two million copies.
It sold so well that Cotillion issued a sequel double album of more music from the festival that never appeared in the film. The LPs took the music out of the historical sequence of the festival and re-ordered (and edited) it for a sense of flow. Whether or not it accomplished its objective has been the subject of much debate and beyond this review's scope. What is relevant is that these performances signified ... that there was an amazing array of legendary talent on hand at Woodstock...."