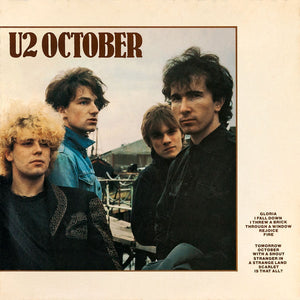 The copy we are selling is similar to the one pictured above.
Sonic Grade
Side One:
Side Two:
Vinyl Grade
Side One: Mint Minus Minus
Side Two: Mint Minus Minus*
You'll find superb Double Plus (A++) grades or close to them throughout this vintage copy of the band's 1981 release
This side two is balanced, musical and full throughout (and side one is not far behind in all those areas) - this pressing is a solid step up from all other originals that we played (particularly on side two)
"... when U2 marry the message, melody, and sound together, as on "Gloria," "I Threw a Brick Through a Window," and "I Fall Down," the results are thoroughly impressive."
100% Money Back Guarantee on all Hot Stampers
FREE Domestic Shipping on all LP orders over $150
*NOTE: There is an aubile swoosh that plays lightly for approx. 30 seconds at the start of track 1 on side 2, "Tomorrow." Track 2, "October," plays a little noisier than Mint Minus Minus.
Vintage covers for this album are hard to find in exceptionally clean shape. Most of the will have at least some amount of ringwear, seam wear and edge wear. We guarantee that the cover we supply with this Hot Stamper is at least VG
---
Recordings from the 80s are always a bit tricky in terms of their sound quality, and U2 is not a band we have ever associated with the highest audiophile-quality sonics. We've been through a number of their albums now, including War, The Unforgettable Fire, and The Joshua Tree, and while Demo Quality Sound may never be in the cards for these guys, we've at least found a handful of pressings that do a much better job of communicating their music than others, and certainly a great deal better than any Heavy Vinyl reissue or digital source.
It's not often that we come across audiophile-quality sound for U2's early titles. The average copy of this record sounds as dry and flat as a cassette. Not this one, or to be more precise, not this pressing.
What The Best Sides Of October Have To Offer Is Not Hard To Hear
The biggest, most immediate staging in the largest acoustic space
The most Tubey Magic, without which you have almost nothing. CDs give you clean and clear. Only the best vintage vinyl pressings offer the kind of Tubey Magic that was on the tapes even as late as 1981
Tight, note-like, rich, full-bodied bass, with the correct amount of weight down low
Natural tonality in the midrange -- with all the instruments (and effects!) having the correct timbre
Transparency and resolution, critical to hearing into the three-dimensional studio space
No doubt there's more -- there always is -- but we hope that should do for now. Playing the record is the only way to hear all of the qualities we discuss above, and playing the best pressings against a pile of other copies under rigorously controlled conditions is the only way to find a pressing that sounds as good as this one does.
What We're Listening For On October
For Big Production Rock Albums like October, there are some obvious problem areas that are often noticeable on at least one side of practically every copy we played.
With so many heavily-produced instruments crammed into the soundfield, if the overall sound is at all veiled, recessed or smeared -- problems common to 90+% of the records we play in our shootouts -- the mix quickly becomes opaque, forcing the listener to work too hard to separate out the elements of interest. Exhaustion, especially on this album, soon follows.
Transparency, clarity and presence are key. The sides that had sound that jumped out of the speakers, with driving rhythmic energy, worked the best for us. They really brought this complex music to life and allowed us to make sense of it. This is yet another definition of a Hot Stamper -- it's the copy that lets the music work as music.
Vinyl Condition
Mint Minus Minus is about as quiet as any vintage pressing will play, and since only the right vintage pressings have any hope of sounding good on this album, that will most often be the playing condition of the copies we sell. (The copies that are even a bit noisier get listed on the site are seriously reduced prices or traded back in to the local record stores we shop at.)
Those of you looking for quiet vinyl will have to settle for the sound of later pressings and Heavy Vinyl reissues, purchased elsewhere of course as we have no interest in selling records that don't have the vintage analog magic of these wonderful originals.
If you want to make the trade-off between bad sound and quiet surfaces with whatever Heavy Vinyl pressing might be available, well, that's certainly your prerogative, but we can't imagine losing what's good about this music -- the size, the energy, the presence, the clarity, the weight -- just to hear it with less background noise.
Side One
Gloria
I Fall Down
I Threw A Brick Through A Window
Rejoice
Fire
Side Two
Tomorrow
October
With A Shout (Jerusalem)
Stranger In A Strange Land
Scarlet
Is That All?
AMG Review
U2 sounded so confident and assured on their debut that perhaps it was inevitable they would stumble slightly on its follow-up, October. The record isn't weaker than its predecessor because it repeats the formula of Boy. It's because the band tries too hard to move forward. But when U2 do marry the message, melody, and sound together, as on "Gloria," "I Threw a Brick Through a Window," and "I Fall Down," the results are thoroughly impressive.
Additional Reviews
Dave McCullough of Sounds praised the album and said: "A kind of zenith pop then, no half measures. It all breathes fire, recovering too from the pair of standouts appearing at the start of each side – 'Gloria' being possibly Their Finest Moment and 'Tomorrow,' low and muted, gently oozing emotion." McCullough concluded, 'This October will last forever.'"
Adam Sweeting of Melody Maker also wrote a favorable review, saying: "Their whole musical sensibility is shaped by a strong emotional bond to their homeland and its traditions. It gives them a completely different frame of reference from most groups, and on 'October' it's given them the strength to assimilate a barrage of disorientation and to turn that into a cohesive body of music."
-Wikipedia