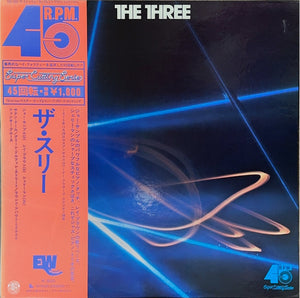 The copy we are selling is similar to the one pictured above.
Sonic Grade
Side One:
Side Two:
Vinyl Grade
Side One: Mint Minus Minus
Side Two: Mint Minus Minus
Amazing sound throughout this Japanese import pressing, with both sides earning INSANELY GOOD Shootout Winning Triple Plus (A+++) grades
The transients are uncannily lifelike - listen for the powerful kinetic energy produced when Shelly whacks the hell out of his cymbals
My favorite Piano Trio Jazz Album of All Time; every one of the tracks is brilliantly arranged and performed
4 stars: "One of Joe Sample's finest sessions as a leader" - with Shelly Manne and Ray Brown, we would say it's clearly his finest session, as a leader or simply as the piano player in a killer trio
More Shelly Manne / More Jazz Recordings Featuring the Piano
100% Money Back Guarantee on all Hot Stampers
FREE Domestic Shipping on all LP orders over $150
If you want to hear the full six tunes recorded by The Three at that famous Hollywood session (which ran all day and long into the night, 4 AM to be exact), our 33 RPM pressings are your best bet.
If you want absolutely amazing, mind-blowing, you-are-there sound, a Hot Stamper 45 is the only way to go.
The music is so good that I personally would not want to live without the complete album. The Three is, in fact, my favorite Piano Trio Jazz Album of All Time; every one of those six tracks is brilliantly arranged and performed (if you have the right takes of course; more about that later).
This East Wind import pressing has the kind of Tubey Magical Midrange that modern records rarely even BEGIN to reproduce. Folks, that sound is gone and it sure isn't showing signs of coming back. If you love hearing INTO a recording, actually being able to "see" the performers, and feeling as if you are sitting in the studio with this stellar trio, this is the record for you. It's what vintage all analog recordings are known for -- this sound.
If you exclusively play modern repressings of vintage recordings, I can say without fear of contradiction that you have never heard this kind of sound on vinyl. Old records have it -- not often, and certainly not always -- but maybe one out of a hundred new records do, and those are some pretty long odds.
What The Best Sides Of The Three Have To Offer Is Not Hard To Hear
The biggest, most immediate staging in the largest acoustic space
The most Tubey Magic, without which you have almost nothing. CDs give you clean and clear. Only the best vintage vinyl pressings offer the kind of Tubey Magic that was on the tapes in 1976
Tight, note-like, rich, full-bodied bass, with the correct amount of weight down low
Natural tonality in the midrange -- with all the instruments having the correct timbre
Transparency and resolution, critical to hearing into the three-dimensional studio space
No doubt there's more but we hope that should do for now. Playing the record is the only way to hear all of the qualities we discuss above, and playing the best pressings against a pile of other copies under rigorously controlled conditions is the only way to find a pressing that sounds as good as this one does.
The Piano
If you have full-range speakers some of the qualities you may recognize in the sound of the piano are weight and warmth. The piano is not hard, brittle or tinkly. Instead, the better copies show you a wonderfully full-bodied, warm, rich, smooth piano, one which sounds remarkably like the ones we've all heard countless times in piano bars and restaurants.
In other words, like a real piano -- not a recorded one.
This is what we look for in a good piano recording. Bad mastering can ruin the sound, and often does, along with worn out stampers and bad vinyl and five-gram needles that scrape off the high frequencies. But a few -- a very few -- copies survive all such hazards. They manage to reproduce the full spectrum sound of the piano (and of course the wonderful performances of the musicians) on vintage vinyl, showing us the kind of sound we never expected from a non-descript jazz album such as this.
What We're Listening For On The Three
Energy for starters. What could be more important than the life of the music?
The Big Sound comes next -- wall to wall, lots of depth, huge space, three-dimensionality, all that sort of thing.
Then transient information -- fast, clear, sharp attacks, not the smear and thickness so common to these LPs.
Tight, full-bodied bass -- which ties in with good transient information, also the issue of frequency extension further down.
Next: transparency -- the quality that allows you to hear deep into the soundfield, showing you the space and air around all the instruments.
Extend the top and bottom and voila, you have The Real Thing -- an honest to goodness Hot Stamper.
More on the Subject of Energy
This is a quality no one seems to be writing about, other than us of course, but what could possibly be more important? On this record, the more energetic copies took the players' performances to a level beyond all expectations. It is positively shocking how lively and dynamic the better copies of this record are. I know of no other recording with this combination of sonic and musical energy. It is sui generis, in a league of its own.
Both sides are so transparent you can hear Shelly Manne vocalizing as he's playing the drums. The drum solo on side two is killer here. So full of energy and so dynamic. Why aren't more drum kits recorded this well? Check out the pictures inside the fold-open cover to see all the mikes that were used on the drums. That's where that wall to wall, floor to ceiling sound comes from.
The transients are uncannily lifelike, conveying the huge amounts of kinetic energy produced when Shelly whacks the hell out of his cymbals.
Ne Plus Ultra Piano Trio
This record is made from the "backup" tape for the session. East Wind released two versions of the famous direct to disc version at 33 RPM, and for those of you who bother to read the commentary, you know that take one of that pressing presents a completely different performance of the music than the one found on the record on offer here.
There was a time when the better copies of a recording like this would go directly into my collection. If I wanted to impress someone, audiophile or otherwise, with the You-Are-There illusion that only Big Speakers in a dedicated room playing a live recording can create, this would be up near the top of the list. There is practically nothing like it on vinyl in my experience.
This is without a doubt my favorite piano trio record of all time. Joe Sample, Shelly Manne, and Ray Brown only made one album together -- this one -- recorded direct to disc right here in Los Angeles for East Wind in the Seventies. Joe Sample for once in his life found himself in a real Class A trio, and happily for jazz fans around the world, he rose to the occasion. Actually, it was more like an epiphany, as this is the one piano trio album I put in a class by itself. All three of The Three are giving us the best they've got on that November day in 1975.
When it comes to small combo piano jazz, there is none better.
Vinyl Condition
Mint Minus Minus and maybe a bit better is about as quiet as any vintage pressing will play, and since only the right vintage pressings have any hope of sounding good on this album, that will most often be the playing condition of the copies we sell. (The copies that are even a bit noisier get listed on the site are seriously reduced prices or traded back in to the local record stores we shop at.)
Those of you looking for quiet vinyl will have to settle for the sound of other pressings and Heavy Vinyl reissues, purchased elsewhere of course as we have no interest in selling records that don't have the vintage analog magic of these wonderful recordings.
If you want to make the trade-off between bad sound and quiet surfaces with whatever Heavy Vinyl pressing might be available, well, that's certainly your prerogative, but we can't imagine losing what's good about this music -- the size, the energy, the presence, the clarity, the weight -- just to hear it with less background noise.
A Must Own Jazz Record
We consider this Piano Trio album a Masterpiece. It's a recording that should be part of any serious Jazz Collection.
Others that belong in that category can be found here.
Side One
On Green Dolphin Street
Satin Doll
Side Two
Round About Midnight
Funky Blues
AMG 4 Star Review
...features pianist Joe Sample, bassist Ray Brown and drummer Shelly Manne exploring five jazz standards plus Sample's "Funky Blues" in purely straight-ahead fashion. One of Joe Sample's finest sessions as a leader, this obscure outing is highlighted by his renditions of Oliver Nelson's "Yearnin'," "On Green Dolphin Street" and "Manha Do Carnaval."
Amazon Rave Review
-- Ken Dryden
Before Joe Sample detoured into smooth jazz, he was a first-rate bop pianist. This 1975 set found bassist Ray Brown and drummer Shelly Manne (the latter two had worked together often, particularly with Barney Kessel), getting together for a session of standards, familiar jazz compositions, and one original.
The abbreviated liner notes don't explain the challenge of making this recording. First, the scheduled studio booking was canceled at the last minute, requiring that a new studio be found once original producer Yasohachi "88" Itoh arrived in California, while they also had to wait until the Doobie Brothers finished recording at the new location.
It was also done direct-to-disc, requiring that an entire LP side be recorded in one take. Fortunately, the performances went well and the limited-edition project sold well until the stampers literally wore out, then the two sides of second takes were separately issued.
The [current] CD compiles both editions of the original LP and was evidently remastered from the session's backup tapes, though this release oddly lacks credits for the composers and lyricists. Comparing the two takes of each tune is illustrative. The first take of "On Green Dolphin Street" has a longer, more inventive introduction and Sample's energy seems a bit higher, though Brown's bass work sizzles in each one.
Both versions of Oliver Nelson's "Yearnin'" (which debuted on his landmark album Blues and the Abstract Truth) include a motif from his "Stolen Moments" and are cut from similar cloth. Brown introduces each version of the dramatic "'Round Midnight" unaccompanied, with Sample's bluesy piano sounding elegant yet never in a cocktail mood.
Finally the collaborative "Funky Blues" (likely composed on the date) has infectious gospel roots and swings like mad. Manne, always a superb drummer, complements his partners beautifully throughout the session.