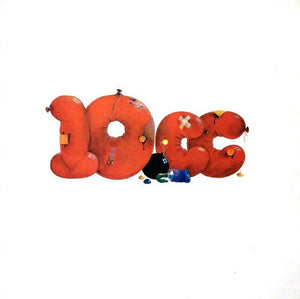 The copy we are selling is similar to the one pictured above.
Sonic Grade
Side One:
Side Two:
Vinyl Grade
Side One: Mint Minus Minus (often quieter than this grade)
Side Two: Mint Minus Minus (often quieter than this grade)
An original UK Records pressing with superb Double Plus (A++) grades throughout - fairly quiet vinyl too
We shot out a number of other imports and this one had the presence, bass, and dynamics that were missing from most other copies we played
The sound is big, lively, clear and present, and probably as close to what the band was going for as you can hope to experience
4 stars: "Displaying a command of pop styles and satire, 10cc showed that they are a force to be reckoned with on their first album. Hooks abound, harmonies shine, and instrumentation is dazzling without being overdone. Whether doing loving parodies of the music they grew up with or satirizing contemporary issues, 10cc show themselves to be top-level purveyors of pop on their debut recording."
100% Money Back Guarantee on all Hot Stampers
FREE Domestic Shipping on all LP orders over $150
Vintage covers for this album are hard to find in exceptionally clean shape. Most of the will have at least some amount of ringwear, seam wear and edge wear. We guarantee that the cover we supply with this Hot Stamper is at least VG
---
One interesting finding from this, our most recent shootout, was that some of the domestic pressings could actually sound quite good, something we would not have expected to be true for this album (or Sheet Music for that matter).
This vintage UK Records pressing has the kind of Tubey Magical Midrange that modern records can barely BEGIN to reproduce. Folks, that sound is gone and it sure isn't showing signs of coming back. If you love hearing INTO a recording, actually being able to "see" the performers, and feeling as if you are sitting in the studio with the band, this is the record for you. It's what vintage all analog recordings are known for -- this sound.
If you exclusively play modern repressings of vintage recordings, I can say without fear of contradiction that you have never heard this kind of sound on vinyl. Old records have it -- not often, and certainly not always -- but maybe one out of a hundred new records do, and those are some pretty long odds.
What The Best Sides Of 10cc's Debut Have To Offer Is Not Hard To Hear
The biggest, most immediate staging in the largest acoustic space
The most Tubey Magic, without which you have almost nothing. CDs give you clean and clear. Only the best vintage vinyl pressings offer the kind of Tubey Magic that was on the tapes in 1973
Tight, note-like, rich, full-bodied bass, with the correct amount of weight down low
Natural tonality in the midrange -- with all the instruments having the correct timbre
Transparency and resolution, critical to hearing into the three-dimensional studio space
No doubt there's more but we hope that should do for now. Playing the record is the only way to hear all of the qualities we discuss above, and playing the best pressings against a pile of other copies under rigorously controlled conditions is the only way to find a pressing that sounds as good as this one does.
Maximum 10cc
We've long been huge fans of this album both musically and sonically. It's the kind of recording where the sound jumps out of the speakers. It's also one of the most dynamic popular recordings I know of. If this album doesn't wake up your system, it's time to scrap it and start over.
One of the many elements that combine to push this album well beyond the bounds of most popular recordings is the thought and care that went into the soundstaging. Listen to the stereo separation on any track -- the sound of each instrument has been carefully considered within the context of the arrangement and placed in a specific location for a reason. That reason is undoubtedly for maximum effect.
That's why we love 10cc. Their recordings from this era are an audiophile dream come true. Compare that to some of the stereo mixes for the Beatles albums, where an instrument or vocal seems to be panned to one channel or another not because it should be, but because it could be.
With 10cc those hard-left, hard-right effects make the songs jump. They call attention to themselves precisely because the band wants them to. They're having a blast in the studio, showing off all the tricks they've been stuffing up their sleeves as engineers and session men. They want you to get as big a kick out of hearing their sounds as they did in conjuring them up.
What We're Listening For On 10cc
Energy for starters. What could be more important than the life of the music?
Then: presence and immediacy. The vocals aren't "back there" somewhere, lost in the mix. They're front and center where any recording engineer worth his salt would put them.
The Big Sound comes next -- wall to wall, lots of depth, huge space, three-dimensionality, all that sort of thing.
Then transient information -- fast, clear, sharp attacks, not the smear and thickness so common to these LPs.
Tight punchy bass -- which ties in with good transient information, also the issue of frequency extension further down.
Next: transparency -- the quality that allows you to hear deep into the soundfield, showing you the space and air around all the instruments.
Extend the top and bottom and voila, you have The Real Thing -- an honest to goodness Hot Stamper.
Pop Lunatics
This is no recreation of a live musical event, nor is it trying to be one. It's a quartet of pop lunatics let loose in their own multi-track studio doing whatever the hell they damn well please, with songs they wrote and on which they play all the instruments. That's why this recording has such energy -- it's four guys in their very own candy store havin' a ball, with no one around to tell them they can't.
Vinyl Condition
Mint Minus Minus and maybe a bit better is about as quiet as any vintage pressing will play, and since only the right vintage pressings have any hope of sounding good on this album, that will most often be the playing condition of the copies we sell. (The copies that are even a bit noisier get listed on the site are seriously reduced prices or traded back in to the local record stores we shop at.)
Those of you looking for quiet vinyl will have to settle for the sound of other pressings and Heavy Vinyl reissues, purchased elsewhere of course as we have no interest in selling records that don't have the vintage analog magic of these wonderful recordings.
If you want to make the trade-off between bad sound and quiet surfaces with whatever Heavy Vinyl pressing might be available, well, that's certainly your prerogative, but we can't imagine losing what's good about this music -- the size, the energy, the presence, the clarity, the weight -- just to hear it with less background noise.
Side One
Johnny, Don't Do It
Sand in My Face
Donna
The Dean and I
Headline Hustler
Side Two
Speed Kills
Rubber Bullets
The Hospital Song
Ships Don't Disappear in the Night (Do They?)
Fresh Air for My Mama
AMG Review
Displaying a command of pop styles and satire, 10cc showed that they are a force to be reckoned with on their first album. Hooks abound, harmonies shine, and instrumentation is dazzling without being overdone. Whether doing loving parodies of the music they grew up with or satirizing contemporary issues, 10cc show themselves to be top-level purveyors of pop on their debut recording.
Gouldman Speaks
Undeterred by Apple's rejection [of their first single, Waterfall], the group decided to plug another song which had been written as a possible B-side to "Waterfall," a Godley/Creme composition entitled "Donna". The song was a Frank Zappa-influenced 1950s doo-wop parody, a sharp mix of commercial pop and irony with a chorus sung in falsetto. Stewart said: "We knew it had something. We only knew of one person who was mad enough to release it, and that was Jonathan King." Stewart called King, a flamboyant entrepreneur, producer and recording artist, who drove to Strawberry, listened to the track and "fell about laughing", declaring: "It's fabulous, it's a hit."
King signed the band to his UK Records label in July 1972 and dubbed them 10cc. By his own account, King chose the name after having a dream in which he was standing in front of the Hammersmith Odeon in London where the boarding read "10cc The Best Band in the World". A widely repeated claim, disputed by King and Godley, but confirmed in a 1988 interview by Creme, and also on the webpage of Gouldman's current line-up, is that the band name represented a volume of semen that was more than the average amount ejaculated by men, thus emphasising their potency or prowess.
"Donna", released as the first 10cc single, was chosen by BBC Radio 1 disc jockey Tony Blackburn as his Record of the Week, helping to launch it into the Top 30. The song peaked at No. 2 in the UK in October 1972.
Although their second single, a similarly 1950s-influenced song called "Johnny Don't Do It", was not a major chart success. "Rubber Bullets", a catchy satirical take on the "Jailhouse Rock" concept, became a hit internationally and gave 10cc their first British No.1 single in June 1973.
They consolidated their success a few months later with "The Dean and I", which peaked at No.10 in September. They released two singles, "Headline Hustler" (in the US) and the self-mocking "The Worst Band in the World" (in the UK) and launched a UK tour, joined by second drummer Paul Burgess, before returning to Strawberry Studios in November to record the remainder of their second LP, Sheet Music, which included "The Worst Band in the World" along with other hits "The Wall Street Shuffle" and "Silly Love."
"Sheet Music" became the band's breakthrough album, remaining on the UK charts for six months and paving the way for a US tour in February 1974. The band also performed live for the BBC In Concert series, with both Burgess and Godley on drums and Burgess also playing moog.
In February 1975, the band announced they were splitting with Jonathan King and that they had signed with Mercury Records for $1 million. The catalyst for the deal was one song – "I'm Not in Love." Stewart recalled:
At that point in time we were still on Jonathan King's label, but struggling. We were absolutely skint, the lot of us, we were really struggling seriously, and Philips Phonogram wanted to do a deal with us. They wanted to buy Jonathan King's contract. I rang them. I said come and have a listen to what we've done, come and have a listen to this track. And they came up and they freaked, and they said "This is a masterpiece. How much money, what do you want? What sort of a contract do you want? We'll do anything, we'll sign it". On the strength of that one song, we did a five-year deal with them for five albums and they paid us a serious amount of money.
[And then they released The Original Soundtrack album and the rest is history.]
--Wikipedia