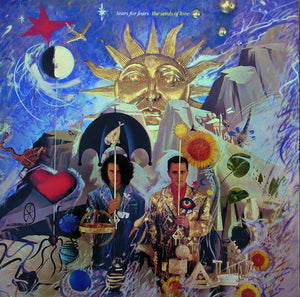 The copy we are selling is similar to the one pictured above.
Sonic Grade
Side One:
Side Two:
Vinyl Grade
Side One: Mint Minus to Mint Minus Minus
Side Two: Mint Minus to Mint Minus Minus*
Seriously good sound for this import copy of the band's Pop Masterpiece, with both sides earning Double Plus (A++) grades - exceptionally quiet vinyl too
We guarantee the sound is dramatically bigger, richer, fuller, and livelier than any pressing you have ever heard, and on this record that is saying a LOT
A tough record to find in audiophile playing condition - copies with vinyl this quiet were neither easy nor cheap to source from overseas
The band's Magnum Opus, a Colossal Production to rival the greatest Prog, Psych and Art Rock recordings of all time (Whew!)
Marks in the vinyl are sometimes the nature of the beast with these Classic Rock records - there simply is no way around them if the superior sound of vintage analog is important to you
4 stars: "Thanks to the duo's uncompromising stubbornness, expansive creative vision, and Dave Bascombe's final production, The Seeds of Love has dated better than either of its predecessors and is inarguably Tears for Fears' masterpiece."
100% Money Back Guarantee on all Hot Stampers
FREE Domestic Shipping on all LP orders over $150
*NOTE: There is a mark that plays 7 times at a moderate level at the start of track 1 on side 2, "Standing On The Corner Of The Third World." There is another mark that plays at a moderate level for approx. 1:00 about 1/8" into the same track.
When it comes to Genre Busting Rock I put this album right up at the top of the heap, along with several other landmark albums from the Seventies: Roxy Music's first, The Original Soundtrack, Crime of the Century, Ambrosia's first two releases, The Yes Album, Fragile, Dark Side of the Moon and a handful of others.
The Seeds Of Love is clearly the band's masterpiece, and being able to hear it on a killer Hot Stamper pressing is nothing short of a thrill.
I have a long history with this style of Popular Music, stretching all the way back to the early '70s. I grew up on Bowie, Roxy Music, 10cc, Eno, The Talking Heads, Ambrosia, Peter Gabriel, Supertramp, Yes, Zappa and others -- individuals and bands that wanted to play rock music but felt shackled by the constraints of the conventional pop song. Nothing on "Sowing the Seeds of Love" fits the description of a Conventional Pop Song.
Which albums by The Beatles break all the rules? Side two of Abbey Road and the whole of The White Album, which is why both are Desert Island Discs for me. Can't get enough of either one.
What The Best Sides Of The Seeds Of Love Have To Offer Is Not Hard To Hear
The biggest, most immediate staging in the largest acoustic space
The most Tubey Magic, without which you have almost nothing. CDs give you clean and clear. Only the best vintage vinyl pressings offer the kind of Tubey Magic that was on the tapes even as late as 1989
Tight, note-like, rich, full-bodied bass, with the correct amount of weight down low
Natural tonality in the midrange -- with all the instruments having the correct timbre
Transparency and resolution, critical to hearing into the three-dimensional studio space
No doubt there's more but we hope that should do for now. Playing the record is the only way to hear all of the qualities we discuss above, and playing the best pressings against a pile of other copies under rigorously controlled conditions is the only way to find a pressing that sounds as good as this one does.
The Discovery of a Lifetime
When I discovered these arty rock bands in my early twenties I quickly became obsessed with them and remain so to this day.
My equipment was forced to evolve in order to be able to play the scores of challenging recordings issued by these groups and others in the '70s. These albums informed not only my taste in music but the actual stereo I play that music on. I've had large dynamic speakers for the last four decades precisely because they do such a good job of bringing to life huge and powerful recordings such as these.
Tears For Fears on this and their previous album continue that tradition of big-as-life and just-as-difficult-to-reproduce records. God bless 'em for it.
What We're Listening For On The Seeds Of Love
Energy for starters. What could be more important than the life of the music?
Then: presence and immediacy. The vocals aren't "back there" somewhere, lost in the mix. They're front and center where any recording engineer worth his salt would put them.
The Big Sound comes next -- wall to wall, lots of depth, huge space, three-dimensionality, all that sort of thing.
Then transient information -- fast, clear, sharp attacks, not the smear and thickness so common to these LPs.
Tight punchy bass -- which ties in with good transient information, also the issue of frequency extension further down.
Next: transparency -- the quality that allows you to hear deep into the soundfield, showing you the space and air around all the instruments.
Extend the top and bottom and voila, you have The Real Thing -- an honest to goodness Hot Stamper.
Analog Sound
The sound of most copies is aggressive, hard, harsh, and thin. What do you expect? The album is recorded digitally and direct metal mastered at Masterdisk. Most of we analog types put up with the limitations of the sound because we love the music, some of the most powerfully moving, brilliantly written and orchestrated psychedelic pop of the last thirty years. Imagine if the Beatles in their Sgt. Pepper/ Magical Mystery Tour phase kept going in that direction. They very well might have ended up in the neighborhood of Sowing the Seeds of Love.
But wait -- the better pressings have smooth, sweet, analog richness and spaciousness I didn't think was possible for this recording. The bass is full and punchy. When it really starts cooking, such as in the louder, more dynamic sections of "Woman in Chains" or the title cut, it doesn't get harsh and abrasive like most copies. It's got energy and life without making your ears bleed -- if you have the system to play it.
Vinyl Condition
Mint Minus Minus is about as quiet as any vintage pressing will play, and since only the right vintage pressings have any hope of sounding good on this album, that will most often be the playing condition of the copies we sell. (The copies that are even a bit noisier get listed on the site are seriously reduced prices or traded back in to the local record stores we shop at.)
Those of you looking for quiet vinyl will have to settle for the sound of other pressings and Heavy Vinyl reissues, purchased elsewhere of course as we have no interest in selling records that don't have the vintage analog magic of these wonderful recordings.
If you want to make the trade-off between bad sound and quiet surfaces with whatever Heavy Vinyl pressing might be available, well, that's certainly your prerogative, but we can't imagine losing what's good about this music -- the size, the energy, the presence, the clarity, the weight -- just to hear it with less background noise.
A Must Own Pop Record
We consider this Tears for Fears album their Masterpiece. It's a recording that should be part of any serious Popular Music Collection.
Others that belong in that category can be found here.
A Tough Record to Play
This is a very Difficult Record to Reproduce. Do not attempt to play it using anything other than the highest quality equipment.
Unless your system is firing on all cylinders, even our hottest Hot Stamper copies -- the Super Hot and White Hot pressings, the ones with the biggest, most dynamic, clearest, and least distorted sound -- can have problems.
Your system should be thoroughly warmed up, your electricity should be clean and cooking, you've got to be using the right room treatments, and we also highly recommend using a demagnetizer such as the Walker Talisman on the record, your cables (power, interconnect and speaker) as well as the individual drivers of your speakers.
This is a record that's going to demand a lot from the listener, and we want to make sure that you feel you're up to the challenge. If you don't mind putting in a little hard work, here's a record that will reward your time and effort many times over, and probably teach you a thing or two about tweaking your gear in the process (especially your VTA adjustment, just to pick an obvious area many audiophiles neglect).
Side One
Woman In Chains
Bad Man's Song
Sowing The Seeds Of Love
Advice For The Young At Heart
Side Two
Standing On The Corner Of The Third World
Swords And Knives
Year Of The Knife
Famous Last Words
AMG 4 Star Review
Along with the mega-platinum Songs from the Big Chair, The Seeds of Love rendered Tears for Fears one of the '80s most successful pop groups. The album was created during a profound period of catharsis. Curt Smith was going through a divorce while Roland Orzabal was in primal therapy. Musically, it's their most sophisticated outing, and it should be: It took four years, four producers, and over a million pounds to complete.
The duo sought to distance themselves from the synth pop of their earlier records in favor of a more organic approach using live musicians. Included in this all-star cast are Kate St. John, Jon Hassell, Robbie Macintosh, and Ian Stanley.
Orzabal began writing in 1985 with touring keyboardist Nicky Holland and continued in London in 1986. Their collaboration netted half the album's tracks, including "Bad Man's Song." Due to outside pressures, Smith's only co-writing credit is the soaring title track, though he played, sang, and advised on all charts and mixes. The album's Muse is American vocalist/pianist Oleta Adams. Orzabal caught her set in a hotel bar in 1985 and asked her two years later to duet on the transcendent album-opener "Woman in Chains." It set the tone for the entire proceeding. (The glorious drumming on the cut is by Phil Collins.) Adams also contributed gospel vocals to "Bad Man's Song," which features a Holland piano intro strongly suggestive of Weather Report's "Birdland."
The presence of drummer Manu Katche and bassist Pino Palladino underscores it. The production chart for "Sowing the Seeds of Love" borrows heavily from the Beatles' "I Am the Walrus," but ends up as a spiritual, sociopolitical anthem in its own sonic universe. Smith's devastatingly beautiful refrain and the brief, seemingly errant entrance of an operatic soprano and a choir, frame the panoramic horns, strings, and Fairlight orchestrations, resulting in one of the duo's most enduring songs.
On "Advice for the Young at Heart," Smith's and Holland's vocals entwine in a melody grounded in blue-eyed soul, jazz, and elegant pop that recalls the Style Council. Hassell's fourth world trumpet introduces the lithe "Standing on the Corner of the Third World," clearing the way for a melody that melds Bacharach-esque pop to folk, rock, and chamber jazz, with riveting singing from Smith and Orzabal. "Swords and Knives" melds squalling prog rock guitar (a la Robert Fripp) to Afro-Latin polyrhythms and orchestral arrangements woven through psych-pop overtones. The rave-up rocker "Year of the Knife" is loaded with effects. Its siren-like strings provide ballast for ripping, multi-tracked guitars, samples, atmospherics, punchy drums, and a soul revue chorus. Closer "Famous Last Words" opens with ambient sounds and a lone piano as Orzabal delivers a love song about mortality. Simon Phillips' drumming propels wafting strings and a chorale, before they're stripped away at close.
Thanks to the duo's uncompromising stubbornness, expansive creative vision, and Dave Bascombe's final production, The Seeds of Love has dated better than either of its predecessors and is inarguably Tears for Fears' masterpiece.