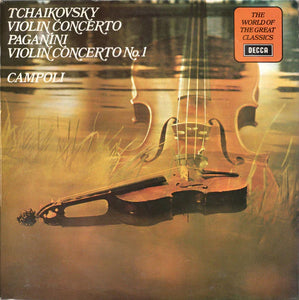 The copy we are selling is similar to the one pictured above.
Sonic Grade
Side One:
Side Two:
Vinyl Grade
Side One: Mint Minus Minus (often quieter than this grade)
Side Two: Mint Minus Minus (often quieter than this grade)
A vintage Decca pressing of these superb concertos with stunning Nearly Triple Plus (A++ to A+++) sound on both sides, just shy of our Shootout Winner - fairly quiet vinyl too
This copy (only the second to hit the site in two years) showed us the balance of clarity and sweetness we were looking for in the violin - not many recordings from this era can do that
Campoli brings his warmth, feeling, and technical precision to these classical masterpieces
Some old record collectors (like me) say classical recording quality ain't what it used to be - here's the proof
More of the music of Peter Ilyich Tchaikovsky (1840-1893) / More Recordings Featuring the Violin
100% Money Back Guarantee on all Hot Stampers
FREE Domestic Shipping on all LP orders over $150
These Nearly White Hot Stamper pressings have top-quality sound that's often surprisingly close to our White Hots, but they sell at substantial discounts to our Shootout Winners, making them a relative bargain in the world of Hot Stampers ("relative" meaning relative considering the prices we charge). We feel you get what you pay for here at Better Records, and if ever you don't agree, please feel free to return the record for a full refund, no questions asked.
---
A true Demo Disc Violin Recording. And better than the original London pressing we had of the recording -- the reissue is actually tubier, with none of the dryness you sometimes hear, and very dynamic. Hi-rez and more present too.
(We know a thing or two about Decca recordings with dry strings. We delved into the subject on the blog.)
This vintage Decca pressing has the kind of Tubey Magical Midrange that modern records can barely BEGIN to reproduce. Folks, that sound is gone and it sure isn't showing signs of coming back. If you love hearing INTO a recording, actually being able to "see" the performers, and feeling as if you are sitting in the studio with the band, this is the record for you. It's what vintage all analog recordings are known for -- this sound.
If you exclusively play modern repressings of vintage recordings, I can say without fear of contradiction that you have never heard this kind of sound on vinyl. Old records have it -- not often, and certainly not always -- but maybe one out of a hundred new records do, and those are some pretty long odds.
What The Best Sides Of These Superb Concerto Recordings Have To Offer Is Not Hard To Hear
The biggest, most immediate staging in the largest acoustic space
The most Tubey Magic, without which you have almost nothing. CDs give you clean and clear. Only the best vintage vinyl pressings offer the kind of Tubey Magic that was on the tapes in 1957
Tight, note-like, rich, full-bodied bass, with the correct amount of weight down low
Natural tonality in the midrange -- with all the instruments having the correct timbre
Transparency and resolution, critical to hearing into the three-dimensional studio space
No doubt there's more but we hope that should do for now. Playing the record is the only way to hear all of the qualities we discuss above, and playing the best pressings against a pile of other copies under rigorously controlled conditions is the only way to find a pressing that sounds as good as this one does.
Size and Space
One of the qualities that we don't talk about on the site nearly enough is the SIZE of the record's presentation. Some copies of the album just sound small -- they don't extend all the way to the outside edges of the speakers, and they don't seem to take up all the space from the floor to the ceiling. In addition, the sound can often be recessed, with a lack of presence and immediacy in the center.
Other copies -- my notes for these copies often read "BIG and BOLD" -- create a huge soundfield, with the music positively jumping out of the speakers. They're not brighter, they're not more aggressive, they're not hyped-up in any way, they're just bigger and clearer.
And most of the time those very special pressings are just plain more involving. When you hear a copy that does all that -- a copy like this one -- it's an entirely different listening experience.
What We're Listening For On Tchaikovsky and Paganini's Violin Concertos
Energy for starters. What could be more important than the life of the music?
The Big Sound comes next -- wall to wall, lots of depth, huge space, three-dimensionality, all that sort of thing.
Then transient information -- fast, clear, sharp attacks, not the smear and thickness so common to these LPs.
Next: transparency -- the quality that allows you to hear deep into the soundfield, showing you the space and air around all the instruments.
Extend the top and bottom and voila, you have The Real Thing -- an honest to goodness Hot Stamper.
Vinyl Condition
Mint Minus Minus is about as quiet as any vintage pressing will play, and since only the right vintage pressings have any hope of sounding good on this album, that will most often be the playing condition of the copies we sell. (The copies that are even a bit noisier get listed on the site are seriously reduced prices or traded back in to the local record stores we shop at.)
Those of you looking for quiet vinyl will have to settle for the sound of other pressings and Heavy Vinyl reissues, purchased elsewhere of course as we have no interest in selling records that don't have the vintage analog magic of these wonderful recordings.
If you want to make the trade-off between bad sound and quiet surfaces with whatever Heavy Vinyl pressing might be available, well, that's certainly your prerogative, but we can't imagine losing what's good about this music -- the size, the energy, the presence, the clarity, the weight -- just to hear it with less background noise.
Side One
Tchaikovsky's Violin Concerto In D Major
1st Movement: Allegro Moderato
2nd Movement: Canzonetta - Andante
Side Two
3rd Movement: Allegro Vivacissimo



Paganini's Concerto For Violin And Orchestra In E Flat, No. 1 (In One Movement)
Tchaikovsky's Violin Concerto In D Major
The piece was written in Clarens, a Swiss resort on the shores of Lake Geneva, where Tchaikovsky had gone to recover from the depression brought on by his disastrous marriage to Antonina Miliukova. He was working on his Piano Sonata in G major but finding it heavy going. Presently he was joined there by his composition pupil, the violinist Iosif Kotek, who had been in Berlin for violin studies with Joseph Joachim.
The two played works for violin and piano together, including a violin-and-piano arrangement of Édouard Lalo's Symphonie espagnole, which they may have played through the day after Kotek's arrival. This work may have been the catalyst for the composition of the concerto. Tchaikovsky wrote to his patroness Nadezhda von Meck, "It [the Symphonie espagnole] has a lot of freshness, lightness, of piquant rhythms, of beautiful and excellently harmonized melodies.... He [Lalo], in the same way as Léo Delibes and Bizet, does not strive after profundity, but he carefully avoids routine, seeks out new forms, and thinks more about musical beauty than about observing established traditions, as do the Germans." Tchaikovsky authority Dr. David Brown writes that Tchaikovsky "might almost have been writing the prescription for the violin concerto he himself was about to compose."
Tchaikovsky made swift, steady progress on the concerto, as by this point in his rest cure he had regained his inspiration, and the work was completed within a month despite the middle movement getting a complete rewrite (a version of the original movement was preserved as the first of the three pieces for violin and piano, Souvenir d'un lieu cher). Since Tchaikovsky was not a violinist, he sought the advice of Kotek on the completion of the solo part. "How lovingly he's busying himself with my concerto!" Tchaikovsky wrote to his brother Anatoly on the day he completed the new slow movement. "It goes without saying that I would have been able to do nothing without him. He plays it marvelously."
-Wikipedia
Concerto in One Movement after Paganini's Concerto No. 1
Paganini's violin concertos contain bright ideas but a poverty of symphonic development, so Kreisler's imaginative reworking of the first movement of the D major concerto puts the composer in a favourable light -- it does not outstay its welcome as is the case with the original. The highlight here is a stunning cadenza.
- Adrian Smith at musicweb-international.com