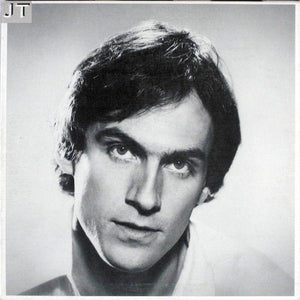 The copy we are selling is similar to the one pictured above.
Sonic Grade
Side One:
Side Two:
Vinyl Grade
Side One: Mint Minus Minus
Side Two: Mint Minus Minus (often quieter than this grade)
A seriously good copy of Taylor's 1977 breakthrough album with Double Plus (A++) sound throughout
It's a superb recording - a member of our Top 100, in fact - but it takes a pressing like this to show you just how big and lively it can sound
The big hits "Your Smiling Face" and "Handy Man" both sound great here - thanks Val Garay!
4 stars: "JT was James Taylor's best album since Mud Slide Slim and the Blue Horizon because it acknowledged the darkness of his earlier work while explaining the deliberate lightness of his current viewpoint, and because it was his most consistent collection in years."
100% Money Back Guarantee on all Hot Stampers
FREE Domestic Shipping on all LP orders over $150
The good copies really rock on songs like "Honey Don't Leave L.A." or "I Was Only Telling A Lie," yet have lovely, sweetly delicate vocals on ballads such as "Another Grey Morning" or "There We Are" (two of our favorite songs on the album).
Just turn up the volume and play the opening to "Honey Don't Leave L.A." -- this is James Taylor and his super tight studio band at the peak of their powers. Russ Kunkel hits the drum twice, then clicks his sticks together so quickly you can hardly notice it, then goes back to the drums for the rest of the intro. On the better copies, the subtleties of his performance are clearly on display. (Until copies like this one came along, we had never even noticed that stick trick. Now it's the high point of the whole intro!)
What The Best Sides Of JT Have To Offer Is Not Hard To Hear
The biggest, most immediate staging in the largest acoustic space
The most Tubey Magic, without which you have almost nothing. CDs give you clean and clear. Only the best vintage vinyl pressings offer the kind of Tubey Magic that was on the tapes in 1977
Tight, note-like, rich, full-bodied bass, with the correct amount of weight down low
Natural tonality in the midrange -- with all the instruments having the correct timbre
Transparency and resolution, critical to hearing into the three-dimensional studio space
No doubt there's more but we hope that should do for now. Playing the record is the only way to hear all of the qualities we discuss above, and playing the best pressings against a pile of other copies under rigorously controlled conditions is the only way to find a pressing that sounds as good as this one does.
The strings on "Handy Man" are a key test for us when evaluating the copies in the shootout. Most of the time they are smeary and hard, lacking the rosiny texture of the real thing. When you chance upon a good one it's pretty obvious, and sure enough everything else -- vocals, guitars, drums -- sounds better as well.
What We're Listening For On JT
Energy for starters. What could be more important than the life of the music?
The Big Sound comes next -- wall to wall, lots of depth, huge space, three-dimensionality, all that sort of thing.
Then transient information -- fast, clear, sharp attacks for the guitars, sax and tuba, and drums, not the smear and thickness common to most LPs.
Tight, note-like bass with clear fingering -- which ties in with good transient information, as well as the issue of frequency extension further down.
Next: transparency -- the quality that allows you to hear deep into the soundfield, showing you the space and air around all the players.
Then: presence and immediacy. The vocals aren't "back there" somewhere, way behind the speakers. They're front and center where any recording engineer worth his salt -- Val Garay in this case -- would have put them.
Extend the top and bottom and voila, you have The Real Thing -- an honest to goodness Hot Stamper.
Val Garay Is The Man
Kudos once again must go to Val Garay, the co-engineer here with Dave Hassinger (who owns The Sound Factory where the album was recorded).
Garay is the man behind so many of our favorite recordings: James Taylor's Flag, Simple Dreams (a Top 100 title), Andrew Gold, Prisoner In Disguise, etc. They all share his trademark super-punchy, jump-out-the-speakers, rich and smooth ANALOG sound. With BIG drums -- can't forget those. (To be clear, only the better copies share it. Most copies only hint at it.)
I don't think Mr. Garay gets anything like his due with audiophiles and the reviewers who write for them. This is a shame; the guy makes Demo Disc Quality Pop Records about as good as those kinds of records can be made. If you have a Big System that really rocks you owe it to yourself to get to know his work. This is truly a knockout disc if you have the equipment for it. We do, and records like this make the effort and expense of building a full-range dynamic system over the course of many decades worth all the trouble.
The Best Later James Taylor Music
As audiophiles, we all know that sound and music are inseparable. After dropping the needle on a dozen or so copies, all originals by the way, you know when the music is working its magic and when it's not. As with any pop album, there are always some songs that sound better than others, but when you find yourself marveling at how well-written and well-produced a song is, you know that the sound is doing what it needs to do. It's communicating the Musical Values of the material.
The most important of all these Musical Values is energy, and boy does this copy have it!
Musically this is one of Taylor's best. Every track is good and many are wonderful. There are five or six James Taylor records that are Desert Island Discs for me. I know they probably wouldn't let me take six of the same artists' records to my island, but I would hope they would make an exception for James Taylor because his albums really do set a standard that those of few other singer/songwriters can meet.
Start with Sweet Baby James, the first album (which we may never have in stock again, they're just too hard to find) and JT. The next group to pursue would contain Mud Slide Slim, One Man Dog and Dad Loves His Work, and maybe Flag.
Vinyl Condition
Mint Minus Minus and maybe a bit better is about as quiet as any vintage pressing will play, and since only the right vintage pressings have any hope of sounding good on this album, that will most often be the playing condition of the copies we sell. (The copies that are even a bit noisier get listed on the site are seriously reduced prices or traded back in to the local record stores we shop at.)
Those of you looking for quiet vinyl will have to settle for the sound of later pressings and Heavy Vinyl reissues, purchased elsewhere of course as we have no interest in selling records that don't have the vintage analog magic of these wonderful recordings.
If you want to make the trade-off between bad sound and quiet surfaces with whatever Heavy Vinyl pressing might be available, well, that's certainly your prerogative, but we can't imagine losing what's good about this music -- the size, the energy, the presence, the clarity, the weight -- just to hear it with less background noise.
Track Commentary
The Tracklist tab above will take you to a select song breakdown for each side, with plenty of What to Listen For advice.
Other records with track breakdowns can be found here.
A Must Own Pop Record
We consider this James Taylor album a Masterpiece. It's a recording that should be part of any serious Popular Music Collection.
Others that belong in that category can be found here.
Side One
Your Smiling Face

Our favorite test track for side one. The better copies have bass and drums that are hard to beat!

There We Are
Honey Don't Leave L.A.

One of the toughest tests for side one is the sax solo in this song. You want the sax to be breathy and full with just the right amount of bite. If it doesn't have enough bite, the sound is going to be overly smooth elsewhere.

Another Grey Morning

You'll almost always be battling at least a bit of surface noise on this quiet track. On the better copies the sound will be tubey-magical, with plenty of warmth, richness, and sweetness.

Bartender's Blues
Secret O' Life
Side Two
Handy Man

On the better Hot Stamper copies, which typically means those with the most transparency, Leah Kunkel's background vocals will be clear and breathy-sweet, allowing you to follow each of her multi-tracked vocal lines.

Was Only Telling a Lie
Looking for Love on Broadway
Terra Nova
Traffic Jam

A personal JT Favorite [of Tom's!] On the hottest copies it is absolutely a Demo Disc Quality track.

If I Keep My Heart Out of Sight
AMG 4 Star Review
On his last couple of Warner Brothers albums, Gorilla and In the Pocket, James Taylor seemed to be converting himself from the shrinking violet, too-sensitive-to-live "rainy day man" of his early records into a mainstream, easy-listening crooner with a sunny outlook. JT, his debut album for Columbia Records, was something of a defense of this conversion.
Returning to the autobiographical, Taylor declared his love for Carly Simon ("There We Are"), but expressed some surprise at his domestic bliss. "Isn't it amazing a man like me can feel this way?" he sang in the opening song, "Your Smiling Face" (a Top 40 hit). At the same time, domesticity could have its temporary depressions ("Another Grey Morning"). The key track was "Secret O' Life," which Taylor revealed as "enjoying the passage of time."
Working with his long-time backup band of Danny Kortchmar, Leland Sklar, and Russell Kunkel, and with Peter Asher back in the producer's chair, Taylor also enjoyed the playing of music, mixing his patented acoustic guitar-based folk sound with elements of rock, blues, and country.
He even made the country charts briefly with "Bartender's Blues," a genre exercise complete with steel guitar and references to "honky tonk angels" that he would later re-record with George Jones. The album's Top Ten hit was Taylor's winning remake of Jimmy Jones' "Handy Man," which replaced the grit of the original with his characteristic warmth.
JT was James Taylor's best album since Mud Slide Slim and the Blue Horizon because it acknowledged the darkness of his earlier work while explaining the deliberate lightness of his current viewpoint, and because it was his most consistent collection in years. Fans responded: JT sold better than any Taylor album since Sweet Baby James.