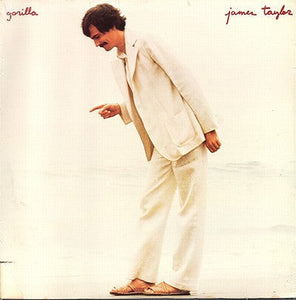 The copy we are selling is similar to the one pictured above.
Sonic Grade
Side One:
Side Two:
Vinyl Grade
Side One: Mint Minus Minus
Side Two: Mint Minus Minus
With two stunning Nearly Triple Plus (A++ to A+++) sides, this copy is close to the BEST we have ever heard, right up there with our Shootout Winner
Soulful JT at his best, an underappreciated album by the man and one that belongs in your collection
"Mexico," "How Sweet It Is (To Be Loved By You)" and "I Was A Fool To Care" are standouts - but, honestly, there simply are no weak tracks to be found on either side
Rolling Stone notes, "With Gorilla, Taylor is well on his way to staking out new ground. What he's hit upon is the unlikely mating of his familiar low-keyed, acoustic guitar-dominated style with L.A. harmony rock and the sweet, sexy school of rhythm and blues."
100% Money Back Guarantee on all Hot Stampers
FREE Domestic Shipping on all LP orders over $150
These Nearly White Hot Stamper pressings have top-quality sound that's often surprisingly close to our White Hots, but they sell at substantial discounts to our Shootout Winners, making them a relative bargain in the world of Hot Stampers ("relative" meaning relative considering the prices we charge). We feel you get what you pay for here at Better Records, and if ever you don't agree, please feel free to return the record for a full refund, no questions asked.
---
This is soft rock at its best, made up primarily of love songs, and helped immensely by the harmonically-gifted backing vocals of Graham Nash and David Crosby.
Rolling Stone notes that "With Gorilla, Taylor is well on his way to staking out new ground. What he's hit upon is the unlikely mating of his familiar low-keyed, acoustic guitar-dominated style with L.A. harmony rock and the sweet, sexy school of rhythm and blues."
To be honest, the recording of Gorilla itself cannot compete with the likes of Sweet Baby James or JT, both of which are Top 100 Titles. It can be a good sounding record, not a great one, certainly not in the same league as those two.
What The Best Sides Of Gorilla Have To Offer Is Not Hard To Hear
The biggest, most immediate staging in the largest acoustic space
The most Tubey Magic, without which you have almost nothing. CDs give you clean and clear. Only the best vintage vinyl pressings offer the kind of Tubey Magic that was on the tapes in 1975
Tight, note-like, rich, full-bodied bass, with the correct amount of weight down low
Natural tonality in the midrange -- with all the instruments having the correct timbre
Transparency and resolution, critical to hearing into the three-dimensional studio space
No doubt there's more but we hope that should do for now. Playing the record is the only way to hear all of the qualities we discuss above, and playing the best pressings against a pile of other copies under rigorously controlled conditions is the only way to find a pressing that sounds as good as this one does.
The Music
If you are not a fan of the mellow James Taylor, this is not the album for you. I just happen to be such a fan.
Taylor's sixth album contains consistently engaging, well-produced, well-written, memorable, singable (or hummable) songs that hold up to this day.
After enjoying it for close to 50 years, I can honestly say now it actually sounds good. The recording finally makes sense, now that I have the stereo that can play it and the cleaning system that could get the record truly clean. And it only took about 50 years -- nice!
At Better Records that's what we're talking about when we talk about progress. Make no mistake, it is very real. When we take a recording that, on copy after copy, never sounded much better than passable, and actually get it to sound musical and involving, that's not an illusion. It's the result of the countless Revolutions in Audio that we've participated in. Without the hundreds of changes we've made to our stereo, room and cleaning systems, old records would just sound like old records.
The average copy is so flat, lifeless and hard sounding that you might just wonder if there isn't something wrong with your stereo when the needle hits the Gorilla groove. Most copies are awful, and the same goes for the albums that came before it and after it, Walking Man and In the Pocket, respectively.
This record does not sound like just an old record, not this copy anyway.
What We're Listening For On Gorilla
Energy for starters. What could be more important than the life of the music?
Then: presence and immediacy. The vocals aren't "back there" somewhere, lost in the mix. They're front and center where any recording engineer worth his salt -- Lee Herschberg in this instance -- would put them.
The Big Sound comes next -- wall to wall, lots of depth, huge space, three-dimensionality, all that sort of thing.
Then transient information -- fast, clear, sharp attacks, not the smear and thickness so common to these LPs.
Tight punchy bass -- which ties in with good transient information, also the issue of frequency extension further down.
Next: transparency -- the quality that allows you to hear deep into the soundfield, showing you the space and air around all the instruments.
Extend the top and bottom and voila, you have The Real Thing -- an honest to goodness Hot Stamper.
Vinyl Condition
Mint Minus Minus and maybe a bit better is about as quiet as any vintage pressing will play, and since only the right vintage pressings have any hope of sounding good on this album, that will most often be the playing condition of the copies we sell. (The copies that are even a bit noisier get listed on the site are seriously reduced prices or traded back in to the local record stores we shop at.)
Those of you looking for quiet vinyl will have to settle for the sound of other pressings and Heavy Vinyl reissues, purchased elsewhere of course as we have no interest in selling records that don't have the vintage analog magic of these wonderful recordings.
If you want to make the trade-off between bad sound and quiet surfaces with whatever Heavy Vinyl pressing might be available, well, that's certainly your prerogative, but we can't imagine losing what's good about this music -- the size, the energy, the presence, the clarity, the weight -- just to hear it with less background noise.
Side One
Mexico
Music
How Sweet It Is (To Be Loved By You)
Wandering
Gorilla
You Make It Easy
Side Two
I Was A Fool To Care
Lighthouse
Angry Blues
Love Songs
Sarah Maria
Rolling Stone Review
James Taylor pretty much wrote the book for the singer/songwriters of the Seventies. That may be a dubious distinction but Taylor's early work, characterized by subdued singing and restrained, clean backings, was also marked by an undercurrent of extreme agitation and angst. It was this sense of powerful emotions barely held in check that gave Taylor's music its dramatic tension. When that undercurrent diminished and disappeared after the definitive Sweet Baby James, Taylor's music lost its urgency. Thus began a gradual process of personal reorientation and musical redefinition. The most fascinating part of Taylor's more recent albums has been their suggestion of a search for a new raison d'être.
With Gorilla, Taylor is well on his way to staking out new ground. What he's hit upon is the unlikely mating of his familiar low-keyed, acoustic guitar-dominated style with L.A. harmony rock and the sweet, sexy school of rhythm and blues. David Crosby and Graham Nash add their fluent harmonies to Taylor's sleepy-voiced leads in the panoramic "Lighthouse" and the delightful "Mexico," both of which make intelligent use of country-rock elements. More central to the album, though, are Taylor's soul-based songs, "Music," "You Make It Easy" and "I Was a Fool to Care."
The inclusion of a relaxed rendition of the Marvin Gaye hit, "How Sweet It Is (To Be Loved by You)" is an indirect acknowledgement to this great singer, surely a primary source of inspiration for the new Taylor who shares Gaye's sense of romantic languor. "You Make It Easy," a terrific soul ballad with a classic theme — the lure of adultery — makes this comparison with particular clarity.
The Newmark-Weeks rhythm section, David Sanborn's saxophone, Clarence McDonald's piano and a full-blown string section push Taylor to the most overtly urgent vocal he's ever recorded. "Music" isn't a particularly strong piece of material but the introduction of a pedal steel into an airy, limber arrangement reminiscent (thanks to Weeks and Newmark) of Gaye's "Let's Get It On" gives the track more than a little charm, nevertheless. "I Was a Fool to Care" evolves from a typical guitar-plunking Taylor tune into a big, vibrant and convincing love song. This last tune and "You Make It Easy" are sure to sprout cover versions before long.
Taylor is too cool and contemplative to become the singer/songwriter sector's answer to Gaye but the influence has given Taylor new life by placing a healthy dose of happy eroticism (what's that about the sugar cane, James?) into the space vacated by his dark melancholy.
— Bud Scoppa, July 17, 1975