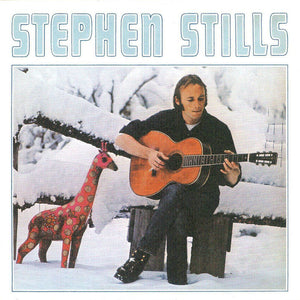 The copy we are selling is similar to the one pictured above.
Sonic Grade
Side One:
Side Two:
Vinyl Grade
Side One: Mint Minus Minus (often quieter than this grade)*
Side Two: Mint Minus Minus*
You'll find outstanding Double Plus (A++) sound on both sides of this original Atlantic pressing of Stills' outstanding debut
"Love the One You're With" and "Sit Yourself Down" are to die for, but there's really not a bad track on the album
A triumph of engineering for Bill Halverson and Andy Johns - this and Deja Vu are the very definition of Big Production Rock
Marks in the vinyl are sometimes the nature of the beast with these vintage LPs - there simply is no way around them if the superior sound of vintage analog is important to you
4 1/2 stars: "Listening to this album three decades on, it's still a jaw-dropping experience, the musical equal to Crosby, Stills & Nash or Déjà Vu, and only a shade less important than either of them."
100% Money Back Guarantee on all Hot Stampers
FREE Domestic Shipping on all LP orders over $150
*NOTE: On side 1, there is a mark that plays 12 times at a light to moderate level at the start of track 3, "Church (Part of Someone)." On side 2, there is a mark that plays 6 times lightly at the start of track 2, "To a Flame."
Vintage covers for this album are hard to find in exceptionally clean shape. Most of the will have at least some amount of ringwear, seam wear and edge wear. We guarantee that the cover we supply with this Hot Stamper is at least VG
---
When we say it's getting harder and harder to find clean copies of albums such as this in the bins of our local record stores, we're not kidding.
This vintage Atlantic pressing has the kind of Tubey Magical Midrange that modern records rarely even BEGIN to reproduce. Folks, that sound is gone and it sure isn't showing signs of coming back. If you love hearing INTO a recording, actually being able to "see" the performers, and feeling as if you are sitting in the studio with the band, this is the record for you. It's what vintage all analog recordings are known for -- this sound.
If you exclusively play modern repressings of vintage recordings, I can say without fear of contradiction that you have never heard this kind of sound on vinyl. Old records have it -- not often, and certainly not always -- but maybe one out of a hundred new records do, and those are some pretty long odds.
What The Best Sides Of Stephen Stills Have To Offer Is Not Hard To Hear
The biggest, most immediate staging in the largest acoustic space
The most Tubey Magic, without which you have almost nothing. CDs give you clean and clear. Only the best vintage vinyl pressings offer the kind of Tubey Magic that was on the tapes in 1970
Tight, note-like, rich, full-bodied bass, with the correct amount of weight down low
Natural tonality in the midrange -- with all the instruments having the correct timbre
Transparency and resolution, critical to hearing into the three-dimensional space of the studio
No doubt there's more but we hope that should do for now. Playing the record is the only way to hear all of the qualities we discuss above, and playing the best pressings against a pile of other copies under rigorously controlled conditions is the only way to find a pressing that sounds as good as this one does.
The Big Sound Is Where It's At
Finding a pressing that holds up in the biggest, loudest passages -- and trust us, on the better copies such as this they really get BIG and LOUD -- is not an especially easy thing to do, but with enough copies to play clearly it can be done. Hearing one of our hottest stampers would be all the proof any audiophile would need.
And when all the elements are working together like they do here, this music just sounds AMAZING.
This is some of the best High-Production-Value rock music of the '70s. The amount of effort that went into the recording of Stephen Stills' debut is comparable to that expended by the engineers and producers of bands like Supertramp, The Who, Jethro Tull, Ambrosia, Pink Floyd and far too many others to list. It seems that no effort or cost was spared in making the home listening experience as compelling as the recording technology of the day permitted.
The sides that had sound that jumped out of the speakers, with driving rhythmic energy, worked the best for us. They really brought this complex music to life and allowed us to make sense of all its moving parts. This is yet another definition of a Hot Stamper -- it's the copy that lets the music work as music.
Big Production Tubey Magical Classic Rock just doesn't get much better than Stephen Stills.
Shooting Out the Tough Ones
Big Rock Records always make for tough shootouts. Stephen Stills' everything-but-the-kitchen-sink approach to the production make it difficult to translate so much sound to disc -- vinyl or otherwise. Everything has to be tuned up and on the money before we can even hope to get the record sounding right. Careful VTA adjustment could not be more critical in this respect.
If we're not hearing the sound we want, we keep messing with the adjustments until we do. There is no getting around sweating the details when sitting down to test a complex recording such as this. If you can't stand the tweaking tedium, get out of the kitchen (or listening room as the case may be).
Obsessing over every aspect of a record's reproduction is what we do for a living. This kind of Big Rock Recording requires us to be at the top of our game, both in terms of reproducing the albums themselves as well as evaluating the merits of individual pressings.
When you love it, it's not work -- it's fun. Tedious, occasionally exasperating fun, but still fun. And the louder you play a record like this, the better it sounds.
What We're Listening For On Stephen Stills
Check out the sound of the big organ solo on "Love The One You're With" -- you can really hear the air moving through the instrument. That's what a Hot Stamper is all about!
And that's not all. Listen for the rosiny texture to the strings, the warmth of the midrange, and the breath in the vocals. These are all signs of a very hot stamper.
The bottom end is well-defined and has substantial weight to it, something you won't hear on most copies. They sure don't record music that sounds like this anymore, and even if they did I doubt they could press a record that sounds this good.
Fans of CSN should consider taking a chance on one of these Stephen Stills Hot Stampers. We agree with Allmusic that it's nearly the equal of anything CSN or CSNY ever recorded, and that is saying a LOT. If I had my way, Stephen Stills' first album would be in our Top 100 but space in that rarefied group is, as you can imagine, at a premium.
We of course guarantee that you'll love the album -- music and sound -- or your money back.
We Can't Get Enough Of This Stuff
Some of the most sought after, and difficult to find, records in the world are those by the various groupings of Crosby, Stills, Nash and Young. This album is no exception. It's Stills' masterpiece, a record I've been playing since I was in high school, and the sound on the LPs I bought over the years has been pretty consistently disappointing. It's refreshing to actually find a copy like this that lets you hear the album the way you remember it.
There's a very good chance -- bordering on a certainty -- that the copy you played back then was no doubt just as poor sounding, but you REMEMBER it sounding good. That, more than anything else, is why we audiophiles keep chasing after so many classic albums from our younger days. We want the record that can give us the sonic satisfaction today that we achieved so easily back then (mostly because we didn't know any better).
The Biggest Names in Rock
Jimi Hendrix
Eric Clapton
Booker T. Jones
Calvin "Fuzzy" Samuel
Ringo Starr
Dallas Taylor
Rita Coolidge
David Crosby
Priscilla Jones
John Sebastian
Cass Elliott
Graham Nash
Sherlie Matthews
Arif Mardin
All played or sang or did the string arrangements on the album.
Vinyl Condition
Mint Minus Minus is about as quiet as any vintage pressing will play, and since only the right vintage pressings have any hope of sounding good on this album, that will most often be the playing condition of the copies we sell. (The copies that are even a bit noisier get listed on the site are seriously reduced prices or traded back in to the local record stores we shop at.)
Those of you looking for quiet vinyl will have to settle for the sound of later pressings and Heavy Vinyl reissues, purchased elsewhere of course as we have no interest in selling records that don't have the vintage analog magic of these wonderful originals.
If you want to make the trade-off between bad sound and quiet surfaces with whatever Heavy Vinyl pressing might be available, well, that's certainly your prerogative, but we can't imagine losing what's good about this music -- the size, the energy, the presence, the clarity, the weight -- just to hear it with less background noise.
A Rock and Roll Masterpiece
We consider this Stephen Stills album his Masterpiece. It's an absolute Must Own for fans of this kind of melodic, exceptionally well-recorded and well-produced rock.
Others that belong in that category can be found here.
Side One
Love the One You're With
Do for the Others
Church (Part of Someone)
Old Times Good Times
Go Back Home
Side Two
Sit Yourself Down
To a Flame
Black Queen
Cherokee
We Are Not Helpless
AMG 4 1/2 Star Review
Listening to this album three decades on, it's still a jaw-dropping experience, the musical equal to Crosby, Stills & Nash or Déjà Vu, and only a shade less important than either of them. The mix of folk, blues (acoustic and electric), hard rock, and gospel is seamless, and the musicianship and the singing are all so there, in your face, that it just burns your brain (in the nicest, most benevolent possible way) even 30 years later.
Recorded amid the breakup of Crosby, Stills, Nash & Young, Stills' first solo album was his effort to put together his own sound and, not surprisingly, it's similar to a lot of stuff on the group's two albums. But it's also infinitely more personal, as well as harder and bluesier in many key spots; yet, it's every bit as soft and as lyrical as the group in other spots, and all laced with a degree of yearning and urgency that far outstrips virtually anything he did with the group.
... All of this is presented by Stills in the best singing voice of his career up to that point, bolder, more outgoing, and more powerful (a result of his contact with Doris Troy) than anything in his previous output. He also plays lots of instruments (à la Crosby, Stills & Nash, which is another reason it sounds so similar to the group in certain ways), though a bit more organ than guitar, thanks to the presence of Hendrix and Clapton on two cuts...