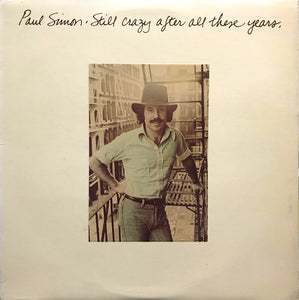 The copy we are selling is similar to the one pictured above.
Sonic Grade
Side One:
Side Two:
Vinyl Grade
Side One: Mint Minus Minus
Side Two: Mint Minus Minus
This vintage copy boasts superb Double Plus (A++) grades or close to them from top to bottom
A tough album to find with the kind of big, spacious, Tubey Magical sound this pressing offers (particularly on side two)
Clean, clear and open are nice qualities to have, but the richer, smoother, more natural sounding copies are the only ones ever good enough to be called Hot Stampers
4 1/2 stars: "...he was never more in tune with his audience: Still Crazy topped the charts, spawned four Top 40 hits, and won Grammys for Song of the Year and Best Vocal Performance."
100% Money Back Guarantee on all Hot Stampers
FREE Domestic Shipping on all LP orders over $150
Vintage covers for this album are hard to find in exceptionally clean shape. Most of the will have at least some amount of ringwear, seam wear and edge wear. We guarantee that the cover we supply with this Hot Stamper is at least VG
---
The overall sound here is big and rich. You get texture to the instruments (check the strings in the title track) but a smooth quality to the vocals instead of the grit and strain you hear on most copies. There's extension up top and weight down low.

This vintage Columbia pressing has the kind of Tubey Magical Midrange that modern records can barely BEGIN to reproduce. Folks, that sound is gone and it sure isn't showing signs of coming back. If you love hearing INTO a recording, actually being able to "see" the performers, and feeling as if you are sitting in the studio with the band, this is the record for you. It's what vintage all analog recordings are known for -- this sound.
If you exclusively play modern repressings of vintage recordings, I can say without fear of contradiction that you have never heard this kind of sound on vinyl. Old records have it -- not often, and certainly not always -- but maybe one out of a hundred new records do, and those are some pretty long odds.
What The Best Sides Of Still Crazy After All These Years Have To Offer Is Not Hard To Hear
The biggest, most immediate staging in the largest acoustic space
The most Tubey Magic, without which you have almost nothing. CDs give you clean and clear. Only the best vintage vinyl pressings offer the kind of Tubey Magic that was on the tapes in 1975
Tight, note-like, rich, full-bodied bass, with the correct amount of weight down low
Natural tonality in the midrange -- with all the instruments having the correct timbre
Transparency and resolution, critical to hearing into the three-dimensional studio space
No doubt there's more but we hope that should do for now. Playing the record is the only way to hear all of the qualities we discuss above, and playing the best pressings against a pile of other copies under rigorously controlled conditions is the only way to find a pressing that sounds as good as this one does.
You can find this album in any store any day of the week, but let me tell you -- most copies out there are godawful. I couldn't stand to sit through another grainy, dry pressing of this album with a gun to my head -- it doesn't matter how good the music is.
On the better copies, however, it's a whole different story.
Two Critical Test Tracks
What separates the mediocre-to-bad-sounding average copy from a Hot Stamper on side one is how well mastered and pressed (yes, pressed, because we shouldn't overlook what bad vinyl can do to the sound) two songs are: "Still Crazy After All These Years" and "50 Ways to Leave Your Lover."
If you get those two tracks right -- breathy vocals, sounding smooth and sweet, with the sibilance under control, supported by good solid bass -- the whole side is going to be good, maybe even amazingly good.
On side two listen to "Have a Good Time" and "You're Kind." On the better Hot Stamper copies, both will sound wonderful.
What We're Listening For On Still Crazy After All These Years
Energy for starters. What could be more important than the life of the music?
Then: presence and immediacy. The vocals aren't "back there" somewhere, lost in the mix. They're front and center where any recording engineer worth his salt -- Roy Halee in this case -- would put them.
The Big Sound comes next -- wall to wall, lots of depth, huge space, three-dimensionality, all that sort of thing.
Then transient information -- fast, clear, sharp attacks, not the smear and thickness so common to these LPs.
Tight punchy bass -- which ties in with good transient information, also the issue of frequency extension further down.
Next: transparency -- the quality that allows you to hear deep into the soundfield, showing you the space and air around all the instruments.
Extend the top and bottom and voila, you have The Real Thing -- an honest to goodness Hot Stamper.
Vinyl Condition
Mint Minus Minus and maybe a bit better is about as quiet as any vintage pressing will play, and since only the right vintage pressings have any hope of sounding good on this album, that will most often be the playing condition of the copies we sell. (The copies that are even a bit noisier get listed on the site are seriously reduced prices or traded back in to the local record stores we shop at.)
Those of you looking for quiet vinyl will have to settle for the sound of other pressings and Heavy Vinyl reissues, purchased elsewhere of course as we have no interest in selling records that don't have the vintage analog magic of these wonderful recordings.
If you want to make the trade-off between bad sound and quiet surfaces with whatever Heavy Vinyl pressing might be available, well, that's certainly your prerogative, but we can't imagine losing what's good about this music -- the size, the energy, the presence, the clarity, the weight -- just to hear it with less background noise.
Track Commentary
The Tracklist tab above will take you to a select song breakdown for each side, with plenty of What to Listen For advice.
Other records with track breakdowns can be found here.
A Tough Record to Play
Both this album and Graceland rank high on our Difficulty of Reproduction Scale. Do not attempt to play them using anything other than the highest quality equipment.
Unless your system is firing on all cylinders, even our hottest Hot Stamper copies -- the Super Hot and White Hot pressings with the biggest, most dynamic, clearest, and least distorted sound -- can have problems. Your system should be thoroughly warmed up, your electricity should be clean and cooking, you've got to be using the right room treatments, and we also highly recommend using a demagnetizer such as the Walker Talisman on the record, your cables (power, interconnect and speaker) as well as the individual drivers of your speakers.
This is a record that's going to demand a lot from the listener, and we want to make sure that you feel you're up to the challenge. If you don't mind putting in a little hard work, here's a record that will reward your time and effort many times over, and probably teach you a thing or two about tweaking your gear in the process (especially your VTA adjustment, just to pick an obvious area most audiophiles neglect).
Side One
Still Crazy After All These Years

The toughest test of them all. If this song sounds good, you are 90% of the way there.

My Little Town

This track was supposed to be a hit single and has the radio mix to prove it, and it WAS a hit, but it's not exactly as pleasing to the audiophile ear as the other songs on the side.

I Do It for Your Love
50 Ways to Leave Your Lover

This track often has some midrange hardness and more of a dry, transistory quality than others on side one -- that is of course unless you happen to be playing an exceptionally good Hot Stamper copy. The better Hot Stampers also seem to have substantially more ambience. It's really a quite well recorded song when good mastering lets you hear it right.

On most copies, in the louder parts of the chorus there is also something that sounds like compressor or limiter distortion on the voices. Turns out it's actually a mastering or pressing issue; on the best copies the loudest vocal parts sound just fine.

How about that awesome Steve Gadd drum part? What pop song relies more on its beat than this one? It's practically worth the price of the album to hear those drums sound so good.

Night Game
Side Two
Gone at Last
Some Folks' Lives Roll Easy
Have a Good Time

One of the best sounding tracks on the album! Very open and sweet on the better copies.

You're Kind

Another top track. The vocals here are especially delicate and silky when you get a properly mastered and pressed copy.

Silent Eyes
AMG 4 1/2 Star Review
The third new studio album of Paul Simon's post-Simon & Garfunkel career was a musical and lyrical change of pace from his first two, Paul Simon and There Goes Rhymin' Simon.
Where Simon had taken an eclectic approach before, delving into a variety of musical styles and recording all over the world, Still Crazy found him working for the most part with a group of jazz-pop New York session players, though he did do a couple of tracks ("My Little Town" and "Still Crazy After All These Years") with the Muscle Shoals rhythm section that had appeared on Rhymin' Simon and another ("Gone at Last") returned to the gospel style of earlier songs like "Loves Me Like a Rock." Of course, "My Little Town" also marked a return to working with Art Garfunkel, and another Top Ten entry for S&G. But the overall feel of Still Crazy was of a jazzy style subtly augmented with strings and horns. Perhaps more striking, however, was Simon's lyrical approach...
...Still Crazy topped the charts, spawned four Top 40 hits, and won Grammys for Song of the Year and Best Vocal Performance.