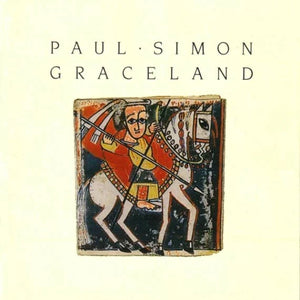 The copy we are selling is similar to the one pictured above.
Sonic Grade
Side One:
Side Two:
Vinyl Grade
Side One: Mint Minus to Mint Minus Minus
Side Two: Mint Minus to Mint Minus Minus
With two seriously good Double Plus (A++) sides, we guarantee you've never heard Graceland sound this good - exceptionally quiet vinyl too
Richer and smoother, two important qualities all the best pressings must have, yet still clear and resolving - this is the sound you want for Graceland
Guaranteed to trounce the well-reviewed but nevertheless AWFUL Heavy Vinyl LP in every way, or your money back and the shipping is on us
There's a delicate, extended top end on this pressing that simply does not exist on the new reissue
5 stars: "An enormously successful record, Graceland became the standard against which subsequent musical experiments by major artists were measured."
100% Money Back Guarantee on all Hot Stampers
FREE Domestic Shipping on all LP orders over $150
This vintage Warner Brothers pressing has the kind of Tubey Magical Midrange that modern records can barely BEGIN to reproduce. Folks, that sound is gone and it sure isn't showing signs of coming back. If you love hearing INTO a recording, actually being able to "see" the performers, and feeling as if you are sitting in the studio with the band, this is the record for you. It's what vintage all analog recordings are known for -- this sound.
Both sides here have more weight down low and more presence to Simon's vocals. There's a pleasant smoothness here, standing in sharp contrast to the typically grainy, spitty copy.
Super transparent and hi-res with no attendant sacrifice in the low end or fullness, this is about as tonally balanced as Graceland gets.
What The Best Sides Of Graceland Have To Offer Is Not Hard To Hear
The biggest, most immediate staging in the largest acoustic space
The most Tubey Magic, without which you have almost nothing. CDs give you clean and clear. Only the best vintage vinyl pressings offer the kind of Tubey Magic that was on the tapes even as late as 1986
Tight, note-like, rich, full-bodied bass, with the correct amount of weight down low
Natural tonality in the midrange -- with all the instruments having the correct timbre
Transparency and resolution, critical to hearing into the three-dimensional studio space
No doubt there's more but we hope that should do for now. Playing the record is the only way to hear all of the qualities we discuss above, and playing the best pressings against a pile of other copies under rigorously controlled conditions is the only way to find a pressing that sounds as good as this one does.
Piles and Piles
We listen to piles of pressings of Graceland regularly. We know the range of sound on the album, what constitutes good, better and best, and we know precisely what qualities the premier copy must have in order to win one of our shootouts.
Above all, the thing Graceland has going for it sonically is clarity. It has many other good qualities as well: It can be open and spacious, tonally correct, with punchy, tight bass and present, breathy vocals.
The better copies have all these qualities to some degree, but the one quality a good copy must have is clarity because that's what's especially good about the sound of the record.
Without clarity, the music doesn't work. The shortest definition of a Hot Stamper is that it's the pressing where the music works. You can be sure that any Hot Stamper copy on our site has at least that going for it.
Graceland Issues
The biggest problem with the sound of Graceland that we encounter in our shootouts is grain. If you've got a copy lying around, throw it on and listen closely to the vocals. Odds are that you'll hear more grain than texture, and that's not the most pleasing way to hear this music.
Other big issues were lack of energy, an overall dark quality, thickness, and congestion. We had to play a bunch of copies to find those that were both smooth and involving, but it was worth the trouble when we heard how correct and musical the best pressings sounded.
What We're Listening For On Graceland
Energy for starters. What could be more important than the life of the music?
Then: presence and immediacy. The vocals aren't "back there" somewhere, lost in the mix. They're front and center where any recording engineer -- Roy Halee in this case -- worth his salt would put them.
The Big Sound comes next -- wall to wall, lots of depth, huge space, three-dimensionality, all that sort of thing.
Then transient information -- fast, clear, sharp attacks, not the smear and thickness so common to these LPs.
Tight punchy bass -- which ties in with good transient information, also the issue of frequency extension further down.
Next: transparency -- the quality that allows you to hear deep into the soundfield, showing you the space and air around all the instruments.
Extend the top and bottom and voila, you have The Real Thing -- an honest to goodness Hot Stamper.
One Tough Album (To Find and To Play)
Not only is it hard to find great copies of this album, it ain't easy to play 'em either. You're going to need a hi-res, super low distortion front end with careful adjustment of your arm in every area -- VTA, tracking weight, azimuth, and anti-skate -- in order to play this album properly. If you've got the goods you're gonna love the way this copy sounds. Play it with a budget cart/table/arm and you're likely to hear a great deal less magic than we did.
Vinyl Condition
Mint Minus Minus is about as quiet as any vintage pressing will play, and since only the right vintage pressings have any hope of sounding good on this album, that will most often be the playing condition of the copies we sell. (The copies that are even a bit noisier get listed on the site are seriously reduced prices or traded back in to the local record stores we shop at.)
Those of you looking for quiet vinyl will have to settle for the sound of other pressings and Heavy Vinyl reissues, purchased elsewhere of course as we have no interest in selling records that don't have the vintage analog magic of these wonderful recordings.
If you want to make the trade-off between bad sound and quiet surfaces with whatever Heavy Vinyl pressing might be available, well, that's certainly your prerogative, but we can't imagine losing what's good about this music -- the size, the energy, the presence, the clarity, the weight -- just to hear it with less background noise.
Heavy Vinyl
Below is our review of the Heavy Vinyl pressing, a textbook case of remastering equalization gone mad.
Where did this thick, dull, bloated, opaque turd come from? Having played at least 50 copies of the album over the last ten years, I can honestly say I have never heard one that sounded very much like this new version (maybe some record club copy we picked up by accident did, can't say it never happened).

Can that possibly be a good thing?

Well, in favor of that proposition I guess you could say it sounds less like a CD now. On the other side of the ledger, it now sounds a great deal more like a bad LP.

We listen to piles of pressings of Graceland regularly. We know what the album generally sounds like, the range from bad to good, and we know what qualities the very best copies must have in order to win one of our shootouts.

Above all the one thing Graceland has going for it sonically is CLARITY. It can be open and spacious, tonally correct, with punchy, tight bass and present, breathy vocals. The best of the best copies have all these qualities, but the one quality any good copy must have is clarity, because that's what's good about the sound of the record. Without clarity the music doesn't even work.

The new version has been "fixed". It got rid of all that pesky grit and grain and CD-like sound from the original digital mix by heavy-handedly equalizing them away.

Cut the top, cut the upper mids, boost the lower mids and upper bass and voila –- now it's what Graceland would have sounded like had it been all analog from the start, AAA baby!

Or at least analog for those who don't know what good analog sounds like.

But it never was all analog, and trying to make it sound that way just ruins the one quality that it actually had going for it — clarity.

VTA

You can adjust your VTA and other table settings until you're blue in the face, you'll never get this pressing to sound right, and you'll certainly never get it to sound very much like any Sterling original pressing I've ever heard.

The digital spit and grit is still there, under the darker EQ. And now it's even worse -- Simon's voice has a thick, dull blanket over it, but you can still hear the spit underneath it.

You could probably take the CD and equalize it to sound like this record. But what would be the point?

The Bright Side

Well, perhaps there is a point to this equalization madness.

The CD already exists. It has a sound.

The original record has a sound too, and it's a fairly common LP in the used bins. You could buy two or three for not that much money and try to find one you like better than the vinyl version you probably already own.

Or, dissatisfied with the sound of the original records and CDs above, and not in the market to spend hundreds of dollars on a good copy from us, you could look at the new Heavy Vinyl pressing as another option, a different take, a new approach, something along those lines.

Just don't think that by doing so you're going to hear Graceland the way Paul Simon, Roy Halee, or the folks at Sterling wanted you to hear it.

They produced millions of copies that mostly sound one way, and now some fellows — at least one of whom was involved with the new project, to be fair, but it was 40 years ago(!), and it's fair to point that out too, right? — some new fellows have produced a few thousand copies that sound another way.

It's clear to us who got it right, but based on what I've been reading in preparation for writing this commentary, the audiophile reviewers and at least some of the audiophile public at large see it quite differently.
Side One
The Boy In The Bubble
Graceland
I Know What I Know
Gumboots
Diamonds On The Soles Of Her Shoes
Side Two
You Can Call Me Al
Under African Skies
Homeless
Crazy Love, Vol. II
That Was Your Mother
All Around The World or the Myth of Fingerprints
AMG 5 Star Rave Review
With Graceland, Paul Simon hit on the idea of combining his always perceptive songwriting with the little-heard mbaqanga music of South Africa, creating a fascinating hybrid that re-enchanted his old audience and earned him a new one. It is true that the South African angle (including its controversial aspect during the apartheid days) was a powerful marketing tool and that the catchy music succeeded in presenting listeners with that magical combination: something they'd never heard before that nevertheless sounded familiar.
As eclectic as any record Simon had made, it also delved into zydeco and conjunto-flavored rock & roll while marking a surprising new lyrical approach (presaged on some songs on Hearts and Bones); for the most part, Simon abandoned a linear, narrative approach to his words, instead drawing highly poetic ("Diamonds on the Soles of Her Shoes"), abstract ("The Boy in the Bubble"), and satiric ("I Know What I Know") portraits of modern life, often charged by striking images and turns of phrase torn from the headlines or overheard in contemporary speech.
An enormously successful record, Graceland became the standard against which subsequent musical experiments by major artists were measured.