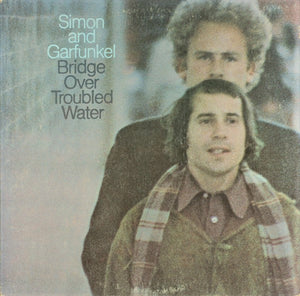 The copy we are selling is similar to the one pictured above.
Sonic Grade
Side One:
Side Two:
Vinyl Grade
Side One: Mint Minus Minus
Side Two: Mint Minus Minus
This pressing of Simon & Garfunkel's classic boasts STUNNING Shootout Winning Triple Plus (A+++) sound or close to it throughout
The sound is big, lively, and clear, with the kind of Tubey Magical richness that only the best 360 pressings can offer
Surely this is by far the toughest album of theirs to find with top quality sound and decent surfaces
A top quality side one with audiophile quality surfaces is not easy to find on this album, the main reason you see this title on the site so infrequently
This Magnum Opus ended the duo's collaboration with a ginormous over-the-top production, which taxed the recording technology of the day and is sure to tax any system that attempts to reproduce it
5 stars: "Perhaps the most delicately textured album to close out the 1960s from any major rock act... the songs matched the standard of craftsmanship that had been established on the duo's two prior albums"
100% Money Back Guarantee on all Hot Stampers
FREE Domestic Shipping on all LP orders over $150
Hey Guys and Gals, What's With the High Prices for Common Rock Records?
The reason we rarely have this record in stock is that our failure rate for the copies we buy is probably between 70 and 80%. Some of those records we pay a hundred bucks for these days, five times what they cost us five or ten years ago. And they are few and far between.
The sound of these sides is a big step up from everything else we played. The strings on the title track actually have some texture, and "Cecilia" comes to life in a way we guarantee you have never heard before. There's also much less of the spit and grit that you find on many copies. (Less, but not none, that would be impossible, it's on the tape.) 
The sound is much more musical than you would expect if you own a reissue on the red label or an audiophile pressing of any kind. All of our copies are on the 360 label, and none of them are on Heavy Vinyl or Half-Speed Mastered. If it's not a 360, it's not a Hot Stamper in our book.
If you own any modern Heavy Vinyl pressing, from the Classic Records version through whatever they are peddling now, you are in for a mind-blowing experience with this White Hot Stamper pressing.
This vintage Columbia 360 Stereo pressing has the kind of Tubey Magical Midrange that modern records can barely BEGIN to reproduce. Folks, that sound is gone and it sure isn't showing signs of coming back. If you love hearing INTO a recording, actually being able to "see" the performers, and feeling as if you are sitting in the studio with the band, this is the record for you. It's what vintage all analog recordings are known for -- this sound.
If you exclusively play modern repressings of vintage recordings, I can say without fear of contradiction that you have never heard this kind of sound on vinyl. Old records have it -- not often, and certainly not always -- but maybe one out of a hundred new records do, and those are some pretty long odds.
What The Best Sides Of Bridge Over Troubled Water Have To Offer Is Not Hard To Hear
The biggest, most immediate staging in the largest acoustic space
The most Tubey Magic, without which you have almost nothing. CDs give you clean and clear. Only the best vintage vinyl pressings offer the kind of Tubey Magic that was on the tapes in 1970
Tight, note-like, rich, full-bodied bass, with the correct amount of weight down low
Natural tonality in the midrange -- with all the instruments having the correct timbre
Transparency and resolution, critical to hearing into the three-dimensional studio space
No doubt there's more but we hope that should do for now. Playing the record is the only way to hear all of the qualities we discuss above, and playing the best pressings against a pile of other copies under rigorously controlled conditions is the only way to find a pressing that sounds as good as this one does.
Passing the Tests
So many copies of this album sound wrong in so many ways, it would be impossible to list them all here. Suffice it to say, a Hot Stamper copy has to pass a lot of tests before we're willing to vouch for it, and this copy easily passed those tests.
We love this music, but let me tell you the truth -- this is not a shootout we look forward to doing. The sound of many copies borders on painful. If you play a couple dozen copies, you'll probably turn up a good one eventually, but you're likely to end up with a headache before you do.
You would have to look far and wide to find a copy that isn't plagued with transistory, gritty, opaque and/or unmusical sound. Fortunately for you, dear Better Records customer, you don't have to look any further than your email inbox to find an amazing sounding BOTW, because we found it for you.
Recent Findings
One of the most interesting findings in recent shootouts was that no Red Label copy scored remotely as high as the best 360 Label copies -- even when they had the same stamper numbers. The later labels are often clean and clear, but ultimately they lack the midrange magic, warmth, and sweetness of the best early pressings. Since this recording has a problem in all those areas to start with, most red label copies are missing too much of the Simon & Garfunkel magic, the kind of magic that is so wonderfully evident on their two previous outings: Parsley, Sage... and Bookends.
Why do the two previous albums have more magic? They're simpler productions, the kind that can be handled by the four-track machine they were recorded on. Bridge is the boys' Musical Statement for All Time, with production and scope far exceeding their previous work. Like the Beatles with Abbey Road, they gave it their all and went out on a high note. (The Beatles planned it that way, while S and G fell victim to their ambition, which you can read about in the AMG review below.)
What a Masterpiece they achieved. Ten weeks at Number One on the charts. Depth and breadth of material only hinted at on their earlier efforts. Who can argue with this being one of the most important achievements in popular music of the last fifty years?
What We're Listening For On Bridge Over Troubled Water
Energy for starters. What could be more important than the life of the music?
Then: presence and immediacy. The vocals aren't "back there" somewhere, lost in the mix. They're front and center where any recording engineer worth his salt -- Roy Halee in this case -- would put them.
The Big Sound comes next -- wall to wall, lots of depth, huge space, three-dimensionality, all that sort of thing.
Then transient information -- fast, clear, sharp attacks, not the smear and thickness so common to these LPs.
Tight punchy bass -- which ties in with good transient information, also the issue of frequency extension further down.
Next: transparency -- the quality that allows you to hear deep into the soundfield, showing you the space and air around all the instruments.
Extend the top and bottom and voila, you have The Real Thing -- an honest to goodness Hot Stamper.
A Price Must Be Paid
The sonic problems and promise of the multi-track approach can both be heard in one track: "The Only Living Boy In New York." The song starts simply, focusing on the duo's lovely voices, with only minimal instrumentation. It sounds phenomenal on the better pressings, and very good on even the more run-of-the-mill 360 copies. Halfway through the song, heavy-handed production kicks in, and the sound suffers significantly. You can't fault the band for going big, but neither can you blame audiophiles for wishing they had kept it simple.
This kind of musical and sonic complexity has a price. Play the ending to the title song and you will hear immediately what I mean. They had only four tracks to work with, and four is just not enough to squeeze all the sounds they wanted to record. Compromises had to be made. Reductions of four tracks into one were done numerous times. This process leaves three fresh tracks of tape for more overdubs but adds a generation of tape to the tracks that were reduced. Those extra generations of tape cause the added problems one hears on the big production songs on this album and Bookends as well. (Save the Life of My Child comes immediately to mind.)
Of course, our job is to find the pressing that captures as much of the magic as possible with as little of the distortion. This means three things: proper mastering, good vinyl and tender loving care from previous owners, a tough combo but not an impossible one we're happy to say.
Vinyl Condition
Mint Minus Minus and maybe a bit better is about as quiet as any vintage pressing will play, and since only the right vintage pressings have any hope of sounding good on this album, that will most often be the playing condition of the copies we sell. (The copies that are even a bit noisier get listed on the site are seriously reduced prices or traded back in to the local record stores we shop at.)
Those of you looking for quiet vinyl will have to settle for the sound of other pressings and Heavy Vinyl reissues, purchased elsewhere of course as we have no interest in selling records that don't have the vintage analog magic of these wonderful recordings.
If you want to make the trade-off between bad sound and quiet surfaces with whatever Heavy Vinyl pressing might be available, well, that's certainly your prerogative, but we can't imagine losing what's good about this music -- the size, the energy, the presence, the clarity, the weight -- just to hear it with less background noise.
A Must Own Popular Recording
We consider this Simon and Garfunkel album a Masterpiece. It's a recording that should be part of any serious Popular Music Collection. Others that belong in that category can be found here.
This album also ranks close to the top of our Difficulty of Reproduction Scale. You're going to need a hi-res, super low distortion front end with careful adjustment of your arm in every area -- VTA, tracking weight, azimuth and anti-skate -- in order to play this album properly. If you've got the goods you're gonna love the way this copy sounds. Play it with a budget cart / table / arm and you're likely to hear a great deal less magic than we did.
Side One
Bridge Over Troubled Water

The toughest test of them all (see the commentary in the description). The solo piano opening is practically impossible to find with silent vinyl, but most copies quiet down to Mint Minus or so by the time the vocals get going.

El Condor Pasa
Cecilia
Keep The Customer Satisfied
So Long, Frank Lloyd Wright
Side Two
The Boxer
Baby Driver
The Only Living Boy In New York

Listen to Art's ethereal background vocals on The Only Living Boy in New York. They float out from the speakers, each of the multi-tracked voices clear, distinct, airy and sweet, not transistory and pinched as on most pressings.

Why Don't You Write Me
Bye Bye Love
Song For The Asking
AMG 5 Star Rave Review
Bridge Over Troubled Water was one of the biggest-selling albums of its decade, and it hasn't fallen too far down on the list in years since. Apart from the gospel-flavored title track, which took some evolution to get to what it finally became, however, much of Bridge Over Troubled Water also constitutes a stepping back from the music that Simon & Garfunkel had made on Bookends — this was mostly because the creative partnership that had formed the body and the motivation for the duo's four prior albums literally consumed itself in the making of Bridge Over Troubled Water.
The overall effect was perhaps the most delicately textured album to close out the 1960s from any major rock act. Bridge Over Troubled Water, at its most ambitious and bold, on its title track, was a quietly reassuring album; at other times, it was personal yet soothing; and at other times, it was just plain fun. The public in 1970 — a very unsettled time politically, socially, and culturally — embraced it; and whatever mood they captured, the songs matched the standard of craftsmanship that had been established on the duo's two prior albums.
Between the record's overall quality and its four hits, the album held the number one position for two and a half months and spent years on the charts, racking up sales in excess of five million copies. The irony was that for all of the record's and the music's appeal, the duo's partnership ended in the course of creating and completing the album.