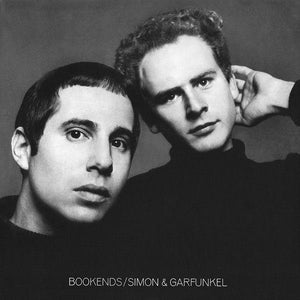 The copy we are selling is similar to the one pictured above.
Sonic Grade
Side One:
Side Two:
Vinyl Grade
Side One: Mint Minus Minus
Side Two: Mint Minus Minus
With two excellent Double Plus (A++) sides, you'll have a hard time finding a copy that sounds remotely as good as this early 360 Stereo pressing
This copy has lovely midrange magic on the guitars and voices, as well as plenty of studio ambience on most tracks, especially the simpler, more folky ones
An album that has become much tougher to come by, especially copies with sides that play as well as these do
Top 100, Five Stars - side two alone has four classics: "Fakin' It," "Mrs. Robinson," "A Hazy Shade of Winter" and "At the Zoo"
More Simon & Garfunkel / More Recordings on Vintage Columbia Vinyl
100% Money Back Guarantee on all Hot Stampers
FREE Domestic Shipping on all LP orders over $150
The better copies of Bookends and Parsley, Sage, Rosemary and Thyme are a sonic step up in class from anything else these two guys ever released. If you're looking for the Ultimate Audiophile Simon & Garfunkel record, you just can't do better than a killer Hot Stamper pressing of either title.
This album has exceptional bass as well as lovely midrange magic on the guitars and voices. There's plenty of studio ambience on most tracks, especially the simpler, more folky ones.
Do you know how hard it is to find a clean copy of this record? I'll bet we look at 50 every year and probably buy no more than a few, which, after cleaning and going into a shootout may or may not sound good or have audiophile quality surfaces.
This vintage Columbia 360 Stereo pressing has the kind of Tubey Magical Midrange that modern records can barely BEGIN to reproduce. Folks, that sound is gone and it sure isn't showing signs of coming back. If you love hearing INTO a recording, actually being able to "see" the performers, and feeling as if you are sitting in the studio with the band, this record is for you. It's what vintage all analog recordings are known for -- this sound.
If you exclusively play modern repressings of vintage recordings, I can say without fear of contradiction that you have never heard this kind of sound on vinyl. Old records have it -- not often, and certainly not always -- but maybe one out of a hundred new records do, and those are some pretty long odds.
What The Best Sides Of Bookends Have To Offer Is Not Hard To Hear
The biggest, most immediate staging in the largest acoustic space
The most Tubey Magic, without which you have almost nothing. CDs give you clean and clear. Only the best vintage vinyl pressings offer the kind of Tubey Magic that was on the tapes in 1968
Tight, note-like, rich, full-bodied bass, with the correct amount of weight down low
Natural tonality in the midrange -- with all the instruments having the correct timbre
Transparency and resolution, critical to hearing into the three-dimensional studio space
No doubt there's more but we hope that should do for now. Playing this record is the only way to hear all of the qualities we discuss above, and playing the best pressings against a pile of other copies under rigorously controlled conditions is the only way to find a pressing that sound as good as this one does.
What We're Listening For On Bookends
The bigger production songs on this album have a tendency to get congested on even the best pressings, which is not uncommon for Four Track recordings from the 60s. Those of you with properly set up high-dollar front ends should have less of a problem than some. $3000 cartridges can usually deal with this kind of complex information better than $300 ones.
But not always. Expensive does not always mean better since painstaking and exacting set up is so essential to proper playback.
The supremely talented Roy Halee handled the engineering duties. Not the most "natural" sounding record he ever made, but that's clearly not what he or the duo were going for. The three of them would obviously take their sound much farther in that direction with the Grammy-winning Bridge Over Troubled Water from 1970.
The Wrecking Crew provided top quality backup, with Hal Blaine on drums and percussion, Joe Osborn on bass and Larry Knechtel on piano and keyboards.
Bigger and Bolder
One of the qualities that we don't talk about on the site nearly enough is the SIZE of the record's presentation. Some copies of the album just sound small -- they don't extend all the way to the outside edges of the speakers, and they don't seem to take up all the space from the floor to the ceiling. In addition, the sound can often be recessed, with a lack of presence and immediacy in the center.
Other copies -- my notes for these copies often read "BIG and BOLD" -- create a huge soundfield, with the music positively jumping out of the speakers. They're not brighter, they're not more aggressive, they're not hyped-up in any way, they're just bigger and clearer.
We often have to go back and downgrade the copies that we were initially impressed with in light of such a standout pressing. Who knew the recording could be that huge, spacious and three dimensional? We sure didn't, not until we played the copy that had those qualities, and that copy might have been number 8 or 9 in the rotation.
Think about it: if you had only seven copies, you might not have ever gotten to hear a copy that sounded that open and clear. And how many even dedicated audiophiles would have more than one of two clean original copies with which to do a shootout? These records are expensive and hard to come by in good shape. Believe us, we know whereof we speak when it comes to getting hold of original pressings of Classic Folk Rock albums.
One further point needs to be made: most of the time these very special pressings just plain rock harder. When you hear sides do what these sides can, it's an entirely different -- and dare I say unforgettable -- listening experience.
Vinyl Condition
Mint Minus Minus is about as quiet as any vintage pressing will play, and since only the right vintage pressings have any hope of sounding good on this album, that will most often be the playing condition of the copies we sell. (The copies that are even a bit noisier get listed on the site are seriously reduced prices or traded back in to the local record stores we shop at.)
Those of you looking for quiet vinyl will have to settle for the sound of other pressings and Heavy Vinyl reissues, purchased elsewhere of course as we have no interest in selling records that don't have the vintage analog magic of these wonderful recordings.
If you want to make the trade-off between bad sound and quiet surfaces with whatever Heavy Vinyl pressing might be available, well, that's certainly your prerogative, but we can't imagine losing what's good about this music -- the size, the energy, the presence, the clarity, the weight -- just to hear it with less background noise.
Track Commentary
The Tracklist tab above will take you to a select song breakdown for side one, with plenty of What to Listen For advice. Other records with track breakdowns can be found here.
A Tough Record to Play
This album ranks fairly high on our Difficulty of Reproduction Scale. Do not attempt to play it using anything but the highest quality equipment.
The big production songs on this album have a tendency to get congested on even the best pressings, which is not uncommon for Four Track recordings from the '60s. Those of you with properly set up high-dollar front ends should have less of a problem than most. $3000 cartridges can usually deal with this kind of complex information better than $300 ones.
But not always. Expensive does not always mean better, since painstaking and exacting set up is so essential to proper playback.
Side One
Bookends Theme
Save the Life of My Child

I used to think this track would never sound good enough to use as an evaluation track. It's a huge production that I found heretofore practically impossible to get to sound right on even the best original copies of the album. Even as recently as ten years ago I had basically given up trying.

Thankfully things have changed. Nowadays, with great copies at our disposal and a system that is really cooking, virtually all of the harmonic distortion in the big chorus near the opening disappears. It takes a very special pressing and a very special stereo to play this song.

America

America is another one of the toughest tracks to get right. The big ending with its powerful orchestral elements is positively stunning on the rare copies that have little or no congestion in the loudest passages.

On virtually every copy you will ever hear the voices on this track are a little sibilant. Modern records are made with what is known as a de-essing limiter. This limiter recognizes sibilance and keeps it under control, because once the cutter head sees that kind of high frequency information, which is already boosted for the RIAA curve, it will try to cut it onto the record and the result will be this kind of spitty distortion.

What's interesting is that none of the reissues we played managed to control the problem, even though the hgher quality cutting systems they would have been made with should have been able to handle the extra power requirements. The reissues are not only spitty, but the spit tends to be grainy and aggressive on the bad copies, the worst of both worlds.

Adding to the problem on the track America is the fact that it fades in over the ending of the previous track. This means that it's actually a generation of tape down from the master, owing to the fact that that kind of mixing is generally done from two master tapes onto a third mixdown tape. From there further dubs might even have been made. Who knows how many generations of tape there might end up being between the master and the finished product?

There is also deep bass on the better copies, bass which is usually missing from the most originals and practically all of the reissues.

Overs
Voices of Old People
Old Friends
Bookends Theme
Side Two
Fakin' It
Punky's Dilemma
Mrs. Robinson
A Hazy Shade of Winter
At the Zoo
AMG 5 Star Rave Review
Bookends is a literary album that contains the most minimal of openings with the theme, an acoustic guitar stating itself slowly and plaintively before erupting into the wash of synthesizers and dissonance that is "Save the Life of My Child."
The classic "America" is next, a folk song with a lilting soprano saxophone in the refrain and a small pipe organ painting the acoustic guitars in the more poignant verses. The song relies on pop structures to carry its message of hope and disillusionment as two people travel the American landscape searching for it until it dawns on them that everyone else on the freeway is doing the same thing.
The final four tracks, "Mrs. Robinson," the theme song for the film The Graduate, "A Hazy Shade of Winter," and the album's final track, "At the Zoo," offer as tremblingly bleak a vision for the future as any thing done by the Velvet Underground, but rooted in the lives of everyday people, not in the decadent underground personages of New York's Factory studio. But the album is also a warning that to pay attention is to take as much control of one's fate as possible.