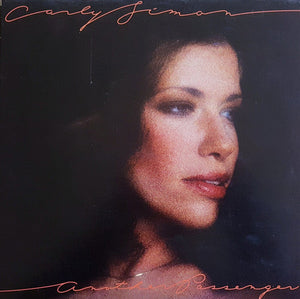 The copy we are selling is similar to the one pictured above.
Sonic Grade
Side One:
Side Two:
Vinyl Grade
Side One: Mint Minus Minus
Side Two: Mint Minus Minus
An original Elektra pressing of Simon's underrated release from 1976 with solid Double Plus (A++) grades from start to finish
Both of these sides are rich, full-bodied and warm, with real immediacy to Carly's wonderfully present and breathy vocals
You get lovely extension up top, good weight down low, as well as exceptional transparency in the midrange, all qualities that were much less evident on the average copy we played
"Another Passenger is Carly Simon's best record. The sniffs of 'So what?' that that assertion may provoke are exactly what Simon is confronting with this album." - Rolling Stone
100% Money Back Guarantee on all Hot Stampers
FREE Domestic Shipping on all LP orders over $150
Vintage covers for this album are hard to find in exceptionally clean shape. Most of the will have at least some amount of ringwear, seam wear and edge wear. We guarantee that the cover we supply with this Hot Stamper is at least VG
---
This is my personal favorite of all of Carly's albums. It's her most consistent work in terms of singing and songwriting. Nothing too heavy, just well crafted and enjoyable Singer Songwriter pop. If you like the kind of albums Paul Simon used to make before Graceland, or middle period James Taylor, you should like this.
Some of her albums can be badly overproduced, with big echoey drum thwacks; thankfully this is not one of them, so it wears well. I can personally attest to that fact because I have a tape of this album in my car and I'll bet you I've heard it at least two hundred times.
This vintage Elektra pressing has the kind of Tubey Magical Midrange that modern records can barely BEGIN to reproduce. Folks, that sound is gone and it sure isn't showing signs of coming back. If you love hearing INTO a recording, actually being able to "see" the performers, and feeling as if you are sitting in the studio with the band, this is the record for you. It's what vintage all analog recordings are known for -- this sound.
If you exclusively play modern repressings of vintage recordings, I can say without fear of contradiction that you have never heard this kind of sound on vinyl. Old records have it -- not often, and certainly not always -- but maybe one out of a hundred new records do, and those are some pretty long odds.
What The Best Sides Of Another Passenger Have To Offer Is Not Hard To Hear
The biggest, most immediate staging in the largest acoustic space
The most Tubey Magic, without which you have almost nothing. CDs give you clean and clear. Only the best vintage vinyl pressings offer the kind of Tubey Magic that was on the tapes in 1976
Tight, note-like, rich, full-bodied bass, with the correct amount of weight down low
Natural tonality in the midrange -- with all the instruments having the correct timbre
Transparency and resolution, critical to hearing into the three-dimensional studio space
No doubt there's more but we hope that should do for now. Playing the record is the only way to hear all of the qualities we discuss above, and playing the best pressings against a pile of other copies under rigorously controlled conditions is the only way to find a pressing that sounds as good as this one does.
Two Superb Sides
It's one of the more transparent copies we've heard. You can really hear INTO the soundfield in a way that would never be possible with an average pressing. Even though we had played more than a half-dozen copies before dropping the needle on this one, this pressing showed us details that had previously escaped us. The presence on this copy is remarkable -- Carly's voice jumps out of the speakers and fills the room. The bass here is deep, tight, and note-like. The vocals sound amazing with lots of breath and texture. The overall sound is big and bold, smooth and sweet, and above all, musical. It's airy, open, spacious and dynamic.
What We're Listening For On Another Passenger
Energy for starters. What could be more important than the life of the music?
Then: presence and immediacy. The vocals aren't "back there" somewhere, lost in the mix. They're front and center where any recording engineer worth his salt -- Donn Landee in this instance -- would put them.
The Big Sound comes next -- wall to wall, lots of depth, huge space, three-dimensionality, all that sort of thing.
Then transient information -- fast, clear, sharp attacks, not the smear and thickness so common to these LPs.
Tight punchy bass -- which ties in with good transient information, also the issue of frequency extension further down.
Next: transparency -- the quality that allows you to hear deep into the soundfield, showing you the space and air around all the instruments.
Extend the top and bottom and voila, you have The Real Thing -- an honest to goodness Hot Stamper.
An All-Star Cast
Ultimately an album succeeds or fails on the strength of its songwriting, and here Another Passenger soars with consistently insightful material, as well as wonderful production. Ted Templeman was a hot producer in the 70s, churning out very well recorded albums for The Doobies, Little Feat, James Taylor, even my favorite Captain Beefheart album, Clear Spot. He did a top-notch job on this one, too.
This underrated release from 1976 was a change of pace for Carly, and maybe that's why I like it so much. There is no other Carly Simon album quite like it. She's got some help here from a wonderful backing crew including members of the Doobies and Little Feat, plus Linda Ronstadt, Jackson Browne, Dr. John, and of course good 'ol JT.
Vinyl Condition
Mint Minus Minus and maybe a bit better is about as quiet as any vintage pressing will play, and since only the right vintage pressings have any hope of sounding good on this album, that will most often be the playing condition of the copies we sell. (The copies that are even a bit noisier get listed on the site are seriously reduced prices or traded back in to the local record stores we shop at.)
Those of you looking for quiet vinyl will have to settle for the sound of other pressings and Heavy Vinyl reissues, purchased elsewhere of course as we have no interest in selling records that don't have the vintage analog magic of these wonderful recordings.
If you want to make the trade-off between bad sound and quiet surfaces with whatever Heavy Vinyl pressing might be available, well, that's certainly your prerogative, but we can't imagine losing what's good about this music -- the size, the energy, the presence, the clarity, the weight -- just to hear it with less background noise.
Side One
Half A Chance
It Keeps You Runnin'
Fairweather Father
Cow Town
He Likes To Roll
In Times When My Head
Side Two
One Love Stand
Riverboat Gambler
Darkness 'Til Dawn
Dishonest Modesty
Libby
Be With Me
Rolling Stone Rave Review
August 12, 1976
"Cow Town," a song Carly Simon has written for Another Passenger, tells the story of a cagey French woman named Simone Swann who marries a Texas millionaire for his money, and because she's lonely. In the second verse, Swann prepares to accompany the Texan to his native land, and Simon notes:
She packed up all her perfume
For the gusty pioneer
On a carefree note he said "forget your coat
There's a chill about every ten years."
The use of the word "gusty" here is a small revelation, and the phrasing of the "carefree note" is perfect. This is the sort of lucid, humorous and concise observation for which Randy Newman, say, would be praised to the skies. I'll venture a guess that Carly Simon won't be huzzahed for her verbal dexterity and wit, however. If past reviews are any indication, a goodly number of her notices will consist of arch compliments of the gams displayed on the back cover.
Another Passenger is Carly Simon's best record. The sniffs of "So what?" that that assertion may provoke are exactly what Simon is confronting with this album. Her tenure with producer Richard Perry left many with the feeling that she had given herself over to his very particular musical vision, and the music that resulted — ephemeral and repetitive for the most part — was more Perry's failure than Simon's. Whether that impression is accurate or not, it is an embarrassingly obvious example of the cliché of a woman allowing herself to be manipulated by a man or men who know "better," or more, than she.
- Ken Tucker