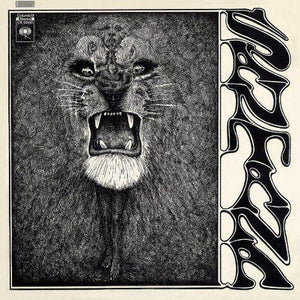 The copy we are selling is similar to the one pictured above.
Sonic Grade
Side One:
Side Two:
Vinyl Grade
Side One: Mint Minus Minus
Side Two: Mint Minus Minus
A superb 360 Label pressing of Santana's debut album with Double Plus (A++) sound on both sides
The drums have real snap to them - fast, clean percussion is critical to the energy and drive of Santana's music and this copy has the top end and the speed to bring it all together
A Must Own album, clearly their Masterpiece, and one of the truly groundbreaking debuts in rock history
It's also a personal favorite that knocked me out when I first heard it back in high school - over the decades it has become even more impressive, especially these days with the revolutions in cleaning and playback quality letting it sound as big and bold as it does
"Santana combined Latin rhythms with jazz-inspired improvisation, hard-rock guitar and lyrical, B.B. King-style blues - and even had a hit single, "Evil Ways. The combination of rock guitar and funk percussion was undeniable." - Rolling Stone
100% Money Back Guarantee on all Hot Stampers
FREE Domestic Shipping on all LP orders over $150
Santana's first album came out of nowhere and rocked in a way that few had heard before. In that sense, it has something in common with Led Zeppelin's debut. That album took the blues and added heavy metal guitars. Santana took African and Latin rhythms and added his own heavy metal guitar sound. Each is a landmark recording in its own right.

This vintage pressing has the kind of Tubey Magical Midrange that modern records can barely BEGIN to reproduce. Folks, that sound is gone and it sure isn't showing signs of coming back. If you love hearing INTO a recording, actually being able to "see" the performers, and feeling as if you are sitting in the studio with the band, this is the record for you. It's what vintage all analog recordings are known for -- this sound.
If you exclusively play modern repressings of vintage recordings, I can say without fear of contradiction that you have never heard this kind of sound on vinyl. Old records have it -- not often, and certainly not always -- but maybe one out of a hundred new records do, and those are some pretty long odds.
What The Best Sides of Santana's Groundbreaking Debut Have To Offer Is Not Hard To Hear
The biggest, most immediate staging in the largest acoustic space
The most Tubey Magic, without which you have almost nothing. CDs give you clean and clear. Only the best vintage vinyl pressings offer the kind of Tubey Magic that was on the tapes in 1969
Tight, note-like, rich, full-bodied bass, with the correct amount of weight down low
Natural tonality in the midrange -- with the keyboards, guitars, drums and percussion having the correct sound for this kind of Latin Rock record
Transparency and resolution, critical to hearing into the three-dimensional space of the studio
No doubt there's more but we hope that should do for now. Playing the record is the only way to hear all of the above, and playing the best pressings against a pile of other copies under rigorously controlled conditions is the only way to find a pressing that sounds as good as this one does.
Musicianship
When you play a Hot Stamper copy very loud, soon enough you find yourself marveling at the musicianship of the group -- because the better Hot Stamper pressings, communicating every bit of the energy and clarity the recording has to offer, let you hear what a great band they were.
On badly mastered records, such as the run-of-the-mill domestic LP, or the audiophile pressings on MoFi and CBS, the music lacks the power of the real thing. I want to hear Santana ROCK. Most pressings don't let me do that, but the better sure do.
Folks, you owe it to yourself to hear what a great band Santana were back in the day. Hot Stampers of any of the first three records will do the trick. If you've got the stereo that can play live rock and roll, we've got the records that sound like Santana playing live. Take it from someone who likes to listen to his music at fairly loud levels, it is truly a thrill.
What We're Listening For On Santana's Debut
Energy for starters. What could be more important than the life of the music?
Then: presence and immediacy. The vocals aren't "back there" somewhere, lost in the mix. They're front and center where any recording engineer worth his salt would put them.
The Big Sound comes next -- wall to wall, lots of depth, huge space, three-dimensionality, all that sort of thing.
Then transient information -- fast, clear, sharp attacks, not the smear and thickness so common to these LPs.
Tight punchy bass -- which ties in with good transient information, also the issue of frequency extension further down.
Next: transparency -- the quality that allows you to hear deep into the soundfield, showing you the space and air around all the instruments.
Extend the top and bottom and voila, you have The Real Thing -- an honest to goodness Hot Stamper.
Vinyl Condition
It's been our experience that finding clean copies with the right stampers of this album is getting harder by the day. A number of factors conspire to make quiet, good-sounding pressings relatively rare.
First off, the majority of original pressings simply don't sound good. A 360 label does not mean anything on this record except the potential for good sound. (And there are great-sounding red label copies out there; they just happen to be even harder to find with good sound.)
The badly mastered or pressed copies can be recognized easily: they are muddy and smeary. The recording itself has a bit of that too-many-tubes-in-the-signal-path quality to start with, so unless the record is mastered and pressed clearly and cleanly the whole presentation is likely to turn to mud.
And of course the most serious problem for collectors of vintage recordings is condition. It's fairly unusual to find an early copy of this record that isn't beat to death. I bought my first copy while I was in high school and I can assure you that I did my best to beat mine to death. I remember playing the record over and over again until the grooves were practically worn smooth.
Track Commentary
The Tracklist tab above will take you to a select song breakdown for each side, with plenty of What to Listen For advice. Other records with track breakdowns can be found here.
A Must Own Rock Record
This Demo Disc Quality recording should be part of any serious Rock Collection. Others that belong in that category can be found here.
Side One
Waiting

The first 30 seconds of this track will tell you if you have a good side one. The drums and percussion on the good copies are clean and clear, neither grainy nor smeared. Smearing is the most common problem for the originals, and graininess is the most common problem for reissues, which are usually made from sub generation EQ'd tapes.

And the other thing the Hot Stampers have going for them is deep, solid bass, as mentioned above. There is a bass fundamental on this opening track that's way down there. If you have small speakers you can just forget ever hearing this record sound right, because the bass is critical to Santana's sound.

Evil Ways

The key thing to listen to on this track is the quality of the vocals. On the better pressings they are very silky and sweet. It's the kind of sound that modern recordings simply fail to capture. Or they're not interested in that sound. Whatever the reason, they don't have it.

Shades of Time
Savor
Jingo

BIG DRUMS, BIG HALL. You want to listen to this song on the biggest speakers you can find, playing as loud as they will play, in the biggest room in the house. You'll never forget it.
Side Two
Persuasion
Treat
You Just Don't Care

This is probably my favorite track on side two. This song doesn't even make sense at normal listening levels. If you can't play it loud, don't even bother. There are big guitar power chords on this song that are meant to be heard at loud levels. Gregg Rolie is practically screaming his vocals because he needs to shout to be heard over those crashing guitar chords. I like to say that when I come across a song like this, I can't play it loud enough. The music cries out for more volume. The louder it gets the better it gets, because it's all about power.

This song will sound somewhat muddy at normal listening levels. All the energy is in the lower frequencies. The voice is correct, however, so when the voice sounds tonally correct and there's tons of energy in the bass and lower midrange, you probably have yourself a good copy.

Soul Sacrifice
AMG 4 1/2 Star Review
Before the arrival of Carlos Santana's eponymous band, the San Francisco rock scene drew the inspiration for its jam-oriented music mainly from blues, rock, and Eastern modalities. Santana added Latin music to the mix, forever changing the course of rock & roll history. On their groundbreaking debut album, the group mix Latin percussion with driving rock grooves. Santana's unique guitar style, alternately biting and liquid, vies with the multiple percussionists for the sonic focus.
Unlike later efforts, Santana's first album features an abundance of loose, collective compositions based on a couple of simple riffs ("Jingo," "Soul Sacrifice"). This approach allows for Santana and his bandmates to flex their improvisational muscles to fine effect. The high-energy level on Santana is infectious -- the laid-back feel of other '60s San Francisco groups was clearly not for Carlos and co.
Rolling Stone Review
The first two times Santana tried to record their debut, they scrapped the tapes. But the third time, they came up with Santana, which combined Latin rhythms with jazz-inspired improvisation, hard-rock guitar and lyrical, B.B. King-style blues - and even had a hit single, "Evil Ways." The combination of rock guitar and funk percussion was undeniable. Back then, a lot of Carlos Santana's guitar playing was fueled by psychedelic drugs. "I don't recommend it to anybody and everybody," Santana told Rolling Stone in 2000. "Yet for me, I feel it did wonders. It made me aware of splendor and rapture." For millions of people, Santana did the same thing.