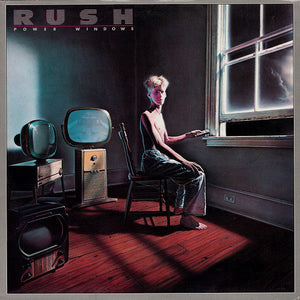 The copy we are selling is similar to the one pictured above.
Sonic Grade
Side One:
Side Two:
Vinyl Grade
Side One: Mint Minus Minus (often quieter than this grade)
Side Two: Mint Minus Minus (often quieter than this grade)
With two solid Double Plus (A++) or BETTER sides, we guarantee you've never heard Power Windows sound this good - fairly quiet vinyl too
This copy rocks like crazy with serious weight down low, huge size and space, and plenty of driving energy
"Rush remains faithful to vintage progressive aesthetics but has accepted the challenge of the postpunk upheaval and made notable adjustments... Power Windows may well be the missing link between Yes and the Sex Pistols." - Rolling Stone
100% Money Back Guarantee on all Hot Stampers
FREE Domestic Shipping on all LP orders over $150
Vintage covers for this album are hard to find in exceptionally clean shape. Most of the will have at least some amount of ringwear, seam wear and edge wear. We guarantee that the cover we supply with this Hot Stamper is at least VG
---
This vintage Mercury pressing has the kind of Tubey Magical Midrange that modern records can barely BEGIN to reproduce. Folks, that sound is gone and it sure isn't showing signs of coming back. If you love hearing INTO a recording, actually being able to "see" the performers, and feeling as if you are sitting in the studio with the band, this is the record for you. It's what vintage all analog recordings are known for -- this sound.
If you exclusively play modern repressings of vintage recordings, I can say without fear of contradiction that you have never heard this kind of sound on vinyl. Old records have it -- not often, and certainly not always -- but maybe one out of a hundred new records do, and those are some pretty long odds.
What The Best Sides Of Power Windows Have To Offer Is Not Hard To Hear
The biggest, most immediate staging in the largest acoustic space
The most Tubey Magic, without which you have almost nothing. CDs give you clean and clear. Only the best vintage vinyl pressings offer the kind of Tubey Magic that was on the tapes even as late as 1985
Tight, note-like, rich, full-bodied bass, with the correct amount of weight down low
Natural tonality in the midrange -- with all the instruments having the correct timbre
Transparency and resolution, critical to hearing into the three-dimensional studio space
No doubt there's more but we hope that should do for now. Playing the record is the only way to hear all of the qualities we discuss above, and playing the best pressings against a pile of other copies under rigorously controlled conditions is the only way to find a pressing that sounds as good as this one does.
Size and Space
One of the qualities that we don't talk about on the site nearly enough is the SIZE of the record's presentation. Some copies of the album just sound small -- they don't extend all the way to the outside edges of the speakers, and they don't seem to take up all the space from the floor to the ceiling. In addition, the sound can often be recessed, with a lack of presence and immediacy in the center.
Other copies -- my notes for these copies often read "BIG and BOLD" -- create a huge soundfield, with the music positively jumping out of the speakers. They're not brighter, they're not more aggressive, they're not hyped-up in any way, they're just bigger and clearer.
And most of the time those very special pressings just plain rock harder. When you hear a copy that does all that, it's an entirely different listening experience.
What We're Listening For On Power Windows
Energy for starters. What could be more important than the life of the music?
Then: presence and immediacy. The vocals aren't "back there" somewhere, lost in the mix. They're front and center where any recording engineer worth his salt would put them.
The Big Sound comes next -- wall to wall, lots of depth, huge space, three-dimensionality, all that sort of thing.
Then transient information -- fast, clear, sharp attacks, not the smear and thickness so common to these LPs.
Tight punchy bass -- which ties in with good transient information, also the issue of frequency extension further down.
Next: transparency -- the quality that allows you to hear deep into the soundfield, showing you the space and air around all the instruments.
Extend the top and bottom and voila, you have The Real Thing -- an honest to goodness Hot Stamper.
Vinyl Condition
Mint Minus Minus and maybe a bit better is about as quiet as any vintage pressing will play, and since only the right vintage pressings have any hope of sounding good on this album, that will most often be the playing condition of the copies we sell. (The copies that are even a bit noisier get listed on the site are seriously reduced prices or traded back in to the local record stores we shop at.)
Those of you looking for quiet vinyl will have to settle for the sound of other pressings and Heavy Vinyl reissues, purchased elsewhere of course as we have no interest in selling records that don't have the vintage analog magic of these wonderful recordings.
If you want to make the trade-off between bad sound and quiet surfaces with whatever Heavy Vinyl pressing might be available, well, that's certainly your prerogative, but we can't imagine losing what's good about this music -- the size, the energy, the presence, the clarity, the weight -- just to hear it with less background noise.
Side One
The Big Money
Grand Designs
Manhattan Project
Marathon
Side Two
Territories
Middletown Dreams
Emotion Detector
Mystic Rhythms
Rolling Stone Review
While critics routinely dismissed Rush as pretentious operatic heavy-metal bozos, this indefatigable Canadian trio was actually busy becoming the Police of power rock. On their recent studio LPs, leading up to 1984's appropriately titled Grace under Pressure, they tightened up their sidelong suites and rhythmic abstractions into balled-up song fists, art-pop blasts of angular, slashing guitar, spatial keyboards and hyperpercussion, all resolved with forthright melodic sense.
"The Big Money," the first hot FM focus track from Power Windows, may be the best of Rush's Cool Wave experiments to date. Neil Peart whips up a Molotov drum cocktail that is half Stewart Copeland psycho-ska and half "Blitzkrieg Bop"; from deep within his Edge-like echo pit, guitarist Alex Lifeson opens fire with a metallic descending chord sequence that rips through the song's chrome-finish production like grapeshot. In "Territories," a simple disco-style pulse becomes a Lifeson-spurred gallop, his Chinese guitar chatter alternating with the telegraphic synth patterns and sheet-metal keyboards played by singer-bassist Geddy Lee.
To most U2 and Simple Minds fans, these may not seem like major advances. There are moments when Power Windows sounds too much like the sum of its Eighties inspirations — that ghostly U2 resonance, the Police-like mesh of multirhythms and ping-pong dub effects. Yet Rush, no doubt responding to familiar impulses, revs up these songs with brute metal force. Lifeson's solo in "Grand Designs" teeters on white noise, his demon strokes dissolving into feedback howls and strangled vibrato, while Peart and Lee subdivide the beat into frenzied algebra.
This is not a case of old Seventies arena-rock dogs fudging new tricks. Rush remains faithful to vintage progressive aesthetics but has accepted the challenge of the postpunk upheaval and made notable adjustments. "Manhattan Project" is the first song about the A-bomb that successfully combines Genesis-like grandeur, real strings and a breakaway middle à la Siouxsie and the Banshees at full throttle. Lee has also toned down his keening shriek to a more accessible tenor; Peart, the group's uncompromising lyricist, has streamlined his verse to pithy effect.
None of this is likely to impress the New Wave in crowd, which is their loss. Because Power Windows may well be the missing link between Yes and the Sex Pistols.