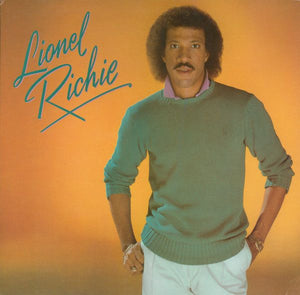 The copy we are selling is similar to the one pictured above.
Sonic Grade
Side One:
Side Two:
Vinyl Grade
Side One: Mint Minus Minus
Side Two: Mint Minus Minus*
Superb sound for Lionel Richie's solo debut, with both sides earning Double Plus (A++) grades
Forget whatever dead-as-a-doornail Heavy Vinyl record they're making these days - if you want to hear the Tubey Magic, size and energy of this wonderful album, a vintage pressing like this one is the way to go
4 1/2 stars: "The key to its success...is that Richie doesn't even make a pretense of funk here... The ballads, of course, provided two big hits with 'My Love' and 'Truly,' two numbers that illustrate that he was moving ever-closer to mainstream pop, since these are unapologetic AOR slow-dance tunes. [It's] a dynamic mainstream pop-soul record, one of the best the early '80s had to offer."
100% Money Back Guarantee on all Hot Stampers
FREE Domestic Shipping on all LP orders over $150
*NOTE: There is a small indentation in the vinyl that plays as 5 light thumps at the start of track 1 on side 2.
This vintage Motown pressing has the kind of Tubey Magical Midrange that modern records can barely BEGIN to reproduce. Folks, that sound is gone and it sure isn't showing signs of coming back. If you love hearing INTO a recording, actually being able to "see" the performers, and feeling as if you are sitting in the studio with the band, this is the record for you. It's what vintage all analog recordings are known for -- this sound.
If you exclusively play modern repressings of vintage recordings, I can say without fear of contradiction that you have never heard this kind of sound on vinyl. Old records have it -- not often, and certainly not always -- but maybe one out of a hundred new records do, and those are some pretty long odds.
What The Best Sides Of Richie's Self-Titled Debut Have To Offer Is Not Hard To Hear
The biggest, most immediate staging in the largest acoustic space
The most Tubey Magic, without which you have almost nothing. CDs give you clean and clear. Only the best vintage vinyl pressings offer the kind of Tubey Magic that was on the tapes even as late as 1982
Tight, note-like, rich, full-bodied bass, with the correct amount of weight down low
Natural tonality in the midrange -- with all the instruments having the correct timbre
Transparency and resolution, critical to hearing into the three-dimensional studio space
No doubt there's more but we hope that should do for now. Playing the record is the only way to hear all of the qualities we discuss above, and playing the best pressings against a pile of other copies under rigorously controlled conditions is the only way to find a pressing that sounds as good as this one does.
Best Practices
Recently we did one of our regular shootouts for this album, using pressings we know from experience to have the potential for Hot Stamper sound. We cleaned them as carefully as we always do. Then we unplugged everything in the house we could get away with, carefully warmed up the system, Talisman'd it, found the right VTA for our Triplanar arm (by ear of course) and proceeded to spend the next couple of hours playing copy after copy on side one, after which we repeated the process for side two.
If you have five or ten copies of a record and play them over and over against each other, the process itself teaches you what's right and what's wrong with the sound of the album. Once your ears are completely tuned to what the best pressings do well that the others do not do as well, using a few specific passages of music, it will quickly become obvious how well any given pressing reproduces those passages.
The process could not be more simple. The first step is to go deep into the sound. There you find something special, something you can't find on most copies. Now, with the hard-won knowledge of precisely what to listen for, you are perfectly positioned to critique any and all pressings that come your way.
What We're Listening For On Lionel Richie
Energy for starters. What could be more important than the life of the music?
Then: presence and immediacy. The vocals aren't "back there" somewhere, lost in the mix. They're front and center where any recording engineer worth his salt would put them.
The Big Sound comes next -- wall to wall, lots of depth, huge space, three-dimensionality, all that sort of thing.
Then transient information -- fast, clear, sharp attacks, not the smear and thickness so common to these LPs.
Tight punchy bass -- which ties in with good transient information, also the issue of frequency extension further down.
Next: transparency -- the quality that allows you to hear deep into the soundfield, showing you the space and air around all the instruments.
Extend the top and bottom and voila, you have The Real Thing -- an honest to goodness Hot Stamper.
Vinyl Condition
Mint Minus Minus is about as quiet as any vintage pressing will play, and since only the right vintage pressings have any hope of sounding good on this album, that will most often be the playing condition of the copies we sell. (The copies that are even a bit noisier get listed on the site are seriously reduced prices or traded back in to the local record stores we shop at.)
Those of you looking for quiet vinyl will have to settle for the sound of other pressings and Heavy Vinyl reissues, purchased elsewhere of course as we have no interest in selling records that don't have the vintage analog magic of these wonderful recordings.
If you want to make the trade-off between bad sound and quiet surfaces with whatever Heavy Vinyl pressing might be available, well, that's certainly your prerogative, but we can't imagine losing what's good about this music -- the size, the energy, the presence, the clarity, the weight -- just to hear it with less background noise.
Side One
Serves You Right
Wandering Stranger
Tell Me
My Love
Side Two
Round And Round
Truly
You Are
You Mean More To Me
Just Put Some Love In Your Heart
AMG 4 1/2 Star Review
The key to its success -- and the reason it was scorned by some Commodores fans -- is that Richie doesn't even make a pretense of funk here, leaving behind the loose, elastic grooves of his previous bands (a move that makes sense, since his voice never suited that style particularly well), choosing to concentrate on ballads and sparkly mid-tempo pop, peppered with a few stylish dance grooves. The ballads, of course, provided two big hits with "My Love" and "Truly," two numbers that illustrate that he was moving ever-closer to mainstream pop, since these are unapologetic AOR slow-dance tunes.
Throughout the first part of the record, the dance numbers are served up and they're very good -- "Serves You Right" has a shiny, propulsive groove, while "Tell Me" jams nicely. After "You Are," the record bogs down with a couple of ballads that are on the wrong side of adult contemporary -- too formless, too hookless to really catch hold -- but they don't hurt the first seven songs, which form a dynamic mainstream pop-soul record, one of the best the early '80s had to offer. It's the sound of Lionel Richie finding his solo voice, and, the next time out, he knew how to use it even better than he does here.