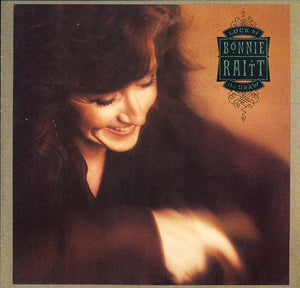 The copy we are selling is similar to the one pictured above.
Sonic Grade
Side One:
Side Two:
Vinyl Grade
Side One: Mint Minus to Mint Minus Minus
Side Two: Mint Minus to Mint Minus Minus
You'll find seriously good Double Plus (A++) sound or close to it throughout this original Capitol pressing - exceptionally quiet vinyl too
Side two is open and transparent, with tons of energy and real immediacy to Bonnie's wonderfully present, breathy vocals, and side one is not far behind in all those areas
This copy had more analog qualities than most others in our recent shootout (particularly on side two), which tended to have that digital / sterile sound that kills so many albums from the era
We don't imagine we'll be tracking down too many copies of this so if you're a fan, scoop this one up!
4 1/2 stars: "...Luck of the Draw is an unqualified success, filled with strong songs — including the hits 'Something to Talk About' and 'I Can't Make You Love Me,' plus the Delbert McClinton duet 'Good Man, Good Woman' — appealing productions, and just enough dirt to make old-school fans feel at home."
100% Money Back Guarantee on all Hot Stampers
FREE Domestic Shipping on all LP orders over $150
This vintage Capitol pressing has the kind of Tubey Magical Midrange that modern records can barely BEGIN to reproduce. Folks, that sound is gone and it sure isn't showing signs of coming back. If you love hearing INTO a recording, actually being able to "see" the performers, and feeling as if you are sitting in the studio with the band, this is the record for you. It's what vintage all analog recordings are known for -- this sound.
If you exclusively play modern repressings of vintage recordings, I can say without fear of contradiction that you have never heard this kind of sound on vinyl. Old records have it -- not often, and certainly not always -- but maybe one out of a hundred new records do, and those are some pretty long odds.
What The Best Sides Of Luck of the Draw Have To Offer Is Not Hard To Hear
The biggest, most immediate staging in the largest acoustic space
The most Tubey Magic, without which you have almost nothing. CDs give you clean and clear. Only the best vintage vinyl pressings offer the kind of Tubey Magic that was on the tapes even as late as 1991
Tight, note-like, rich, full-bodied bass, with the correct amount of weight down low
Natural tonality in the midrange -- with all the instruments having the correct timbre
Transparency and resolution, critical to hearing into the three-dimensional studio space
No doubt there's more but we hope that should do for now. Playing the record is the only way to hear all of the qualities we discuss above, and playing the best pressings against a pile of other copies under rigorously controlled conditions is the only way to find a pressing that sounds as good as this one does.
Learning the Record
For our shootout for Luck of the Draw, we had at our disposal a variety of pressings that had the potential for Hot Stamper sound. We cleaned them carefully, then unplugged everything in the house we could, warmed up the system, Talisman'd it, found the right VTA for our Triplanar arm (by ear of course) and proceeded to spend the next hour or so playing copy after copy on side one, after which we repeated the process for side two.
If you have five or more copies of a record and play them over and over against each other, the process itself teaches you what's right and what's wrong with the sound of the album. Once your ears are completely tuned to what the best pressings do well that the other pressings do not do as well, using a few carefully chosen passages of music, it quickly becomes obvious how well a given copy can reproduce those passages. You'll hear what's better and worse -- right and wrong would be another way of putting it -- about the sound.
This approach is simplicity itself. First, you go deep into the sound. There you find a critically important passage in the music, one which most copies struggle -- or fail -- to reproduce as well as the best. Now, with the hard-won knowledge of precisely what to listen for, you are perfectly positioned to critique any and all pressings that come your way.
It may be a lot of work but it sure ain't rocket science, and we've never pretended otherwise. Just the opposite: from day one we've explained step by step precisely how to go about finding the Hot Stampers in your own collection. Not the good sounding pressings you happen to own -- those may or may not have Hot Stampers -- but the records you actually cleaned, shot out, and declared victorious.
What We're Listening For On Luck of the Draw
Energy for starters. What could be more important than the life of the music?
Then: presence and immediacy. The vocals aren't "back there" somewhere, lost in the mix. They're front and center where any recording engineer worth his salt would put them.
The Big Sound comes next -- wall to wall, lots of depth, huge space, three-dimensionality, all that sort of thing.
Then transient information -- fast, clear, sharp attacks, not the smear and thickness so common to these LPs.
Tight punchy bass -- which ties in with good transient information, also the issue of frequency extension further down.
Next: transparency -- the quality that allows you to hear deep into the soundfield, showing you the space and air around all the instruments.
Extend the top and bottom and voila, you have The Real Thing -- an honest to goodness Hot Stamper.
Vinyl Condition
Mint Minus Minus and maybe a bit better is about as quiet as any vintage pressing will play, and since only the right vintage pressings have any hope of sounding good on this album, that will most often be the playing condition of the copies we sell. (The copies that are even a bit noisier get listed on the site are seriously reduced prices or traded back in to the local record stores we shop at.)
Those of you looking for quiet vinyl will have to settle for the sound of other pressings and Heavy Vinyl reissues, purchased elsewhere of course as we have no interest in selling records that don't have the vintage analog magic of these wonderful recordings.
If you want to make the trade-off between bad sound and quiet surfaces with whatever Heavy Vinyl pressing might be available, well, that's certainly your prerogative, but we can't imagine losing what's good about this music -- the size, the energy, the presence, the clarity, the weight -- just to hear it with less background noise.
---
We wrote a commentary on the DCC pressing of Nick of Time, which we have reprinted below.
Mutatis Mutandis, the sonic shortcomings of the DCC Nick of Time, when played against a properly mastered and pressed standard issue LP, are virtually identical to the faults you will hear on the DCC of Luck of the Draw (and DCC records in general).
---
DCC + RTI = Audio Enervation
The no-longer-surprising thing about our Hot Stamper pressings of Nick Of Time is how completely they murder the DCC LP. Folks, it's really no contest. Yes, the DCC is tonally balanced and can sound very good, but it can't compete with the best original pressings. It's missing too much of the presence, intimacy, immediacy and transparency that we've discovered on the better original pressings.
As is the case with practically every record pressed on Heavy Vinyl over the last twenty years, there is a suffocating loss of ambience throughout, a pronounced sterility to the sound. Modern remastered records just do not breathe like the real thing. Good EQ or Bad EQ, they all suffer to one degree or another from a bad case of audio enervation. Where is the life of the music? You can turn up the volume on these remastered LPs all you want but they simply refuse to come to life.
We play albums like this very loud. I've seen Bonnie Raitt live a number of times and although I can't begin to get her to play as loud in my livingroom as she did on stage, I can try. To do less is to do her a great disservice.
The DCC Approach
The DCC is too damn smooth. It's an understandable approach for DCC to take, since this recording is more hyped-up than any of Bonnie's earlier work, but this album actually has loads of personality and nuance. Just because an album sounds polished and maybe a bit too "clean,"" it's foolish to think that it lacks intensity or ambition.
You listen to a track like "Thing Called Love" on the DCC, and it sounds good — the tambourine sounds like a tambourine, the bass sounds like a bass. The problem is you don't hear the jingles of the tambourine hitting each other; the bass doesn't smack you in the chest. When these elements are veiled, the life and, for lack of a better term, the point of the music go with them.
When I'm listening to Bonnie perform on a Hot Stamper pressing, I'm not merely hearing her singing the songs and nodding along with the beat, I'm being enveloped by her voice and transported to another place, as though she were in my living room, or I in her studio (something to do with Newton's third law I believe). Although the DCC is very good, it doesn't give us enough of what we're looking for from an album like Nick of Time. It feels compromised, and you should never compromise the life of the music on an album that you love. (This is why I rail against panels and screens for speakers. Where is the life? The energy? The sound they produce bores me to tears.)
Both sides are powerfully bih and bold, with meaty, deep bass (such a big part of the rockers here, Thing Called Love being a prime example) and the sweetest, richest, most analog sound we've heard from any record Don Was has been involved with. When you hear it like this — something probably pretty close to what he heard during the control room playback for the final mix — it actually makes sense. It works. It's not exactly "natural," but natural is not what they were going for.
Side One
Something to Talk About
Good Man, Good Woman
I Can't Make You Love Me
Tangled and Dark
Come to Me
No Business
Side Two
One Part Be My Lover
Not the Only One
Papa Come Quick (Jody and Chico)
Slow Ride
Luck of the Draw
All at Once
AMG 4 1/2 Star Review
Nick of Time not only was an artistic comeback for Bonnie Raitt; it brought her largest audience yet, so there was no reason to mess with success for its sequel, Luck of the Draw. And sequel is the appropriate word, since Luck of the Draw is nothing if it isn't Nick of Time, Pt. 2. True, there's a heavier reliance on original material this time around, but the sound and feel of the record is identical to its predecessor. There is one slight difference — several of the songs appear tailor-made for crossover success, whereas Nick of Time felt organic. Nevertheless, Luck of the Draw is an unqualified success, filled with strong songs — including the hits "Something to Talk About" and "I Can't Make You Love Me," plus the Delbert McClinton duet "Good Man, Good Woman" — appealing productions, and just enough dirt to make old-school fans feel at home.
Christgau "A" Review
One reason it took Raitt two decades to achieve the El Lay iconicity she deserves is her resistance to both folk gentility and studio antisepsis. So praise Don Was for humanizing the control-freak production values she could never get on top of in the '70s. Another is her moral seriousness. So praise songwriters like John Hiatt, Bonnie Hayes, and maybe even Paul Brady for combining heft with hookcraft, and Shirley Eikhard, whoever she is, for "Something to Talk About," the slyest distillation of this rowdy Quaker's sexy ways since "Love Me Like a Man."
But after that tell Raitt that no commercial reservation should ever torpedo a "Tangled and Dark," about a deep, long wrangle with love itself, or an "All at Once," about losing the teenage daughter she's never literally had. It's like the guitar she's afraid she hasn't properly mastered–she stops writing at the risk of her own intelligence, idiosyncrasy, and reality.