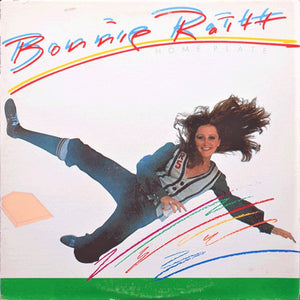 The copy we are selling is similar to the one pictured above.
Sonic Grade
Side One:
Side Two:
Vinyl Grade
Side One: Mint Minus Minus (often quieter than this grade)
Side Two: Mint Minus Minus (often quieter than this grade)
An excellent copy of Home Plate with Double Plus (A++) sound from start to finish - remarkably quiet vinyl too
Sound this good means you're probably hearing the album better than they did when they played back the master tape in the control room - studio monitors being what they are
Since this is one of my three favorite Bonnie Raitt albums — the others being Sweet Forgiveness and Nine Lives — and quite possibly the best sounding album she ever made, it goes without saying that this is THE Must Own Bonnie Raitt Hot Stamper Pressing of All Time
". . . a wonderful hybrid of American music, built on a thoroughly impressive set of songs, all delivered with Raitt's warm, expertly shaded, and undeniably sexy singing."
100% Money Back Guarantee on all Hot Stampers
FREE Domestic Shipping on all LP orders over $150
Another in the long list of recordings that really comes alive when you Turn Up Your Volume. This is a classic case of a record that really starts to work when the levels are up. It's so free from distortion and phony processing it wants to be played loud, and that's the level this music works at. It's the level it was no doubt mixed at, and that mix sounds pretty flat at moderate levels. If you want to hear the real rockin' Bonnie Raitt, you gots to turn it up!

Like a lot of the best recordings from the mid-'70s, the production and recording quality are clean and clear, and we mean that in a good way. There is very little processing to the sound of anything here; drums sound like drums, guitars like guitars, and Bonnie sings without the aid of autotuning -- because she can sing on-key, and beautifully. Her vocals kill on every song. (Her dad had a pretty good set of pipes too.)
This original Palm Tree Warner Brothers pressing has the kind of Tubey Magical Midrange that modern records can barely BEGIN to reproduce. Folks, that sound is gone and it sure isn't showing signs of coming back. If you love hearing INTO a recording, actually being able to "see" the performers, and feeling as if you are sitting in the studio with the band, this is the record for you. It's what vintage all analog recordings are known for -- this sound.
If you exclusively play modern repressings of vintage recordings, I can say without fear of contradiction that you have never heard this kind of sound on vinyl. Old records have it -- not often, and certainly not always -- but maybe one out of a hundred new records do, and those are some pretty long odds.
What The Best Sides Of Home Plate Have To Offer Is Not Hard To Hear
The biggest, most immediate staging in the largest acoustic space
The most Tubey Magic, without which you have almost nothing. CDs give you clean and clear. Only the best vintage vinyl pressings offer the kind of Tubey Magic that was on the tapes in 1975
Tight, note-like, rich, full-bodied bass, with the correct amount of weight down low
Natural tonality in the midrange -- with all the instruments having the correct timbre
Transparency and resolution, critical to hearing into the three-dimensional studio space
No doubt there's more but we hope that should do for now. Playing the record is the only way to hear all of the qualities we discuss above, and playing the best pressings against a pile of other copies under rigorously controlled conditions is the only way to find a pressing that sounds as good as this one does.
Her Best Material
What sets this album apart from others made around this period is the strength of the material. Every song on side one would fit nicely on a greatest hits album, they're that good. The reason side one has always been a personal favorite is that it ends with the best track on the album, maybe the best song Bonnie ever sang, the excruciatingly heartfelt ballad, "My First Night Alone Without You." If that one doesn't hit you hard, something somewhere is very wrong.
Nine Lives? Luck of the Draw?
What about the Capitol albums she recorded with Don Was?
Man, they sure don't sound like this! That stuff is way too digital, overly-processed and modern sounding for my taste, not to mention my delicate hearing.
The first two she did for Capitol are fine albums in their own right, but she was already out of gas by the time she got accepted by the record-buying public and the Grammy Award committee. That was 1989; this album is from 1975 when she still had her groove on. You may gain a lot of wisdom as you age from thirty-six to fifty, but you don't gain a lot of rock and roll energy (or any other kind, for that matter).
What We're Listening For On Home Plate
Energy for starters. What could be more important than the life of the music?
Then: presence and immediacy. The vocals aren't "back there" somewhere, lost in the mix. They're front and center where any recording engineer worth his salt would put them.
The Big Sound comes next -- wall to wall, lots of depth, huge space, three-dimensionality, all that sort of thing.
Then transient information -- fast, clear, sharp attacks, not the smear and thickness so common to these LPs.
Tight punchy bass -- which ties in with good transient information, also the issue of frequency extension further down.
Next: transparency -- the quality that allows you to hear deep into the soundfield, showing you the space and air around all the instruments.
Extend the top and bottom and voila, you have The Real Thing -- an honest to goodness Hot Stamper.
The Big Sound
This a big production, with horns and strings and lots of wonderful sounding instruments thrown into the mix such as tubas, mandolins and autoharps, to name just a few. Getting all these sounds onto the vinyl of the day is a tough challenge, but some copies had the goods, and this is one of them.
Vinyl Condition
Mint Minus Minus is about as quiet as any vintage pressing will play, and since only the right vintage pressings have any hope of sounding good on this album, that will most often be the playing condition of the copies we sell. (The copies that are even a bit noisier get listed on the site are seriously reduced prices or traded back in to the local record stores we shop at.)
Those of you looking for quiet vinyl will have to settle for the sound of other pressings and Heavy Vinyl reissues, purchased elsewhere of course as we have no interest in selling records that don't have the vintage analog magic of these wonderful recordings.
If you want to make the trade-off between bad sound and quiet surfaces with whatever Heavy Vinyl pressing might be available, well, that's certainly your prerogative, but we can't imagine losing what's good about this music -- the size, the energy, the presence, the clarity, the weight -- just to hear it with less background noise.
Side One
What Do You Want The Boy To D
Good Enough
Run Like A Thief
Fool Yourself
My First Night Alone Without You
Side Two
Walk Out The Front Door
Sugar Mama
Pleasin' Each Other
I'm Blowin' Away
Sweet And Shiny Eyes
AMG Review
Homeplate takes Bonnie Raitt even further down the path toward mainstream production than the unjustly maligned Streetlights, but, ironically, it works better than its predecessor. Perhaps that's because producer Paul A. Rothchild has helped Raitt craft a record that's unapologetically pitched at the mainstream, where Streetlights often seemed to be torn between two worlds. The great thing about that is, regardless of the production, the essentials of Raitt's music have not changed. It remains a wonderful hybrid of American music, built on a thoroughly impressive set of songs, all delivered with Raitt's warm, expertly shaded, and undeniably sexy singing. She's such an accomplished singer, she sells these songs through productions that are much slicker than those that graced her earlier records, plus with a supporting crew of studio musicians.
This production will undoubtedly dismay listeners that just like the earthiness of Give It Up, but Homeplate is still a success because, even though the recording is glossier, Raitt and her music remain the same and, if you're looking for that, it's still irresistible.
Rolling Stone Review
Despite its unevenness, this is a vast improvement over Street Lights and accomplishes much of what that LP set out to do in the first place. On Home Plate, the sound is rich and full, and producer Paul Rothchild has used horns and vocal choirs extensively but not gratuitously. Although the approach is more pop oriented than previous efforts for Bonnie Raitt, her own style isn't cramped in the process. She sings as well as ever and, as her voice continues to mature, maintains more control over it without blunting the jagged edge that makes her so effective.
The unevenness is mostly in the material. Sexual and emotional ambivalence is at the heart of Bonnie Raitt's best work, so it figures that a certain ambivalence would carry over into her actual choice of what to sing. While her reputation is for raunch, she has always had a fondness for rather empty, precious writers like Eric Kaz, and Kaz's "I'm Blowin' Away" and especially "My First Night Alone without You" fail to connect.
However, most of this LP is prime Bonnie Raitt. She is the best of the many interpreters of Allen Toussaint, and "What Do You Want the Boy to Do?" is one of his most melodic recent efforts. "Good Enough" and "Pleasin' Each Other" get similarly strong treatments. "Sugar Mama," with its bottleneck guitar and stomping beat, is the hard blues of the album, and "Sweet and Shiny Eyes" is the boozy joke cut.
Bonnie Raitt has yet to make an album that's solid all the way through, but when she gets the right song, she is the toughest and most evocative female singer of the bunch. This album has its fair share of such songs.