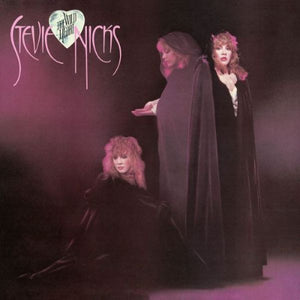 The copy we are selling is similar to the one pictured above.
Sonic Grade
Side One:
Side Two:
Vinyl Grade
Side One: Mint Minus Minus*
Side Two: Mint Minus Minus (closer to M-- to EX++ in parts)*
You'll find KILLER Shootout Winning Triple Plus (A+++) grades or close to them on both sides of this original Modern Records pressing
The spacious size, vocal presence, bottom end weight and (relative) warmth throughout are exactly the sound you want for The Wild Heart
Features a host of stellar guest musicians, including Tom Petty, Mick Fleetwood, Steve Lukather (Toto), and even Prince, though he wasn't credited on the album
4 stars: "The Wild Heart sold to the faithful - it made the Top Ten, sold over a million copies, and spawned three Top 40 hits... if you loved Bella Donna, you would like The Wild Heart very much."
100% Money Back Guarantee on all Hot Stampers
FREE Domestic Shipping on all LP orders over $150
*NOTE: There is a mark that plays 7 times at a moderate level at the start of track 1 on side 1, "Wild Heart."
*NOTE: Side two of this record was not noisy enough to rate our M-- to EX++ grade, but it's not quite up to our standards for Mint Minus Minus either. If you're looking for quiet vinyl, this is probably not the best copy for you.
---
It's easy to spot the good-sounding copies. They're big and rich, not thin nor harsh. They open up on the top end and go down deeper on the bottom. They're smooth and full-bodied in the midrange. Stevie's vocals are breathy and present. The energy of her performance drives the music the way you want it to.
In short, the better copies demonstrate the sound one could expect to hear on a good Tom Petty album. Nothing surprising there; this album, like Petty's, was produced and engineered by the same team, Jimmy Iovine and Shelly Yakus. They've made some great records together, Damn the Torpedoes being the best of the batch for sonics.
What The Best Sides Of The Wild Heart Have To Offer Is Not Hard To Hear
The biggest, most immediate staging in the largest acoustic space
The most Tubey Magic, without which you have almost nothing. CDs give you clean and clear. Only the best vintage vinyl pressings offer the kind of Tubey Magic that was on the tapes as late as 1983
Tight, note-like, rich, full-bodied bass, with the correct amount of weight down low
Natural tonality in the midrange -- with all the instruments having the correct timbre
Transparency and resolution, critical to hearing into the three-dimensional studio space
No doubt there's more but we hope that should do for now. Playing the record is the only way to hear all of the qualities we discuss above, and playing the best pressings against a pile of other copies under rigorously controlled conditions is the only way to find a pressing that sounds as good as this one does.
Best Practices
We recently did one of our regular shootouts for The Wild Heart using early domestic pressings that we've learned from experience have the potential for Hot Stamper sound. We cleaned them as carefully as we always do. Then we unplugged everything in the house we could get away with, carefully warmed up the system, Talisman'd it, found the right VTA for our Triplanar arm (by ear of course) and proceeded to spend the next couple of hours playing copy after copy on side one, after which we repeated the process for side two.
If you have five or ten copies of a record and play them over and over against each other, the process itself teaches you what's right and what's wrong with the sound of the album. Once your ears are completely tuned to what the best pressings do well that the others do not do as well, using a few specific passages of music, it will quickly become obvious how well any given pressing reproduces those passages.
The process could not be more simple. The first step is to go deep into the sound. There you find something special -- something you can't find on most copies. Now, with the hard-won knowledge of precisely what to listen for, you are perfectly positioned to critique any and all pressings that come your way.
What We're Listening For On The Wild Heart
Less grit -- smoother and sweeter sound, something that is not easy to come by on The Wild Heart.
A bigger presentation -- more size, more space, more room for all the instruments and voices to occupy. The bigger the speakers you have to play this record, the better.
More bass and tighter bass. This is fundamentally a rock record. It needs weight down low to rock the way Shelly Yakus wanted it to.
Present, breathy vocals. A veiled midrange is the rule, not the exception.
Good top end extension to reproduce the harmonics of the instruments and details of the recording including the studio ambience.
Last but not least, balance. All the elements from top to bottom should be heard in harmony with each other. Take our word for it, assuming you haven't played a pile of these yourself, balance is not that easy to find.
Our best copies will have it though, of that there is no doubt.
Vinyl Condition
Mint Minus Minus and maybe a bit better is about as quiet as any vintage pressing will play, and since only the right vintage pressings have any hope of sounding good on this album, that will most often be the playing condition of the copies we sell. (The copies that are even a bit noisier get listed on the site are seriously reduced prices or traded back in to the local record stores we shop at.)
Those of you looking for quiet vinyl will have to settle for the sound of other pressings and Heavy Vinyl reissues, purchased elsewhere of course as we have no interest in selling records that don't have the vintage analog magic of these wonderful originals.
If you want to make the trade-off between bad sound and quiet surfaces with whatever Heavy Vinyl pressing might be available, well, that's certainly your prerogative, but we can't imagine losing what's good about this music -- the size, the energy, the presence, the clarity, the weight -- just to hear it with less background noise.
A Tough Record to Play
The Wild Heart ranks fairly high on our Difficulty of Reproduction Scale. Do not attempt to play it using anything other than the highest quality equipment.
A word of caution: Unless your system is firing on all cylinders, even our hottest Hot Stamper copies -- the Super Hot and White Hot pressings with the biggest, most dynamic, clearest, and least distorted sound -- can have problems. Your system should be thoroughly warmed up, your electricity should be clean and cooking, you've got to be using the right room treatments, and we also highly recommend using a demagnetizer such as the Walker Talisman on the record, your cables (power, interconnect and speaker) as well as the individual drivers of your speakers.
This is a record that's going to demand a lot from the listener, and we want to make sure that you feel you're up to the challenge. If you don't mind putting in a little hard work, here's a record that will reward your time and effort many times over, and probably teach you a thing or two about tweaking your gear in the process (especially your VTA adjustment, just to pick an obvious area most audiophiles neglect).
Side One
Wild Heart
If Anyone Falls
Gate And Garden
Enchanted
Nightbird
Side Two
Stand Back
I will Run To You
Nothing Ever Changes
Sable On Blond
Beauty And The Beast
AMG 4 Star Review
Stevie Nicks was following both her debut solo album, Bella Donna (1981), which had topped the charts, sold over a million copies (now over four million), and spawned four Top 40 hits, and Fleetwood Mac's Mirage (1982), which had topped the charts, sold over a million copies (now over two million), and spawned three Top 40 hits (including her "Gypsy"), when she released her second solo album, The Wild Heart.
She was the most successful American female pop singer of the time. Not surprisingly, she played it safe: The Wild Heart contained nothing that would disturb fans of her previous work and much that echoed it.
As on Bella Donna, producer Jimmy Iovine took a simpler, more conventional pop/rock approach to the arrangements than Fleetwood Mac's inventive Lindsey Buckingham did on Nicks's songs, which meant the music was more straightforward than her typically elliptical lyrics...
The Wild Heart sold to the faithful -- it made the Top Ten, sold over a million copies, and spawned three Top 40 hits ("Stand Back," "Nightbird," and "If Anyone Falls"). And that was appropriate: if you loved Bella Donna, you would like The Wild Heart very much.