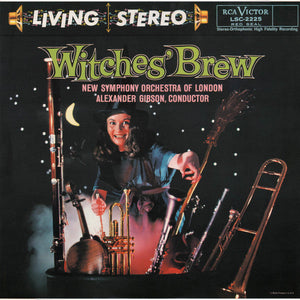 The copy we are selling is similar to the one pictured above.
Sonic Grade
Side One:
Side Two:
Vinyl Grade
Side One: Mint Minus to Mint Minus Minus
Side Two: Mint Minus to Mint Minus Minus*
This original Shaded Dog pressing of the New Symphony Orchestra of London's performance of these classical warhorses boasts excellent Double Plus (A++) Living Stereo sound or BETTER from first first note to last - exceptionally quiet vinyl too
If the price seems high, keep in mind that the top copy from our most recent shootout went for almost $3000(!), and the vinyl was even a bit noisier
A quick look at the cost of used copies on eBay or Discogs should tell you all you need to know about how impossibly tough it is to get this shootout going these days - we may not do it again for a very long time!
This is one of the quietest copies we've heard in a long time too - most copies are very noisy and covered in repeating marks
These sides are doing pretty much everything right - they're rich, clear, undistorted, open, spacious, and have depth and transparency to rival the best recordings you may have heard
The rich, textured sheen of the strings that Living Stereo made possible in the '50s and early '60s is clearly evident throughout these pieces, something that the Heavy Vinyl crowd will never experience, because that sound just does not exist on modern records
More of the music of Modest Mussorgsky (1839-1881) / More Classical and Orchestral Recordings
100% Money Back Guarantee on all Hot Stampers
FREE Domestic Shipping on all LP orders over $150
*NOTE: There is a bubble in the vinyl that plays as 8 light pops about 1/2 way into the last piece on side 2, Mephisto Waltz - Franz Liszt
Vintage covers for this album are hard to find in exceptionally clean shape. Most of the will have at least some amount of ringwear, seam wear and edge wear. We guarantee that the cover we supply with this Hot Stamper is at least VG
---
Demonstration Quality Sound, of a sort. As I've said elsewhere on the site, this is not my idea of natural tonality. It's not trying to be a realistic recreation of music performed in the concert hall. It's a blockbuster to be impressive when played on an audio system in your home. On that level is succeeds.
The excerpt on side 1 from Pictures at an Exhibition and the complete A Night on Bare Mountain are both played with a kind of energy and orchestral technical quality that makes these pieces come alive right in your living room.
The entire side 2 is outstanding from start to finish.
Only the Arnold piece on this record is not particularly inspiring, although it does have excellent sound.
All in all, an amazing group of warhorses given a fresh reading by Alexander Gibson and the New Symphony Orchestra of London.
This vintage Shaded Dog pressing has the kind of Tubey Magical Midrange that modern records can barely BEGIN to reproduce. Folks, that sound is gone and it sure isn't showing signs of coming back. If you love hearing INTO a recording, actually being able to "see" the performers, and feeling as if you are sitting in the studio with the band, this is the record for you. It's what vintage all analog recordings are known for -- this sound.
If you exclusively play modern repressings of vintage recordings, I can say without fear of contradiction that you have never heard this kind of sound on vinyl. Old records have it -- not often, and certainly not always -- but maybe one out of a hundred new records do, and those are some pretty long odds.
What The Best Sides Of Witches' Brew Have To Offer Is Not Hard To Hear
The biggest, most immediate staging in the largest acoustic space
The most Tubey Magic, without which you have almost nothing. CDs give you clean and clear. Only the best vintage vinyl pressings offer the kind of Tubey Magic that was on the tapes in 1958
Tight, note-like, rich, full-bodied bass, with the correct amount of weight down low
Natural tonality in the midrange -- with all the instruments having the correct timbre
Transparency and resolution, critical to hearing into the three-dimensional studio space
No doubt there's more but we hope that should do for now. Playing the record is the only way to hear all of the qualities we discuss above, and playing the best pressings against a pile of other copies under rigorously controlled conditions is the only way to find a pressing that sounds as good as this one does.
Copies with rich lower mids and nice extension up top did the best in our shootout, assuming they weren't veiled or smeary of course. So many things can go wrong on a record! We know, we've heard them all.
Top end extension is critical to the sound of the best copies. Lots of old records (and new ones) have no real top end; consequently, the studio or stage will be missing much of its natural air and space, and instruments will lack their full complement of harmonic information.
Tube smear is common to most vintage pressings. The copies that tend to do the best in a shootout will have the least (or none), yet are full-bodied, tubey and rich.
Size and Space
One of the qualities that we don't talk about on the site nearly enough is the SIZE of the record's presentation. Some copies of the album just sound small -- they don't extend all the way to the outside edges of the speakers, and they don't seem to take up all the space from the floor to the ceiling. In addition, the sound can often be recessed, with a lack of presence and immediacy in the center.
Other copies -- my notes for these copies often read "BIG and BOLD" -- create a huge soundfield, with the music positively jumping out of the speakers. They're not brighter, they're not more aggressive, they're not hyped-up in any way, they're just bigger and clearer.
And most of the time those very special pressings are just plain more involving. When you hear a copy that does all that -- a copy like this one -- it's an entirely different listening experience.
What We're Listening For On Witches' Brew
Energy for starters. What could be more important than the life of the music?
The Big Sound comes next -- wall to wall, lots of depth, huge space, three-dimensionality, all that sort of thing.
Then transient information -- fast, clear, sharp attacks, not the smear and thickness so common to these LPs.
Powerful bass -- which ties in with good transient information, also the issue of frequency extension further down.
Next: transparency -- the quality that allows you to hear deep into the soundfield, showing you the space and air around all the instruments.
Extend the top and bottom and voila, you have The Real Thing -- an honest to goodness Hot Stamper.
Vinyl Condition
Mint Minus Minus and maybe a bit better is about as quiet as any vintage pressing will play, and since only the right vintage pressings have any hope of sounding good on this album, that will most often be the playing condition of the copies we sell. (The copies that are even a bit noisier get listed on the site are seriously reduced prices or traded back in to the local record stores we shop at.)
Those of you looking for quiet vinyl will have to settle for the sound of other pressings and Heavy Vinyl reissues, purchased elsewhere of course as we have no interest in selling records that don't have the vintage analog magic of these wonderful recordings.
If you want to make the trade-off between bad sound and quiet surfaces with whatever Heavy Vinyl pressing might be available, well, that's certainly your prerogative, but we can't imagine losing what's good about this music -- the size, the energy, the presence, the clarity, the weight -- just to hear it with less background noise.
Side One
Overture To "Tam O'Shanter" Op. 52 - Malcom Arnold
Gnomus From "Pictures At An Exhibition" - Modest Mussorgsky
A Night On Bare Mountain - Modest Mussorgsky
Side Two
Danse Macabre Op. 40 - Camille Saint-Saens
Witches' Ride From "Hansel And Gretel" - Engelbert Humperdinck
Mephisto Waltz - Franz Liszt
Modest Mussorgsky
Modest Petrovich Mussorgsky (21 March 1839 – 28 March 1881) was a Russian composer, one of the group known as "The Five" (Mily Balakirev, César Cui, Nikolai Rimsky-Korsakov, Alexander Borodin). He was an innovator of Russian music in the Romantic period. He strove to achieve a uniquely Russian musical identity, often in deliberate defiance of the established conventions of Western music.
Many of his works were inspired by Russian history, Russian folklore, and other national themes. Such works include the opera Boris Godunov, the orchestral tone poem Night on Bald Mountain and the piano suite Pictures at an Exhibition.
For many years, Mussorgsky's works were mainly known in versions revised or completed by other composers. Many of his most important compositions have posthumously come into their own in their original forms, and some of the original scores are now also available.
Camille Saint-Saens
Charles-Camille Saint-Saëns (9 October 1835 – 16 December 1921) was a French composer, organist, conductor and pianist of the Romantic era. His best-known works include Introduction and Rondo Capriccioso (1863), the Second Piano Concerto (1868), the First Cello Concerto (1872), Danse macabre (1874), the opera Samson and Delilah (1877), the Third Violin Concerto (1880), the Third ("Organ") Symphony (1886) and The Carnival of the Animals (1886).
Saint-Saëns was a musical prodigy; he made his concert debut at the age of ten. After studying at the Paris Conservatoire he followed a conventional career as a church organist, first at Saint-Merri, Paris and, from 1858, La Madeleine, the official church of the French Empire. After leaving the post twenty years later, he was a successful freelance pianist and composer, in demand in Europe and the Americas.
As a young man, Saint-Saëns was enthusiastic for the most modern music of the day, particularly that of Schumann, Liszt and Wagner, although his own compositions were generally within a conventional classical tradition. He was a scholar of musical history, and remained committed to the structures worked out by earlier French composers. This brought him into conflict in his later years with composers of the impressionist and expressionist schools of music; although there were neoclassical elements in his music, foreshadowing works by Stravinsky and Les Six, he was often regarded as a reactionary in the decades around the time of his death.
Saint-Saëns held only one teaching post, at the École de Musique Classique et Religieuse in Paris, and remained there for less than five years. It was nevertheless important in the development of French music: his students included Gabriel Fauré, among whose own later pupils was Maurice Ravel. Both of them were strongly influenced by Saint-Saëns, whom they revered as a genius.
Franz Liszt
Franz Liszt (22 October 1811 – 31 July 1886) was a Hungarian composer, virtuoso pianist and teacher of the Romantic period. With a diverse body of work spanning more than six decades, he is considered to be one of the most prolific and influential composers of his era and remains one of the most popular composers in modern concert piano repertoire.
Liszt first gained renown during the early nineteenth century for his virtuoso skill as a pianist. Regarded as one of the greatest pianists of all time, he toured Europe during the 1830s and 1840s, often playing for charity. In these years, Liszt developed a reputation for his powerful performances as well as his physical attractiveness. In what has now been dubbed "Lisztomania," he rose to a degree of stardom and popularity among the public not experienced by the virtuosos who preceded him. Whereas earlier performers mostly served the upper class, Liszt attracted a more general audience. During this period and into his later life, Liszt was a friend, musical promoter and benefactor to many composers of his time, including Frédéric Chopin, Charles-Valentin Alkan, Richard Wagner, Hector Berlioz, Robert Schumann, Clara Schumann, Camille Saint-Saëns, Edvard Grieg, Ole Bull, Joachim Raff, Mikhail Glinka, and Alexander Borodin.
Liszt was one of the most prominent representatives of the New German School. He left behind an extensive and diverse body of work that influenced his forward-looking contemporaries and anticipated 20th-century ideas and trends. Among Liszt's musical contributions were the symphonic poem, developing thematic transformation as part of his experiments in musical form, and radical innovations in harmony. Liszt has also been regarded as a forefather of Impressionism in music, with his Années de pèlerinage, often regarded as his masterwork, featuring many impressionistic qualities. In a radical departure from his earlier compositional styles, many of Liszt's later works also feature experiments in atonality, foreshadowing the serialist movement of the 20th century.
Engelbert Humperdinck
Engelbert Humperdinck (1 September 1854 – 27 September 1921) was a German composer. He is known widely for his opera Hansel and Gretel (1893).
Humperdinck was born at Siegburg in the Rhine Province in 1854. After receiving piano lessons, he produced his first composition at the age of seven. His first attempts at works for the stage were two singspiele written when he was 13. His parents disapproved of his plans for a career in music and encouraged him to study architecture.
But he began taking music classes under Ferdinand Hiller and Isidor Seiss at the Cologne Conservatory in 1872. In 1876, he won a scholarship that enabled him to go to Munich, where he studied with Franz Lachner and later with Josef Rheinberger. In 1879, he won the first Mendelssohn Award given by the Mendelssohn Stiftung (foundation) in Berlin.
He went to Italy, where he became acquainted with composer Richard Wagner in Naples. Wagner invited him to join him in Bayreuth, and during 1880 and 1881 Humperdinck assisted in the production of Parsifal. He also served as music tutor to Wagner's son, Siegfried.
After winning another prize, Humperdinck traveled through Italy, France, and Spain. For two years, he taught at the Gran Teatre del Liceu Conservatory in Barcelona. In 1887, he returned to Cologne. He was appointed professor at the Hoch Conservatory in Frankfurt in 1890 and also teacher of harmony at Julius Stockhausen's Vocal School. By this time he had composed several works for chorus and a Humoreske for small orchestra, which enjoyed a vogue in Germany.
Humperdinck's reputation rests chiefly on his opera Hänsel und Gretel, on which he began work in Frankfurt in 1890. He first composed four songs to accompany a puppet show his nieces were giving at home. Then, using a libretto and thematic suggestions by his sister Adelheid Wette, rather loosely based on the version of the fairy tale by the Brothers Grimm, he composed a singspiel of 16 songs with piano accompaniment and connecting dialogue. By January 1891 he had begun working on a complete orchestration.
The opera premiered in Weimar on 23 December 1893, under the baton of Richard Strauss. With its highly original synthesis of Wagnerian techniques and traditional German folk songs, Hansel and Gretel was an instant and overwhelming success.
Hansel and Gretel has always been Humperdinck's most popular work. In 1923 the Royal Opera House (London) chose it for their first complete radio opera broadcast. Eight years later, it was the first opera transmitted live from the Metropolitan Opera (New York).
Malcom Arnold
Sir Malcolm Henry Arnold CBE (21 October 1921 – 23 September 2006) was an English composer. His works feature music in many genres, including a cycle of nine symphonies, numerous concertos, concert works, chamber music, choral music and music for brass band and wind band. His style is tonal and rejoices in lively rhythms, brilliant orchestration, and an unabashed tunefulness. He wrote extensively for the theatre, with five ballets specially commissioned by the Royal Ballet, as well as two operas and a musical. He also produced scores for more than a hundred films, among these The Bridge on the River Kwai (1957), for which he won an Oscar.
-Wikipedia