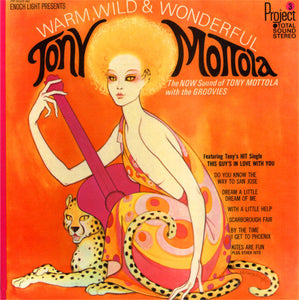 The copy we are selling is similar to the one pictured above.
Sonic Grade
Side One:
Side Two:
Vinyl Grade
Side One: Mint Minus Minus (closer to M-- to EX++ in parts)*
Side Two: Mint Minus Minus (closer to M-- to EX++ in parts)*
You'll find solid Double Plus (A++) sound or BETTER throughout this original Project 3 pressing
Both of these sides are tubier, more transparent, and more dynamic than most others we played, with plenty of that "jumpin' out of the speakers" quality that only The Real Thing (an old record) ever has
We have never heard the electric guitar sound more real than it does on the better copies of this very album
The arrangements of these mostly familiar songs are clever and innovative - the last thing this music could be called is boring or obvious
More Exotica Recordings / More Jazz Recordings Featuring the Guitar
100% Money Back Guarantee on all Hot Stampers
FREE Domestic Shipping on all LP orders over $150
*NOTE: This record was not noisy enough to rate our M-- to EX++ grade, but it's not quite up to our standards for Mint Minus Minus either. If you're looking for quiet vinyl, this is probably not the best copy for you.
---
This is clearly one of the best sounding guitar records we've ever had the pleasure to play here at Better Records. Project 3 was an audiophile label in the truest and best sense of the word: a label that not only cared about the sound of their recordings, but actually proved they could produce title after title of the highest quality, equal or superior to anything on the market.
This, of course, places them in stark contrast with the audiophile labels of the modern era, the last forty years say, which only on rare occasion produce records of any real quality. Instead these modern labels endlessly grind out one mediocrity after another to the consternation of those of us who know the difference.
But I digress.
We had a mind-blowing percussion record on the Somerset label years ago that raised the bar for us regarding that genre, and this jazz guitar record on Project 3 has achieved the same effect. Some of the following is borrowed from the listing for that Somerset record.
This vintage pressing has the kind of Tubey Magical Midrange that modern records can barely BEGIN to reproduce. Folks, that sound is gone and it sure isn't showing signs of coming back. If you love hearing INTO a recording, actually being able to "see" the performers, and feeling as if you are sitting in the studio with the band, this is the record for you. It's what vintage all analog recordings are known for -- this sound.
If you exclusively play modern repressings of vintage recordings, I can say without fear of contradiction that you have never heard this kind of sound on vinyl. Old records have it -- not often, and certainly not always -- but maybe one out of a hundred new records do, and those are some pretty long odds.
What The Best Sides Of Warm, Wild & Wonderful Have To Offer Is Not Hard To Hear
The biggest, most immediate staging in the largest acoustic space
The most Tubey Magic, without which you have almost nothing. CDs give you clean and clear. Only the best vintage vinyl pressings offer the kind of Tubey Magic that was on the tapes in 1968
Tight, note-like, rich, full-bodied bass, with the correct amount of weight down low
Natural tonality in the midrange -- with all the instruments having the correct timbre
Transparency and resolution, critical to hearing into the three-dimensional studio space
No doubt there's more but we hope that should do for now. Playing the record is the only way to hear all of the qualities we discuss above, and playing the best pressings against a pile of other copies under rigorously controlled conditions is the only way to find a pressing that sounds as good as this one does.
Copies with rich lower mids and nice extension up top did the best in our shootout, assuming they weren't veiled or smeary of course. So many things can go wrong on a record! We know, we've heard them all.
Top end extension is critical to the sound of the best copies. Lots of old records (and new ones) have no real top end; consequently, the studio or stage will be missing much of its natural air and space, and instruments will lack their full complement of harmonic information.
Tube smear is common to most vintage pressings. The copies that tend to do the best in a shootout will have the least (or none), yet are full-bodied, tubey and rich.
Soundfield, Timbre and Dynamics
The spaciousness of the studio is reproduced with uncanny fidelity, with both huge depth and width, but there is another dimension that this record operates in that few others can -- the instruments here are capable of jumping out of your speakers seemingly right into your listening room.
The effect is astonishing. I have never heard the electric guitar sound more real than it does here. The timbre is perfection. The dynamics are startling.
What We're Listening For On Warm, Wild & Wonderful
Energy for starters. What could be more important than the life of the music?
The Big Sound comes next -- wall to wall, lots of depth, huge space, three-dimensionality, all that sort of thing.
Then transient information -- fast, clear, sharp attacks, not the smear and thickness so common to these LPs.
Tight, full-bodied bass -- which ties in with good transient information, also the issue of frequency extension further down.
Next: transparency -- the quality that allows you to hear deep into the soundfield, showing you the space and air around all the instruments.
Extend the top and bottom and voila, you have The Real Thing -- an honest to goodness Hot Stamper.
The One Per Cent
Obviously we are charging a lot of money for this kind of Exotica, Bachelor Pad record. Let me make the case by saying that there are few better sounding records on the site as you read this, and not that many that can compete with it. Out of the thousands and tens of thousands of records we have played over the years, we put this copy in the Top One Per Cent.
It is our belief that no one with an up-to-date, highly tweaked big system, a properly setup front end (with the VTA adjusted specifically for this record), and a carefully treated listening room can fail to have his mind blown by the sonics of this pressing.
Vinyl Condition
Mint Minus Minus and maybe a bit better is about as quiet as any vintage pressing will play, and since only the right vintage pressings have any hope of sounding good on this album, that will most often be the playing condition of the copies we sell. (The copies that are even a bit noisier get listed on the site are seriously reduced prices or traded back in to the local record stores we shop at.)
Those of you looking for quiet vinyl will have to settle for the sound of other pressings and Heavy Vinyl reissues, purchased elsewhere of course as we have no interest in selling records that don't have the vintage analog magic of these wonderful recordings.
If you want to make the trade-off between bad sound and quiet surfaces with whatever Heavy Vinyl pressing might be available, well, that's certainly your prerogative, but we can't imagine losing what's good about this music -- the size, the energy, the presence, the clarity, the weight -- just to hear it with less background noise.
Side One
This Guy's In Love With You
Do You Know The Way To San Jose
Dream A Little Dream Of Me
With A Little Help
Scarborough Fair
Watch What Happens
Side Two
By The Time I Get To Phoenix
Kites Are Fun
Cry Me A River
Goin' Out Of My Head
Love In Every Room
I Found Love