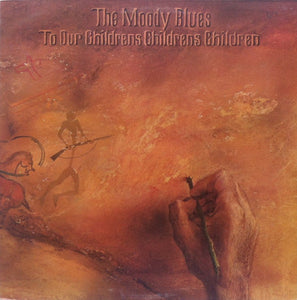 The copy we are selling is similar to the one pictured above.
Sonic Grade
Side One:
Side Two:
Vinyl Grade
Side One: Mint Minus to Mint Minus Minus*
Side Two: Mint Minus to Mint Minus Minus
Outstanding sound throughout this early UK Threshold pressing, with Double Plus (A++) grades or close to them from top to bottom - exceptionally quiet vinyl too
This side one is rich, full and warm (and side two is not far behind in all those areas), which is exactly what you want for the Moodies' music
We shot out a number of other imports and this one had the presence, bass, and dynamics that were missing from most other copies we played, particularly on side one
Marks in the vinyl are sometimes the nature of the beast with these vintage LPs - there simply is no way around them if the superior sound of vintage analog is important to you
"It is the fourth of what are popularly considered the group's "core seven" (or Classic Seven) albums from 1967 to 1972, and as such represents the peak of their career to some."
"There are no extended suites on this album, but Justin Hayward's 'Watching and Waiting' and 'Gypsy' have proved to be among the most popular songs in the group's history."
100% Money Back Guarantee on all Hot Stampers
FREE Domestic Shipping on all LP orders over $150
*NOTE: There is a mark that plays lightly starting at the outro of track 1 on side 1, "Higher and Higher," and continuing about 1/2 way into track 2, "Eyes of a Child, Pt. 1."
This vintage Threshold pressing has two excellent sides. Most aren't nearly this airy, open or spacious. The bottom end is strong with nice weight and much improved bass definition. The vocals are big and solid.
If you love hearing INTO a recording, actually being able to "see" the performers, and feeling as if you are sitting in the studio with the band, this is the record for you. It's what vintage all analog recordings are known for -- this sound.
If you exclusively play modern repressings of vintage recordings, I can say without fear of contradiction that you have never heard this kind of sound on vinyl. Old records have it -- not often, and certainly not always -- but maybe one out of a hundred new records do, and those are some pretty long odds.
What The Best Sides Of To Our Children's Children's Children Have To Offer Is Not Hard To Hear
The biggest, most immediate staging in the largest acoustic space
The most Tubey Magic, without which you have almost nothing. CDs give you clean and clear. Only the best vintage vinyl pressings offer the kind of Tubey Magic that was on the tapes in 1969
Tight, note-like, rich, full-bodied bass, with the correct amount of weight down low
Natural tonality in the midrange -- with all the instruments having the correct timbre
Transparency and resolution, critical to hearing into the three-dimensional studio space
No doubt there's more but we hope that should do for now. Playing the record is the only way to hear all of the qualities we discuss above, and playing the best pressings against a pile of other copies under rigorously controlled conditions is the only way to find a pressing that sounds as good as this one does.
Moody Blues albums are typically murky, congested and dull. Listening to the typical copy you'd be forgiven for blaming the band or the recording engineer for the problem, but copies like this tell a different story.
Of course the album is never going to have the kind of super clean, high-rez sound some audiophiles prize, but that's clearly not what the Moody Blues were aiming for. It isn't about picking out individual parts or deciphering the machinery of the music with this band.
It's all about lush, massive soundscapes, and for that this is the kind of sound that works the best.
What We're Listening For On To Our Children's Children's Children
Energy for starters. What could be more important than the life of the music?
Then: presence and immediacy. The vocals aren't "back there" somewhere, lost in the mix. They're front and center where any recording engineer worth his salt would put them.
The Big Sound comes next -- wall to wall, lots of depth, huge space, three-dimensionality, all that sort of thing.
Then transient information -- fast, clear, sharp attacks, not the smear and thickness so common to these LPs.
Tight punchy bass -- which ties in with good transient information, also the issue of frequency extension further down.
Next: transparency -- the quality that allows you to hear deep into the soundfield, showing you the space and air around all the instruments.
Extend the top and bottom and voila, you have The Real Thing -- an honest to goodness Hot Stamper.
Three Qualities to Listen For
Achieving just the right balance of Tubey Magical, rich but not Too Rich "Moody Blues Sound" and transparency is no mean feat. You had better be using the real master tape for starters. Then you need a pressing with actual extension at the top, a quality rarely found on most imports. Finally, good bass definition is essential; it keeps the bottom end from blurring the midrange. No domestic copy in our experience has ever had these three qualities, and only the best of the imports will manage to combine all three on the same LP.
Domestic Moody Blues LPs
If you've ever done a shootout between domestic pressings of the Moody Blues and good imports you know that the imports just kill the American LPs. Domestic pressings are cut from sub-generation tapes, tend to sound more smeary, yet they're thinner, brighter and more transistory, and overall have a fraction of the Tubey Magic the good imports have, which includes even very late Dutch pressings.
Mobile Fidelity Anadisq Moody Blues LPs
The muddiest, tubbiest, most worthless records in the world.
Well...
Worthless to those of us who play records and want to hear them sound good. But worth money to those who collect that sort of audiophile trash. Folks, seriously, you really would have to work at it to find worse sounding pressings of the Moody Blues albums than the ones MoFi did in the '90s.
Vinyl Condition
Mint Minus Minus and maybe a bit better is about as quiet as any vintage pressing will play, and since only the right vintage pressings have any hope of sounding good on this album, that will most often be the playing condition of the copies we sell. (The copies that are even a bit noisier get listed on the site are seriously reduced prices or traded back in to the local record stores we shop at.)
Those of you looking for quiet vinyl will have to settle for the sound of other pressings and Heavy Vinyl reissues, purchased elsewhere of course as we have no interest in selling records that don't have the vintage analog magic of these wonderful recordings.
If you want to make the trade-off between bad sound and quiet surfaces with whatever Heavy Vinyl pressing might be available, well, that's certainly your prerogative, but we can't imagine losing what's good about this music -- the size, the energy, the presence, the clarity, the weight -- just to hear it with less background noise.
Side One
Higher and Higher
Eyes of a Child, Pt. 1
Floating
Eyes of a Child, Pt. 2
I Never Thought I'd Live to Be a Hundred
Beyond
Out and In
Side Two
Gypsy (Of a Strange and Distant Time)
Eternity Road
Candle of Life
Sun Is Still Shining
I Never Thought I'd Live to Be a Million
Watching and Waiting
Discography
Days of Future Passed (1967)
In Search of the Lost Chord (1968)
On the Threshold of a Dream (1969)
To Our Children's Children's Children (1969)
A Question of Balance (1970)
Every Good Boy Deserves Favour (1971)
Seventh Sojourn (1972)
Wikipedia Background
To Our Children's Children's Children is the fifth album by The Moody Blues, first issued in late 1969. It was the first album released on the group's newly formed Threshold Records label, which was named after the band's previous album from the same year, On the Threshold of a Dream.
It was inspired by the 1969 moon landing, and the songs center around the twin themes of space travel and children, with minor-key tonalities and a distinct psychedelic influence.
It is the fourth of what are popularly considered the group's "core seven" (or Classic Seven) albums from 1967 to 1972, and as such represents the peak of their career to some.
The band found most of the songs impossible to perform live, due to extremely lush orchestrations and a great deal of overdubbing. For this reason their following album, A Question of Balance, was more stripped down and basic in instrumentation. This change only lasted for one album and the next, Every Good Boy Deserves Favour, saw a return to their earlier orchestral sound.
All Music Guide
The user reviewers for this album rate it Four Stars.
This was also the last of the group's big "studio" sound productions, built up in layer upon layer of overdubbed instruments — the sound is very lush and rich, but proved impossible to re-create properly on-stage, and after this they would restrict themselves to recording songs that the five of them could play in concert. There are no extended suites on this album, but Justin Hayward's "Watching and Waiting" and "Gypsy" have proved to be among the most popular songs in the group's history.