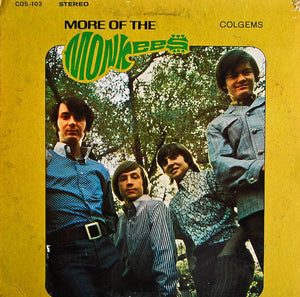 The copy we are selling is similar to the one pictured above.
Sonic Grade
Side One:
Side Two:
Vinyl Grade
Side One: Mint Minus to Mint Minus Minus
Side Two: Mint Minus to Mint Minus Minus
Both sides of this copy have outstanding sound for the band's sophomore LP, earning solid Double Plus (A++) grades or BETTER - exceptionally quiet vinyl too
Amazingly QUIET for an early Stereo Colgems pressing - not many survived in this kind of audiophile playing condition
The key to any Monkees record is the midrange, and here is the low-distortion, rich, breathy, present, Tubey Magical sound that no other copy had in such abundance
This is no Demo Disc by any means — we grade on a curve, and considering the limitations of a heavily-processed, '60s pop record designed to be heard over AM radio, this is very good sounding pressing for what it is, and clearly better than most other copies we have previously played
4 stars: "...the Monkees rate with any pop band of their era and More of The Monkees solidifies that position."
100% Money Back Guarantee on all Hot Stampers
FREE Domestic Shipping on all LP orders over $150
Vintage covers for this album are hard to find in exceptionally clean shape. Most of the will have at least some amount of ringwear, seam wear and edge wear. We guarantee that the cover we supply with this Hot Stamper is at least VG
---
This vintage Colgems pressing has the kind of Tubey Magical Midrange that modern records can barely BEGIN to reproduce. Folks, that sound is gone and it sure isn't showing signs of coming back. If you love hearing INTO a recording, actually being able to "see" the performers, and feeling as if you are sitting in the studio with the band, this is the record for you. It's what vintage all analog recordings are known for -- this sound.
If you exclusively play modern repressings of vintage recordings, I can say without fear of contradiction that you have never heard this kind of sound on vinyl. Old records have it -- not often, and certainly not always -- but maybe one out of a hundred new records do, and those are some pretty long odds.
What The Best Sides Of More of The Monkees Have To Offer Is Not Hard To Hear
The biggest, most immediate staging in the largest acoustic space
The most Tubey Magic, without which you have almost nothing. CDs give you clean and clear. Only the best vintage vinyl pressings offer the kind of Tubey Magic that was on the tapes in 1967
Tight, note-like, rich, full-bodied bass, with the correct amount of weight down low
Natural tonality in the midrange -- with all the instruments having the correct timbre
Transparency and resolution, critical to hearing into the three-dimensional studio space
No doubt there's more but we hope that should do for now. Playing the record is the only way to hear all of the qualities we discuss above, and playing the best pressings against a pile of other copies under rigorously controlled conditions is the only way to find a pressing that sounds as good as this one does.
Pop and Rock Shootouts
What are the sonic qualities by which a Pop or Rock record -- any Pop or Rock record -- should be judged?
Pretty much the ones we discuss in most of our Hot Stamper listings: energy, vocal presence, frequency extension (on both ends), transparency, spaciousness, harmonic textures (freedom from smear is key), rhythmic drive, tonal correctness, fullness, richness, three-dimensionality, and on and on down the list.
When we can hear a good many of the qualities mentioned above on the side we're playing, we provisionally award it a Hot Stamper grade. This grade is often revised over the course of the shootout, as we come to more fully appreciate just how good some of the other copies are.
Once we've been through all our side ones, we then play the best of the best against each other and arrive at a winner. Other copies have their grades raised or lowered depending on how they sounded relative to the shootout winner.
Repeat the process for the other side and the shootout is officially over. All that's left is to see how the sides of each pressing match up.
Record shootouts may not be rocket science, but they're a science of a kind, one with strict protocols developed over the course of many years to ensure that the sonic grades we assign to our Hot Stampers are as accurate as we can make them.
The result of all our work speaks for itself, on this very record in fact. We guarantee you have never heard this music sound better than it does on our Hot Stamper pressing -- or your money back.
What We're Listening For On More of The Monkees
Less grit -- smoother and sweeter sound, something that is not easy to come by on any Monkees album, including this one.
A bigger presentation -- more size, more space, more room for all the instruments and voices to occupy. The bigger the speakers you have to play this record, the better.
More bass and tighter bass -- this is fundamentally a pure rock record. It needs weight down low to rock the way the engineers wanted it to.
Present, breathy vocals -- a veiled midrange is the rule, not the exception.
Good top-end extension to reproduce the harmonics of the instruments and details of the recording, including the studio ambiance.
Last but not least, balance -- all the elements from top to bottom should be heard in harmony with each other. Take our word for it, assuming you haven't played a pile of these yourself, balance is not that easy to find.
Our best copies will have it though, of that there is no doubt.
Vinyl Condition
Mint Minus Minus is about as quiet as any original pressing will play, and since only the right originals have any hope of sounding good on this album, that will most often be the playing condition of the copies we sell. (The copies that are even a bit noisier get traded back in to the local record stores we shop at.)
Those of you looking for quiet vinyl will have to settle for the sound of imports, later pressings and Heavy Vinyl reissues, purchased elsewhere of course as we have no interest in selling records that don't sound good.
If you want to make the trade-off between bad sound and quiet surfaces with whatever Heavy Vinyl pressing might be available, well, that's certainly your prerogative, but we can't imagine losing what's good about this music -- the size, the energy, the presence, the clarity, the weight -- just to hear it with less background noise.
A Tough Record to Play
All Monkees albums rank high on our Difficulty of Reproduction Scale. Do not attempt to play them using anything other than the highest quality equipment.
Unless your system is firing on all cylinders, even our hottest Hot Stamper copies -- the Super Hot and White Hot pressings with the biggest, most dynamic, clearest, and least distorted sound -- can have problems . Your system should be thoroughly warmed up, your electricity should be clean and cooking, you've got to be using the right room treatments, and we also highly recommend using a demagnetizer such as the Walker Talisman on the record, your cables (power, interconnect and speaker) as well as the individual drivers of your speakers.
This is a record that's going to demand a lot from the listener, and we want to make sure that you feel you're up to the challenge. If you don't mind putting in a little hard work, here's a record that will reward your time and effort many times over, and probably teach you a thing or two about tweaking your gear in the process (especially your VTA adjustment, just to pick an obvious area most audiophiles neglect).
Side One
She
When Love Comes Knockin' (At Your Door)
Mary, Mary
Hold On Girl
Your Auntie Grizelda
(I'm Not Your) Steppin' Stone
Side Two
Look Out (Here Comes Tomorrow)
The Kind Of Girl I Could Love
The Day We Fall In Love
Sometime In The Morning
Laugh
I'm A Believer
AMG 4 Star Review
The Monkees second album More of The Monkees lived up to its title. It was more successful commercially, spending an amazing 70 weeks on the Billboard charts and ultimately becoming the 12th biggest selling album of all time. It had more producers and writers involved since big-shots like Carole King and Gerry Goffin, Jeff Barry and Neil Sedaka, as well as up-and-comers like Neil Diamond all grabbed for a piece of the pie after Tommy Boyce and Bobby Hart, the men who made the debut album such a smash, were elbowed out by music supervisor Don Kirshner.
The album also has more fantastic songs than the debut. Tracks like "I'm a Believer," "She," "Mary, Mary," " (I'm Not Your) Stepping Stone," "Look Out (Here Comes Tomorrow)," "Your Auntie Grizelda," and "Sometime in the Morning" are on just about every Monkees hits collection and, apart from the novelty "Grizelda," they are among the best pop/rock heard in the '60s or any decade since. The band themselves still had relatively little involvement in the recording process, apart from providing the vocals along with Mike Nesmith's writing and producing of two tracks (the hair-raising rocker "Mary, Mary" and the folk-rock gem "The Kind of Girl I Could Love"). In fact, they were on tour when the album was released and had to go to the record shop and buy copies for themselves.
As with the first album though, it really doesn't matter who was involved when the finished product is this great. Listen to Micky Dolenz and the studio musicians rip through "Stepping Stone" or smolder through "She," listen to the powerful grooves of "Mary, Mary" or the heartfelt playing and singing on "Sometime in the Morning" and dare to say The Monkees weren't a real band. They were! The tracks on More of The Monkees (with the exception of the aforementioned "Your Auntie Grizelda " and the sickly sweet "The Day We Fell in Love," which regrettably introduces the smarmy side of Davy Jones) stand up to the work of any other pop band operating in 1967. Real or fabricated, the Monkees rate with any pop band of their era and More of The Monkees solidifies that position.