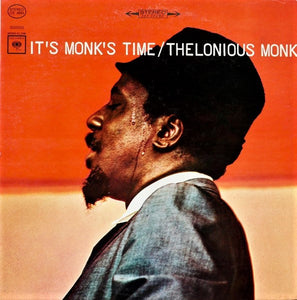 The copy we are selling is similar to the one pictured above.
Sonic Grade
Side One:
Side Two:
Vinyl Grade
Side One: Mint Minus Minus
Side Two: Mint Minus Minus*
An original 360 label pressing of It's Monk's Time with excellent Double Plus (A++) sound from first note to last
The piano is clear with a solid bottom end - we're crazy for that sound, and Columbia knew exactly how to give it to us on these vintage pressings
Problems in the vinyl are sometimes the nature of the beast with these early pressings - there simply is no way around them if the superior sound of vintage analog is important to you
5 stars: "contains some of the best -- if not arguably the best -- studio sides that the pianist cut during his final years as a recording musician..."
More Thelonious Monk / More Recordings on Vintage Columbia Vinyl
100% Money Back Guarantee on all Hot Stampers
FREE Domestic Shipping on all LP orders over $150
*NOTE: Track 1 on side 2 ("Brake's Sake") plays Mint Minus Minus to EX++ for about the first 30 seconds.
Vintage covers for this album are hard to find in exceptionally clean shape. Most of the will have at least some amount of ringwear, seam wear and edge wear. We guarantee that the cover we supply with this Hot Stamper is at least VG
---
There are three main elements that comprise the sound of a top quality It's Monk's Time: piano, sax and drums. You need all three to be balanced and correct. The mix is perfection on the better copies, with the piano, sax and drums clearly audible and in musically correct proportion to each other.
As we played the sides we noted how each of them fared.
Piano. Clear, present and lively. Very high-rez.
Sax. Smooth, rich and tubey, with no RVG squawk to be found.
Drums (and bass). Big drums in a big room. Listen to how solid that kick is. The standup bass is tight and note-like.
On the top copies, this is a truly superb sounding Thelonious Monk album. We can thank the brilliant Columbia engineers for their service to one of the authentic geniuses of jazz.
And if you own the Speakers Corner Heavy Vinyl reissue, please buy this copy and hear what you've been missing.
What The Best Sides Of It's Monk's Time Have To Offer Is Not Hard To Hear
The biggest, most immediate staging in the largest acoustic space
The most Tubey Magic, without which you have almost nothing. CDs give you clean and clear. Only the best vintage vinyl pressings offer the kind of Tubey Magic that was on the tapes in 1964
Tight, note-like, rich, full-bodied bass, with the correct amount of weight down low
Natural tonality in the midrange -- with all the instruments having the correct timbre
Transparency and resolution, critical to hearing into the three-dimensional studio space
No doubt there's more but we hope that should do for now. Playing the record is the only way to hear all of the qualities we discuss above, and playing the best pressings against a pile of other copies under rigorously controlled conditions is the only way to find a pressing that sounds as good as this one does.
What We're Listening For On It's Monk's Time
Energy for starters. What could be more important than the life of the music?
The Big Sound comes next -- wall to wall, lots of depth, huge space, three-dimensionality, all that sort of thing.
Then transient information -- fast, clear, sharp attacks, not the smear and thickness so common to these LPs.
Tight, full-bodied bass -- which ties in with good transient information, also the issue of frequency extension further down.
Next: transparency -- the quality that allows you to hear deep into the soundfield, showing you the space and air around all the instruments.
Extend the top and bottom and voila, you have The Real Thing -- an honest to goodness Hot Stamper.
Vinyl Condition
Mint Minus Minus is about as quiet as any vintage pressing will play, and since only the right vintage pressings have any hope of sounding good on this album, that will most often be the playing condition of the copies we sell. (The copies that are even a bit noisier get listed on the site are seriously reduced prices or traded back in to the local record stores we shop at.)
Those of you looking for quiet vinyl will have to settle for the sound of other pressings and Heavy Vinyl reissues, purchased elsewhere of course as we have no interest in selling records that don't have the vintage analog magic of these wonderful recordings.
If you want to make the trade-off between bad sound and quiet surfaces with whatever Heavy Vinyl pressing might be available, well, that's certainly your prerogative, but we can't imagine losing what's good about this music -- the size, the energy, the presence, the clarity, the weight -- just to hear it with less background noise.
Side One
Lulu's Back In Town
Memories Of You
Stuffy Turkey
Side Two
Brake's Sake
Nice Work If You Can Get It
Shuffle Boil
AMG 5 Star Rave Review
It's Monk's Time (1964) contains some of the best -- if not arguably the best -- studio sides that the pianist cut during his final years as a recording musician...
From four sessions in early 1964, It's Monk's Time gathers four quartet and two solo sides, presenting the pinnacle of what these musicians offered stylistically as well as from the standpoint of presentation.
There is sense of mischievous playfulness in Monk's nimble keyboard work, especially notable on the beautifully off-kilter unaccompanied opening to "Lulu's Back in Town," and the same practically impish quality also drives the solo performance on "Nice Work if You Can Get It."