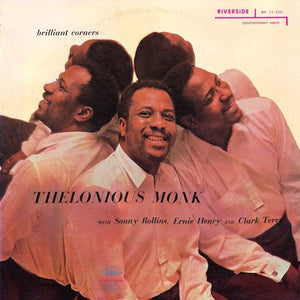 The copy we are selling is similar to the one pictured above.
Sonic Grade
Side One:
Side Two:
Vinyl Grade
Side One: Mint Minus Minus*
Side Two: Mint Minus Minus
Boasting KILLER Shootout Winning Triple Plus (A+++) grades or close to them on both sides, this vintage MONO pressing was giving us the sound we were looking for on Monk's 1957 release
Rich, full-bodied and present yet still clear and spacious - we guarantee this copy sounds better than any pressing you've heard, and should beat the pricey originals hands down
With masterful horn playing from Sonny Rollins and Clark Terry, and a rhythm section that can actually keep up with Monk - made up of Max Roach, Oscar Pettiford and Paul Chambers - this is a Must Own for any music loving audiophile
Marks in the vinyl are sometimes the nature of the beast with these vintage LPs - there simply is no way around them if the superior sound of vintage analog is important to you
5 stars: "Brilliant Corners may well be considered the alpha and omega of post-World War II American jazz. No serious jazz collection should be without it."
More Thelonious Monk / More Jazz Recordings Featuring the Piano
100% Money Back Guarantee on all Hot Stampers
FREE Domestic Shipping on all LP orders over $150
*NOTE: There is a mark that plays 23 times lightly at the start of track 1 on side 1, "Brilliant Corners."
If you're looking to demonstrate just how good a 1957 All Tube Analog recording can be, this incredible copy should be just the record for you. Talk about Tubey Magic! The liquidity of the sound here is positively uncanny. This is vintage analog at its best, so full-bodied and relaxed you'll wonder how it ever came to be that anyone seriously contemplated trying to improve it.
No recordings will ever be made like this again, and no CD will ever capture what is in the grooves of this record. There is of course a CD of the album, but those of us in possession of a working turntable could care less.
What The Best Sides Of Brilliant Corners Have To Offer Is Not Hard To Hear
The biggest, most immediate staging in the largest acoustic space
The most Tubey Magic, without which you have almost nothing. CDs give you clean and clear. Only the best vintage vinyl pressings offer the kind of Tubey Magic that was on the tapes in 1957
Tight, note-like, rich, full-bodied bass, with the correct amount of weight down low
Natural tonality in the midrange -- with all the instruments having the correct timbre
Transparency and resolution, critical to hearing into the three-dimensional studio space
No doubt there's more but we hope that should do for now. Playing the record is the only way to hear all of the qualities we discuss above, and playing the best pressings against a pile of other copies under rigorously controlled conditions is the only way to find a pressing that sounds as good as this one does.
Old and New Work Well Together
This reissue is spacious, open, transparent, rich and sweet. It's yet another remarkable disc from the Golden Age of Vacuum Tube Recording Technology, with the added benefit of mastering using the more modern cutting equipment of the '70s. We are of course here referring to the good modern mastering of 40+ years ago, not the dubious modern mastering of today.
The combination of old and new works wonders on this title, as you will surely hear for yourself on these excellent sides.
We were impressed with the fact that these pressings excel in so many areas of reproduction. What was odd about it -- odd to most audiophiles but not necessarily to us -- was just how rich and Tubey Magical the reissue can be on the right pressing.
This leads me to think that most of the natural, full-bodied, lively, clear, rich sound of the album is on the tape, and that all one has to do to get that vintage sound on to a record is simply to thread up the tape on the right machine and hit play.
The fact that nobody seems to be able to make a record that sounds this good these days tells me that I am, in fact, wrong to think that such an approach would work. It just seems to me that somebody should have been able to figure out how to do it by now. In our experience that is simply not the case in the modern world of vinyl reissues, and has not been for many years.
What We're Listening For On Brilliant Corners
Energy for starters. What could be more important than the life of the music?
The Big Sound comes next -- wall to wall, lots of depth, huge space, three-dimensionality, all that sort of thing.
Then transient information -- fast, clear, sharp attacks, not the smear and thickness so common to these LPs.
Tight, full-bodied bass -- which ties in with good transient information, also the issue of frequency extension further down.
Next: transparency -- the quality that allows you to hear deep into the soundfield, showing you the space and air around all the instruments.
Extend the top and bottom and voila, you have The Real Thing -- an honest to goodness Hot Stamper.
The Players
Vinyl Condition
Mint Minus Minus and maybe a bit better is about as quiet as any vintage pressing will play, and since only the right vintage pressings have any hope of sounding good on this album, that will most often be the playing condition of the copies we sell. (The copies that are even a bit noisier get listed on the site are seriously reduced prices or traded back in to the local record stores we shop at.)
Those of you looking for quiet vinyl will have to settle for the sound of other pressings and Heavy Vinyl reissues, purchased elsewhere of course as we have no interest in selling records that don't have the vintage analog magic of these wonderful recordings.
If you want to make the trade-off between bad sound and quiet surfaces with whatever Heavy Vinyl pressing might be available, well, that's certainly your prerogative, but we can't imagine losing what's good about this music -- the size, the energy, the presence, the clarity, the weight -- just to hear it with less background noise.
A Must Own Jazz Record
We consider this Monk album a Masterpiece. It's a recording that should be part of any serious Jazz Collection.
Others that belong in that category can be found here.
Side One
Brilliant Corners
Ba-Lue Bolivar Ba-Lues-Are
Side Two
Pannonica
I Surrender, Dear
Bemsha Swing
AMG 5 Star Review
Enthusiasts who become jaded to the idiosyncratic nature of Monk's playing or his practically arithmetical chord progressions should occasionally revisit Brilliant Corners. There is an inescapable freshness and vitality saturated into every measure of every song. The passage of time makes it all the more difficult to imagine any other musicians bearing the capacity to support Monk with such ironic precision.
It's easy to write Monk's ferocity and Forrest Gump-esque ingenuity off as gimmick or quirkiness. What cannot be dismissed is Monk's ability to translate emotions into the language of music, as in the freedom and abandon he allows through Sonny Rollins' and Max Roach's mesmerizing solos in "Brilliant Corners." The childlike innocence evoked by Monk's incorporation of the celeste during the achingly beautiful ode "Pannonica" raises the emotional bar several degrees. Perhaps more pointed, however, is the impassioned "I Surrender, Dear" -- the only solo performance on the album.
Brilliant Corners may well be considered the alpha and omega of post-World War II American jazz. No serious jazz collection should be without it.