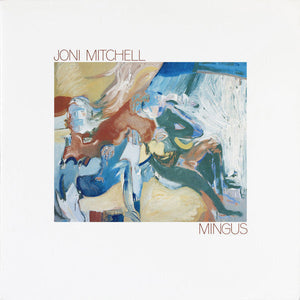 The copy we are selling is similar to the one pictured above.
Sonic Grade
Side One:
Side Two:
Vinyl Grade
Side One: Mint Minus Minus
Side Two: Mint Minus Minus
Both sides of this early Asylum pressing have superb sound for Joni Mitchell's brilliant collaboration with Charles Mingus, earning Double Plus (A++) grades or close to them
If you're a fan of Joni's more adventurous work you'll find a lot to like here
Features "luminaries" including Herbie Hancock and some of Weather Report, who join Mingus in helping Joni bring these jazzy works to life
"… Mitchell could not have chosen any finer musicians than the sextet she ultimately incorporated into this work."
100% Money Back Guarantee on all Hot Stampers
FREE Domestic Shipping on all LP orders over $150
Vintage covers for this album are hard to find in exceptionally clean shape. Most of the will have at least some amount of ringwear, seam wear and edge wear. We guarantee that the cover we supply with this Hot Stamper is at least VG
---
Two of Joni's more famous late '70s songs are on here -- "God Must Be A Boogie Man" and "The Wolf That Lives In Lindsey." If you like the more adventurous music that Joni produced at different stages of her career, this should make a wonderful addition to your collection.
This vintage Asylum LP has the kind of Tubey Magical Midrange that modern pressings cannot BEGIN to reproduce. Folks, that sound is gone and it sure isn't showing any sign of coming back.
Having done this for so long, we understand and appreciate that rich, full, solid, Tubey Magical sound is key to the presentation of this primarily vocal music. We rate these qualities higher than others we might be listening for (e.g., bass definition, soundstage, depth, etc.). The music is not so much about the details in the recording, but rather in trying to recreate a solid, palpable, real Joni Mitchell singing live in your listening room. The best copies have an uncanny way of doing just that.
If you exclusively play modern repressings of older recordings (this one is now 44 years old), I can say without fear of contradiction that you have never heard this kind of sound on vinyl. Old records have it -- not often, and certainly not always -- but less than one out of 100 new records do, if our experience with the hundreds we've played can serve as a guide.
What The Best Sides Of Mingus Have To Offer Is Not Hard To Hear
The biggest, most immediate staging in the largest acoustic space
The most Tubey Magic, without which you have almost nothing. CDs give you clean and clear. Only the best vintage vinyl pressings offer the kind of Tubey Magic that was on the tapes in 1979
Tight, note-like, rich, full-bodied bass, with the correct amount of weight down low
Natural tonality in the midrange -- with all the instruments having the correct timbre
Transparency and resolution, critical to hearing into the three-dimensional studio space
No doubt there's more but we hope that should do for now. Playing the record is the only way to hear all of the qualities we discuss above, and playing the best pressings against a pile of other copies under rigorously controlled conditions is the only way to find a pressing that sounds as good as this one does.
What To Listen For On Mingus
This copy has the sound we look for in a top quality Joni Mitchell album. A few qualities to listen for:
Immediacy in the vocals (so many copies are veiled and distant).
Natural tonal balance (most copies are at least slightly brighter or darker than ideal; ones with the right balance are the exception, not the rule).
Good solid weight (so the bass sounds full and powerful).
Spaciousness (the better copies have wonderful studio ambience and space).
And last but not least, transparency -- the quality of being able to see into the studio, where there is plenty of musical information to be revealed in this simple but sophisticated recording.
Problems To Watch For
Some of the more common problems we ran into during our shootouts were slightly veiled, slightly smeary sound, with not all the top end extension that the better copies have.
You can easily hear that smear on the guitar transients; usually, they're a tad blunted and the guitar harmonics don't ring the way they should.
These problems are just as common to the original Asylum pressings as they are to the later label LPs. Smeary, veiled, top-end-challenged pressings were regularly produced over the years. They are the rule, not the exception.
Vinyl Condition
Mint Minus Minus is about as quiet as any vintage pressing will play, and since only the right vintage pressings have any hope of sounding good on this album, that will most often be the playing condition of the copies we sell. (The copies that are even a bit noisier get listed on the site are seriously reduced prices or traded back in to the local record stores we shop at.)
Those of you looking for quiet vinyl will have to settle for the sound of other pressings and Heavy Vinyl reissues, purchased elsewhere of course as we have no interest in selling records that don't have the vintage analog magic of these wonderful recordings.
If you want to make the trade-off between bad sound and quiet surfaces with whatever Heavy Vinyl pressing might be available, well, that's certainly your prerogative, but we can't imagine losing what's good about this music -- the size, the energy, the presence, the clarity, the weight -- just to hear it with less background noise.
Side One
Happy Birthday 1975 [Rap]
God Must Be a Boogie Man
Funeral [Rap]
A Chair in the Sky
The Wolf That Lives in Lindsey
Side Two
I's a Muggin' [Rap]
Sweet Sucker Dance
Coin in the Pocket [Rap]
The Dry Cleaner from des Moines
Lucky [Rap]
Goodbye Pork Pie Hat
AMG Review
In the months prior to the passing of legendary jazz bassist Charles Mingus, Joni Mitchell had been personally summoned by the bop pioneer to collaborate on a musical version of T.S. Eliot's Four Quartets. … [Mingus] bestowed Mitchell with six melodies — "Joni I" through "Joni VI" — penned specifically for her.
Mitchell spent a few weeks with Mingus — who was totally immobilized from amyotropic lateral sclerosis (aka Lou Gehrig's Disease) — during the spring of 1978. Their partnership advanced the half-dozen tunes. More importantly, it shook Mitchell from a three-month long writer's block/drought — yielding two of her best late-'70s compositions: "God Must Be a Boogie Man" and the revisitation and completion of a track she'd been wood-shedding, now titled "The Wolf That Lives in Lindsey." Incidentally, the former piece was inspired by the opening chapters of Mingus' autobiography, Beneath the Underdog.
Initial recordings during Mitchell's stay with Mingus in New York City produced several interesting experimental sessions with the likes of Stanley Clarke (bass), Jan Hammer (keyboards), John McLaughlin (guitar), Gerry Mulligan (baritone sax), and Tony Williams (drums). A few of these recordings — while rumored to have been lost, destroyed, or made otherwise unavailable — were leaked into the trading community in the late '90s.
Arguably, Mitchell could not have chosen any finer musicians than the sextet she ultimately incorporated into this work. The luminaries include Herbie Hancock (electric piano), Wayne Shorter(soprano sax), Jaco Pastorious (bass/horn arrangements), Peter Erskine (drums), Don Alias (congas), and Emil Richards (percussion).
Sprinkled amongst these soulfully jazzy pieces are five "raps," or aural snapshots of the time Mitchell and Mingus spent together. Sadly, Charles Mingus passed before he was able to listen to this timeless and ageless paean to his remarkable contributions to bop and free jazz.
Wikipedia on "Mingus"
Mingus is the tenth studio album by Joni Mitchell, and a collaboration with jazz musician Charles Mingus. Recorded in the months before his death, it would be Mingus's final musical project; the album is wholly dedicated to him.
The album is quite experimental, featuring minimalist jazz, overplucked, buzzing acoustic guitars, and even wolves howling through "The Wolf That Lives In Lindsey". All of the lyrics are by Mitchell, while the music for four of the songs was composed by Mingus, three being new tunes, a fourth being his tribute to saxophonist Lester Young from his 1959 classic Mingus Ah Um, "Goodbye Pork Pie Hat", for which Mitchell wrote a set of lyrics.
As with the release preceding, Don Juan's Reckless Daughter, Mitchell hired personnel from jazz fusion group Weather Report to play on the sessions. Mingus would also mark the first reunion of saxophonist Wayne Shorter and pianist Herbie Hancock in the studio since recording together on Shorter's seminal Native Dancer album, featuring Milton Nascimento, released in September 1974.