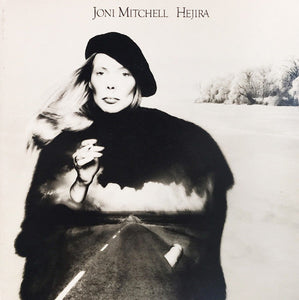 The copy we are selling is similar to the one pictured above.
Sonic Grade
Side One:
Side Two:
Vinyl Grade
Side One: Mint Minus Minus to EX++*
Side Two: Mint Minus Minus to EX++*
This early Asylum pressing boasts superb Double Plus (A++) grades or close to them on both sides
Most copies we played were too compressed or veiled to involve you in the music, but this one has the big, rich, clear sound of analog at its best that Joni's spacey "beatnik jazz" needs to work its magic (particularly on side two)
Problems in the vinyl are sometimes the nature of the beast with these vintage LPs - there simply is no way around them if the superior sound of vintage analog is important to you
"Joni Mitchell's Hejira is the last in an astonishingly long run of top-notch studio albums dating back to her debut... Performances are excellent, with special kudos reserved for Jaco Pastorius' melodic bass playing... This excellent album is a rewarding listen."
100% Money Back Guarantee on all Hot Stampers
FREE Domestic Shipping on all LP orders over $150
*NOTE: On side 1, there is a large bubble in the vinyl that plays as a moderate thump for approx. the last 80 seconds of track 1, "Coyote." On side 2, there is an audible swoosh that plays lightly for approx. the first 40 seconds of track 1, "Song for Sharon."
Vintage covers for this album are hard to find in exceptionally clean shape. Most of the will have at least some amount of ringwear, seam wear and edge wear. We guarantee that the cover we supply with this Hot Stamper is at least VG
---
We played a ton of copies and heard a lot to dislike. Many copies have a tendency to sound phony, a case of heavy-handed EQ in the mastering perhaps. When a copy sounds glossy, it loses its natural warmth and starts to sound like any old audiophile LP. We're ideally looking for something akin to Blue here, and not the sound you find on Patricia Barber LPs. (Gratuitous maybe, but it feels like it's been too long since we took a swipe at that junk. But I digress...)
Plenty of copies had natural sound but no real life or presence to speak of. It's a sound you could live with until you heard a good one, but there's no going back once you've heard what the album's really capable of. A copy like this one gives you lots of richness and warmth without sacrificing the texture to the instruments or the breath to Joni's voice. The percussion really comes through, the bass has more weight and the immediacy of the vocals put Joni front and center, just where she should be.
If you aren't familiar with this album, it's a few more steps down the path she started taking on Court and Spark. The musicians include Larry Carlton and Jaco Pastorius, so that should give you an idea about the jazz-fusion direction of the arrangements. It was a fun album to get to know and on a copy like this one, it really rewards multiple listens.
What The Best Sides Of Hejira Have To Offer Is Not Hard To Hear
The biggest, most immediate staging in the largest acoustic space
The most Tubey Magic, without which you have almost nothing. CDs give you clean and clear. Only the best vintage vinyl pressings offer the kind of Tubey Magic that was on the tapes in 1976
Tight, note-like, rich, full-bodied bass, with the correct amount of weight down low
Natural tonality in the midrange -- with all the instruments having the correct timbre
Transparency and resolution, critical to hearing into the three-dimensional studio space
No doubt there's more but we hope that should do for now. Playing the record is the only way to hear all of the qualities we discuss above, and playing the best pressings against a pile of other copies under rigorously controlled conditions is the only way to find a pressing that sounds as good as this one does.
What We're Listening For On Hejira
Energy for starters. What could be more important than the life of the music?
Then: presence and immediacy. The vocals aren't "back there" somewhere, lost in the mix. They're front and center where any recording engineer worth his salt would put them.
The Big Sound comes next -- wall to wall, lots of depth, huge space, three-dimensionality, all that sort of thing.
Then transient information -- fast, clear, sharp attacks, not the smear and thickness so common to these LPs.
Tight punchy bass -- which ties in with good transient information, also the issue of frequency extension further down.
Next: transparency -- the quality that allows you to hear deep into the soundfield, showing you the space and air around all the instruments.
Extend the top and bottom and voila, you have The Real Thing -- an honest to goodness Hot Stamper.
Vinyl Condition
Mint Minus Minus is about as quiet as any vintage pressing will play, and since only the right vintage pressings have any hope of sounding good on this album, that will most often be the playing condition of the copies we sell. (The copies that are even a bit noisier get listed on the site are seriously reduced prices or traded back in to the local record stores we shop at.)
Those of you looking for quiet vinyl will have to settle for the sound of other pressings and Heavy Vinyl reissues, purchased elsewhere of course as we have no interest in selling records that don't have the vintage analog magic of these wonderful recordings.
If you want to make the trade-off between bad sound and quiet surfaces with whatever Heavy Vinyl pressing might be available, well, that's certainly your prerogative, but we can't imagine losing what's good about this music -- the size, the energy, the presence, the clarity, the weight -- just to hear it with less background noise.
Side One
Coyote
Amelia
Furry Sings the Blues
A Strange Boy
Hejira
Side Two
Song for Sharon
Black Crow
Blue Motel Room
Refuge of the Roads
AMG Review
Joni Mitchell's Hejira is the last in an astonishingly long run of top-notch studio albums dating back to her debut. Some vestiges of her old style remain here; "Song for Sharon" utilizes the static, pithy vocal harmonies from Ladies of the Canyon's "Woodstock," "Refuge of the Roads" features woodwind touches reminiscent of those in "Barangrill" from For the Roses, and "Coyote" is a fast guitar-strummed number that has precedents as far back as Clouds' "Chelsea Morning." But by and large, this release is the most overtly jazz-oriented of her career up to this point -- hip and cool, but never smug or icy.
Arrangements are sparse, yet surprisingly varied, the most striking of which is the kaleidoscopically pointillistic one used on "Amelia." Performances are excellent, with special kudos reserved for Jaco Pastorius' melodic bass playing on "Refuge of the Roads" and the title cut. This excellent album is a rewarding listen.