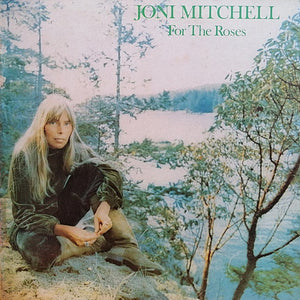 The copy we are selling is similar to the one pictured above.
Sonic Grade
Side One:
Side Two:
Vinyl Grade
Side One: Mint Minus Minus
Side Two: Mint Minus Minus*
With outstanding Double Plus (A++) grades or close to them on both sides, this early White Label Asylum pressing was one of the better copies we played in our most recent shootout
The sound is rich, warm and natural, with wonderful immediacy to Joni's vocals and Tubey Magic for days (particularly on side two) - this is the amazing sound of Asylum in the Seventies, and nobody seems to talk about it but us
One of the best sounding Joni records, on a par with Court and Spark and Blue - fine company indeed
Problems in the vinyl are sometimes the nature of the beast with these vintage LPs - there simply is no way around them if the superior sound of vintage analog is important to you
4 1/2 stars: "The lyrics here are among Mitchell's best, continuing in the vein of gripping honesty and heartfelt depth exhibited on Blue.... More than a bridge between great albums, this excellent disc is a top-notch listen in its own right."
100% Money Back Guarantee on all Hot Stampers
FREE Domestic Shipping on all LP orders over $150
*NOTE: There is a stitch that plays lightly throughout the first 1/2 of track 1 on side 2, "See You Sometime."
Vintage covers for this album are hard to find in exceptionally clean shape. Most of the will have at least some amount of ringwear, seam wear and edge wear. We guarantee that the cover we supply with this Hot Stamper is at least VG
---
This copy has real energy and dynamics that just could not be heard on most of the pressings we played. With dynamics and the warmth and richness found here, this copy will be hard to beat.
Listen to how huge the piano is. No two copies will show you the same piano, which makes it a great test for sound. Both sides have clear, present, breathy vocals, about as good as Joni can sound on vinyl, which is saying a lot.
This vintage Asylum pressing has the kind of Tubey Magical Midrange that modern records can barely BEGIN to reproduce. Folks, that sound is gone and it sure isn't showing signs of coming back. If you love hearing INTO a recording, actually being able to "see" the performers, and feeling as if you are sitting in the studio with the band, this is the record for you. It's what vintage all analog recordings are known for -- this sound.
If you exclusively play modern repressings of vintage recordings, I can say without fear of contradiction that you have never heard this kind of sound on vinyl. Old records have it -- not often, and certainly not always -- but maybe one out of a hundred new records do, and those are some pretty long odds.
What The Best Sides Of For The Roses Have To Offer Is Not Hard To Hear
The biggest, most immediate staging in the largest acoustic space
The most Tubey Magic, without which you have almost nothing. CDs give you clean and clear. Only the best vintage vinyl pressings offer the kind of Tubey Magic that was on the tapes in 1972
Tight, note-like, rich, full-bodied bass, with the correct amount of weight down low
Natural tonality in the midrange -- with all the instruments having the correct timbre
Transparency and resolution, critical to hearing into the three-dimensional studio space
No doubt there's more but we hope that should do for now. Playing the record is the only way to hear all of the qualities we discuss above, and playing the best pressings against a pile of other copies under rigorously controlled conditions is the only way to find a pressing that sounds as good as this one does.
We Was Wrong
About ten years ago, we thought For The Roses was the best sounding of all Joni's albums, as you can see from the commentary below.
This is probably the most underrated Joni Mitchell album, both in terms of sonics and music. It seems that everyone wants a great copy of Blue or Court And Spark, but this album ranks right up there with them and does not deserve to be overlooked.
Let's face it, we love Blue (1971) but most pressings suffer from a raft of sonic problems, as does Ladies of the Canyon (1970).
Court and Spark (1974) is up at the top up the list as well, but Roses (1973) seems to have more recording purity. Perhaps the engineers saw this as an opportunity to address the problems with Blue on this, its follow-up.
By the time Joni had fully indulged her jazzier inclinations with Court and Spark some of the recording quality had been lost in the quest for slicker production values. The complexity of the instrumentation required more multi-tracking and overdubbing, and as good as that record can sound on the best copies, in a head to head matchup with For the Roses the latter would probably win, and probably by no more than a nose.
We take it all back. As we have made more and more improvements to the stereo, room, record cleaning and such, Court and Spark has pulled ahead in the race for the Best Sounding Joni Mitchell Album, and Blue is up there too.
I would still rank them Court, Roses and then Blue. But three better sounding records by one artist -- assuming you have good copies to work with -- would be hard to find
What We're Listening For On For The Roses
Energy for starters. What could be more important than the life of the music?
Then: presence and immediacy. The vocals aren't "back there" somewhere, lost in the mix. They're front and center where any recording engineer worth his salt -- Henry Lewy in this case -- would have put them.
The Big Sound comes next -- wall to wall, lots of depth, huge space, three-dimensionality, all that sort of thing.
Then transient information -- fast, clear, sharp attacks, not the smear and thickness so common to these LPs.
Tight punchy bass -- which ties in with good transient information, also the issue of frequency extension further down.
Next: transparency -- the quality that allows you to hear deep into the soundfield, showing you the space and air around all the instruments.
Extend the top and bottom and voila, you have The Real Thing -- an honest to goodness Hot Stamper.
More of What to Listen For
The second track on side one, "Cold Blue Steel and Sweet Fire," is a great test. Here the guitars are full-bodied, harmonically rich, with more reverb and space than practically any side one we have ever played. The Tubey Magical liquidity of the sound is what vintage analog is all about. No reissue and no CD will ever get that sound the way this copy does.
That's the sound we love here at Better Records. Even if your system is all transistor, that guitar will sound like you own the most Tubey Magical equipment in the world. The magic is on the tape and it was transferred beautifully to this piece of vinyl.
Vinyl Condition
Mint Minus Minus and maybe a bit better is about as quiet as any vintage pressing will play, and since only the right vintage pressings have any hope of sounding good on this album, that will most often be the playing condition of the copies we sell. (The copies that are even a bit noisier get listed on the site are seriously reduced prices or traded back in to the local record stores we shop at.)
Those of you looking for quiet vinyl will have to settle for the sound of other pressings and Heavy Vinyl reissues, purchased elsewhere of course as we have no interest in selling records that don't have the vintage analog magic of these wonderful originals.
If you want to make the trade-off between bad sound and quiet surfaces with whatever Heavy Vinyl pressing might be available, well, that's certainly your prerogative, but we can't imagine losing what's good about this music -- the size, the energy, the presence, the clarity, the weight -- just to hear it with less background noise.
Side One
Banquet
Cold Blue Steel and Sweet Fire
Barangrill
Lesson in Survival
Let the Wind Carry Me
For the Roses
Side Two
See You Sometime
Electricity
You Turn Me on I'm a Radio
Blonde in the Bleachers
Woman of Heart and Mind
Judgement of the Moon and Stars (Ludwig's Tune)
AMG 4 1/2 Star Review
On For the Roses, Joni Mitchell began to explore jazz and other influences in earnest. As one might expect from a transitional album, there is a lot of stylistic ground explored, including straight folk selections using guitar ("For the Roses") and piano ("Banquet," "See You Sometime," "Lesson in Survival") overtly jazzy numbers ("Barangrill," "Cold Blue Steel and Sweet Fire," and hybrids that cross the two "Let the Wind Carry Me," "Electricity," "Woman of Heart and Mind," "Judgment of the Moon and Stars").
"Blonde in the Bleachers" grafts a rock & roll band coda onto a piano-based singer/songwriter main body. The hit single "You Turn Me on I'm a Radio" is an unusual essay into country-tinged pop, sporting a Dylanesque harmonica solo played by Graham Nash and lush backing vocals.
Arrangements here build solidly upon the tentative expansion of scoring first seen in Ladies of the Canyon. "Judgment of the Moon and Stars" and "Let the Wind Carry Me" present lengthy instrumental interludes.
The lyrics here are among Mitchell's best, continuing in the vein of gripping honesty and heartfelt depth exhibited on Blue. As always, there are selections about relationship problems, such as "Lesson in Survival," "See You Sometime," and perhaps the best of all her songs in this genre, "Woman of Heart and Mind."
"Cold Blue Steel and Sweet Fire" presents a gritty inner-city survival scene, while "Barangrill" winsomely extols the uncomplicated virtues of a roadside truck stop. More than a bridge between great albums, this excellent disc is a top-notch listen in its own right.