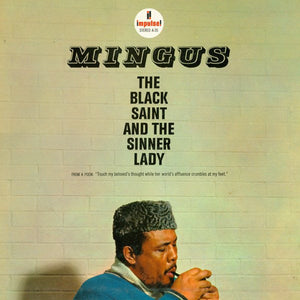 The copy we are selling is similar to the one pictured above.
Sonic Grade
Side One:
Side Two:
Vinyl Grade
Side One: Mint Minus Minus (closer to M-- to EX++ in parts)*
Side Two: Mint Minus Minus (closer to M-- to EX++ in parts)*
Mingus's avant-garde Jazz Masterpiece makes it back to the site after an 18-month hiatus with INCREDIBLE Shootout Winning Triple Plus (A+++) sound or close to it on both sides
This copy is overflowing with the kind of rich, spacious, Tubey Magical sound that can only be found on vintage vinyl
One of the most acclaimed jazz records of the 20th century - a dizzying blend of jazz and classical, and also elements of African music and Spanish themes
Marks in the vinyl are sometimes the nature of the beast with these early pressings - there simply is no way around them if the superior sound of vintage analog is important to you
5 stars: "The Black Saint and the Sinner Lady is one of the greatest achievements in orchestration by any composer in jazz history. Charles Mingus consciously designed the six-part ballet as his magnum opus, and - implied in his famous inclusion of liner notes by his psychologist - it's as much an examination of his own tortured psyche as it is a conceptual piece about love and struggle."
100% Money Back Guarantee on all Hot Stampers
FREE Domestic Shipping on all LP orders over $150
*NOTE: There is a mark that plays at a moderate level and intermittently for approx 45 seconds about 1/2 way into track 2 on side 1, "Duet Solo Dancers (Heart's Beat And Shades In Physical Embraces)." There is also a mark times 25 times at a moderate to loud level about 1" from the end of side 2, on which all tracks are played continuously.
*NOTE: This record was not noisy enough to rate our M-- to EX++ grade, but it's not quite up to our standards for Mint Minus Minus either. If you're looking for quiet vinyl, this is probably not the best copy for you.
---
This vintage Impulse! pressing has the kind of Tubey Magical Midrange that modern records can barely BEGIN to reproduce. Folks, that sound is gone and it sure isn't showing signs of coming back. If you love hearing INTO a recording, actually being able to "see" the performers, and feeling as if you are sitting in the studio with the band, this is the record for you. It's what vintage all analog recordings are known for -- this sound.
If you exclusively play modern repressings of vintage recordings, I can say without fear of contradiction that you have never heard this kind of sound on vinyl. Old records have it -- not often, and certainly not always -- but maybe one out of a hundred new records do, and those are some pretty long odds.
What The Best Sides Of The Black Saint and the Sinner Lady Have To Offer Is Not Hard To Hear
The biggest, most immediate staging in the largest acoustic space
The most Tubey Magic, without which you have almost nothing. CDs give you clean and clear. Only the best vintage vinyl pressings offer the kind of Tubey Magic that was on the tapes in 1963
Tight, note-like, rich, full-bodied bass, with the correct amount of weight down low
Natural tonality in the midrange -- with all the instruments having the correct timbre
Transparency and resolution, critical to hearing into the three-dimensional studio space
No doubt there's more but we hope that should do for now. Playing the record is the only way to hear all of the qualities we discuss above, and playing the best pressings against a pile of other copies under rigorously controlled conditions is the only way to find a pressing that sounds as good as this one does.
Copies with rich lower mids and nice extension up top did the best in our shootout, assuming they weren't veiled or smeary of course. So many things can go wrong on a record! We know, we've heard them all.
Top end extension is critical to the sound of the best copies. Lots of old records (and new ones) have no real top end; consequently, the studio or stage will be missing much of its natural air and space, and instruments will lack their full complement of harmonic information.
Tube smear is common to most vintage pressings. The copies that tend to do the best in a shootout will have the least (or none), yet are full-bodied, tubey and rich.
Learning the Record
For our shootout for The Black Saint and the Sinner Lady, we had at our disposal a variety of pressings that had the potential for Hot Stamper sound. We cleaned them carefully, then unplugged everything in the house we could, warmed up the system, Talisman'd it, found the right VTA for our Triplanar arm (by ear of course) and proceeded to spend the next hour or so playing copy after copy on side one, after which we repeated the process for side two.
If you have five or more copies of a record and play them over and over against each other, the process itself teaches you what's right and what's wrong with the sound of the album. Once your ears are completely tuned to what the best pressings do well that the other pressings do not do as well, using a few carefully chosen passages of music, it quickly becomes obvious how well a given copy can reproduce those passages. You'll hear what's better and worse -- right and wrong would be another way of putting it -- about the sound.
This approach is simplicity itself. First, you go deep into the sound. There you find a critically important passage in the music, one which most copies struggle -- or fail -- to reproduce as well as the best. Now, with the hard-won knowledge of precisely what to listen for, you are perfectly positioned to critique any and all pressings that come your way.
It may be a lot of work but it sure ain't rocket science, and we've never pretended otherwise. Just the opposite: from day one we've explained step by step precisely how to go about finding the Hot Stampers in your own collection. Not the good sounding pressings you happen to own -- those may or may not have Hot Stampers -- but the records you actually cleaned, shot out, and declared victorious.
What We're Listening For On The Black Saint and the Sinner Lady
Energy for starters. What could be more important than the life of the music?
The Big Sound comes next -- wall to wall, lots of depth, huge space, three-dimensionality, all that sort of thing.
Then transient information -- fast, clear, sharp attacks, not the smear and thickness so common to these LPs.
Tight, full-bodied bass -- which ties in with good transient information, also the issue of frequency extension further down.
Next: transparency -- the quality that allows you to hear deep into the soundfield, showing you the space and air around all the instruments.
Extend the top and bottom and voila, you have The Real Thing -- an honest to goodness Hot Stamper.
Vinyl Condition
Mint Minus Minus and maybe a bit better is about as quiet as any vintage pressing will play, and since only the right vintage pressings have any hope of sounding good on this album, that will most often be the playing condition of the copies we sell. (The copies that are even a bit noisier get listed on the site are seriously reduced prices or traded back in to the local record stores we shop at.)
Those of you looking for quiet vinyl will have to settle for the sound of other pressings and Heavy Vinyl reissues, purchased elsewhere of course as we have no interest in selling records that don't have the vintage analog magic of these wonderful recordings.
If you want to make the trade-off between bad sound and quiet surfaces with whatever Heavy Vinyl pressing might be available, well, that's certainly your prerogative, but we can't imagine losing what's good about this music -- the size, the energy, the presence, the clarity, the weight -- just to hear it with less background noise.
A Jazz Masterpiece
We consider this album Charles Mingus's Masterpiece. It's a recording that belongs in any serious Jazz Collection.
Others that belong in that category can be found here.
Side One
Solo Dancer (Stop! And Listen, Sinner Jim Whitney!)
Duet Solo Dancers (Heart's Beat And Shades In Physical Embraces)
Group Dancers ([Soul Fusion] Freewoman And Oh This Freedom's Slave Cries)
Side Two
Trio And Group Dancers (Stop! Look! And Sing Songs Of Revolutions!)
Single Solos And Group Dance (Saint And Sinner Join In Merriment On Battle Front)
Group And Solo Dance (Of Love, Pain, And Passioned Revolt, Then Farewell, My Beloved, 'til It's Freedom Day)
AMG 5 Star Rave Review
The Black Saint and the Sinner Lady is one of the greatest achievements in orchestration by any composer in jazz history. Charles Mingus consciously designed the six-part ballet as his magnum opus, and -- implied in his famous inclusion of liner notes by his psychologist -- it's as much an examination of his own tortured psyche as it is a conceptual piece about love and struggle. It veers between so many emotions that it defies easy encapsulation; for that matter, it can be difficult just to assimilate in the first place. Yet the work soon reveals itself as a masterpiece of rich, multi-layered texture and swirling tonal colors, manipulated with a painter's attention to detail. There are a few stylistic reference points -- Ellington, the contemporary avant-garde, several flamenco guitar breaks -- but the totality is quite unlike what came before it.
Mingus relies heavily on the timbral contrasts between expressively vocal-like muted brass, a rumbling mass of low voices (including tuba and baritone sax), and achingly lyrical upper woodwinds, highlighted by altoist Charlie Mariano. Within that framework, Mingus plays shifting rhythms, moaning dissonances, and multiple lines off one another in the most complex, interlaced fashion he'd ever attempted. Mingus was sometimes pigeonholed as a firebrand, but the personal exorcism of Black Saint deserves the reputation -- one needn't be able to follow the story line to hear the suffering, mourning, frustration, and caged fury pouring out of the music.
The 11-piece group rehearsed the original score during a Village Vanguard engagement, where Mingus allowed the players to mold the music further; in the studio, however, his exacting perfectionism made The Black Saint and the Sinner Lady the first jazz album to rely on overdubbing technology. The result is one of the high-water marks for avant-garde jazz in the 60s and arguably Mingus' most brilliant moment.