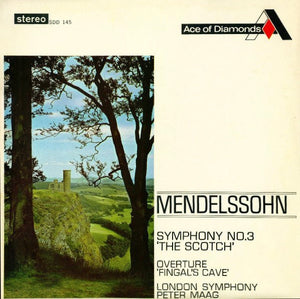 The copy we are selling is similar to the one pictured above.
Sonic Grade
Side One:
Side Two:
Vinyl Grade
Side One: Mint Minus Minus*
Side Two: Mint Minus Minus
With two seriously good Double Plus (A++) sides, you'll have a hard time finding a copy of Mendelssohn's famed concert overture and orchestral symphony that sounds remotely as good as this vintage Ace of Diamonds pressing
A truly superb recording with huge, spacious, dynamic, lively sound - Tubey Magical richness is a big plus too
There is a rosiny texture to the strings that no record made in the last 30 years can capture, and if you don't believe me, we offer this pressing as proof
More of the music of Felix Mendelssohn (1809-1847) / More Classical and Orchestral Recordings
100% Money Back Guarantee on all Hot Stampers
FREE Domestic Shipping on all LP orders over $150
*NOTE: There is a mark that plays 4 times very lightly at the start of the first piece on side 1, "Fingal's Cave" Overture (The Hebrides) Op.26
Vintage covers for this album are hard to find in exceptionally clean shape. Most of the will have at least some amount of ringwear, seam wear and edge wear. We guarantee that the cover we supply with this Hot Stamper is at least VG
---
Audiophiles have known of this record's sublime sonic qualities for decades. As our stereos get better, so do amazingly powerful recordings such as this one.
Both sides of this record have that classic Decca rich, sweet sound. It's not for everybody, it's probably not the sound one would hear in a concert hall, but we love it and so do many audiophiles.
The performance here by Peter Maag and London Symphony Orchestra is legendary and definitive. The sound is perfectly suited for this music, with massed strings to die for. This is classic Tubey Magical Decca orchestral sound.
If you want immediacy, buy a Mercury. If you want luscious, rich string tone, this vintage Ace of Diamonds reissue should be right up your alley. This is a sweetheart of a record, full of the Tubey Magic for which Decca recordings are justly famous.
If you love hearing INTO a recording, actually being able to "see" the performers, and feeling as if you are sitting in the studio with the band, this is the record for you. It's what vintage all analog recordings are known for -- this sound.
If you exclusively play modern repressings of vintage recordings, I can say without fear of contradiction that you have never heard this kind of sound on vinyl. Old records have it -- not often, and certainly not always -- but maybe one out of a hundred new records do, and those are some pretty long odds.
What The Best Sides Of Decca's Classical Recordings Have To Offer Is Not Hard To Hear
The biggest, most immediate staging in the largest acoustic space
The most Tubey Magic, without which you have almost nothing. CDs give you clean and clear. Only the best vintage vinyl pressings offer the kind of Tubey Magic that was on the tapes in 1960
Tight, note-like, rich, full-bodied bass, with the correct amount of weight down low
Natural tonality in the midrange -- with all the instruments having the correct timbre
Transparency and resolution, critical to hearing into the three-dimensional studio space
String Tone
It's practically impossible to hear that kind of string sound on any recording made in the last thirty years (and this of course includes everything pressed on Heavy Vinyl). It may be a lost art but as long as we have these wonderful vintage pressings to play, it's an art that is not lost on us.
It's also as wide, deep and three-dimensional as any, which is, of course, all to the good, but what makes the sound of these recordings so special is the timbral accuracy of the instruments in every section.
I don't think the Decca engineers could have cut this record much better -- it has all the orchestral magic one could ask for, as well as the resolving power, clarity and presence that are missing from so many Golden Age records.
This is the kind of record that will make you want to take all your heavy vinyl classical pressings and put them on ebay. They cannot begin to sound the way this record sounds. (Before you put them up for sale, please play them against this pressing so that you can be confident in your decision to rid yourself of their insufferable mediocrity.)
What We're Listening For On Symphonic Recordings
Energy for starters. What could be more important than the life of the music?
The Big Sound comes next -- wall to wall, lots of depth, huge space, three-dimensionality, all that sort of thing.
Then transient information -- fast, clear, sharp attacks, not the smear and thickness so common to these LPs.
Powerful bass -- which ties in with good transient information, also the issue of frequency extension further down.
Next: transparency -- the quality that allows you to hear deep into the soundfield, showing you the space and air around all the instruments.
Extend the top and bottom and voila, you have The Real Thing -- an honest to goodness Hot Stamper.
VTA and Correct String Tone
When your VTA, azimuth, tracking weight and anti-skate are correct, this is the record that will make it clear to you that your efforts have paid off.
What to listen for you ask? With the proper adjustment the harmonics of the strings will sound extended and correct. And you can't really know how right it can sound until you go through hours of experimentation with all the forces that affect the way the needle rides the groove. Without precise VTA adjustment there is almost no way this record will do everything it's capable of doing. There will be hardness, smear, sourness, thinness -- something will be off somewhere. With total control over your arm and cartridge setup, these problems will all but vanish. (Depending on the quality of the equipment of course.)
We harp on all aspects of record reproduction for a reason. When you have done the work, pressings such as this one are simply glorious.
Vinyl Condition
Mint Minus Minus is about as quiet as any vintage pressing will play, and since only the right vintage pressings have any hope of sounding good on this album, that will most often be the playing condition of the copies we sell. (The copies that are even a bit noisier get listed on the site are seriously reduced prices or traded back in to the local record stores we shop at.)
Those of you looking for quiet vinyl will have to settle for the sound of other pressings and Heavy Vinyl reissues, purchased elsewhere of course as we have no interest in selling records that don't have the vintage analog magic of these wonderful recordings.
If you want to make the trade-off between bad sound and quiet surfaces with whatever Heavy Vinyl pressing might be available, well, that's certainly your prerogative, but we can't imagine losing what's good about this music -- the size, the energy, the presence, the clarity, the weight -- just to hear it with less background noise.
Side One
"Fingal's Cave" Overture (The Hebrides) Op.26
Sympohony No. 3 in A monir, Op.56 "The Scottish"
Introduction And Allegro Agitato
Side Two
Sympohony No. 3 in A monir, Op.56 "The Scottish"
Scherzo Assai Vivace
Adagio Cantabile
Allegro Guerriero And Finale Maestoso
Op. 26, The Hebrides
Felix Mendelssohn's concert overture The Hebrides was composed in 1830, revised in 1832, and published the next year as his Op. 26. Some consider it an early tone poem.
It was inspired by one of Mendelssohn's trips to the British Isles, specifically an 1829 excursion to the Scottish island of Staffa, with its basalt sea cave known as Fingal's Cave. It was reported that the composer immediately jotted down the opening theme for his composition after seeing the island. He at first called the work To the Lonely Island or Zur einsamen Insel, but then settled on the present title. However, in 1834, the year after the first publication, Breitkopf & Härtel issued an edition with the name Fingalshöhle (Fingal's Cave) and this title stuck, causing some confusion.
Being a concert overture, The Hebrides does not precede a play or opera, but is instead a standalone composition in a form common for the Romantic period. Dedicated to King Frederick William IV of Prussia, then Crown Prince of Prussia, the B minor work became part of the standard orchestral repertoire and retains this position to the present day.
-Wikipedia
Symphony No. 3, The Scottish
The Symphony No. 3 in A minor, Op. 56, known as the "Scottish" Symphony, is a work by Felix Mendelssohn. It is thought that a painting on a Scotland trip made by Mendelssohn had inspired the 33-year-old composer, especially the opening theme of the first movement.
The emotional scope of the work is wide, consisting of a grand first movement, a joyous second movement of possibly Scottish folk music, a slow movement maintaining an apparent struggle between love and fate, and a finale that takes its components from Scottish folk dance. A peculiarity lies in the coda of the finale, where he introduces a complete new German majestic theme to close the work in a completely different manner from the rest of the finale.
It was conceived as early as 1829 during Mendelssohn's trip to Scotland, but was not completed until 1842, and was not published in full score until the following year. The symphony was dedicated to Queen Victoria of the United Kingdom. Its premiere took place on 3 March 1842 in Leipzig.
The work is scored for an orchestra consisting of two flutes, two oboes, two clarinets in B flat and A, two bassoons, two horns in C and A, two horns in E, F and C, two trumpets in D, timpani, and strings. It is in four movements:
Andante con moto - Allegro un poco agitato
Vivace non troppo
Adagio
Allegro vivacissimo - Allegro maestoso assai
The lively second movement is melodically and rhythmically in the style of Scottish folk music, although no direct quotations have been identified.
-Wikipedia