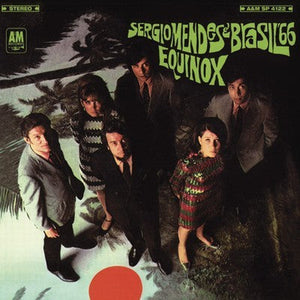 The copy we are selling is similar to the one pictured above.
Sonic Grade
Side One:
Side Two:
Vinyl Grade
Side One: Mint Minus Minus
Side Two: Mint Minus Minus
An Equinox like you've never heard, with seriously good Double Plus (A++) sound throughout this wonderful copy, along with remarkably quiet vinyl for an original pressing
The breathy intimacy of the two wonderful female leads - Lani Hall and Janis Hansen - were brilliantly captured by the engineering team of Bruce Botnick and Larry Levine at A&M
It's humble records like this one that blew my mind when I first discovered them back in the '80s, with their dynamic, energetic, spacious sound, as well as shockingly good music that at the time I had no idea existed
"Watch What Happens," "Night and Day," "Wave" - Mendes brings his innovative Bossa Nova arranging skills to these timeless classics
4 1/2 stars: "Equinox continues the scrumptiously winning sound that Sergio Mendes cooked up in the mid-'60s... Again, the mix of American pop tunes old and new and Brazilian standards and sleepers is impeccable, and the treatments are smooth, swinging, and very much to the point."
100% Money Back Guarantee on all Hot Stampers
FREE Domestic Shipping on all LP orders over $150
Vintage covers for this album are hard to find in exceptionally clean shape. Most of the will have at least some amount of ringwear, seam wear and edge wear. We guarantee that the cover we supply with this Hot Stamper is at least VG
---
These Sergio Mendes records can be surprisingly dynamic, but only the better copies (such as this one) will allow those dynamics to explode naturally, with the kind of ease that only analog is capable of reproducing correctly in our experience.
As you've no doubt noticed, we're the world's biggest fans of Sergio Mendes here at Better Records. Brasil '66, Stillness, and this album are all Desert Island Discs for us, and we even enjoy the hell out of some of the later albums. You can search all you want, but outside of The Beatles you are going to have a very tough time finding the diverse thrills that this group offers. We go crazy for the breathy, multi-part female vocals, their unusually voiced multi-tracked harmonies, the brilliant percussion, and, let us not forget, Mendes' superb keyboard work anchoring as well as jazzing up the whole production.
His stuff never sounds dated to us, and we've never heard another artist do anything in the '60s samba idiom nearly as well. We love Astrud Gilberto's albums from the period, which no doubt served as a template for the style Sergio wanted to create with his new ensemble, but Brazil 66 is clearly a step up in every way: songwriting, arranging, production, and quality of musicianship.
Just play the group's amazing versions of "Watch What Happens," "Night and Day," or "Jobim's Wave" to hear the kind of Mendes Magic that makes us swoon. For we audiophiles, it just doesn't get any better. (Well, almost. Stillness is still the Ultimate, on the level of a Dark Side of the Moon or Tea for the Tillerman, but Equinox is right up there with it.)
What The Best Sides Of Equinox Have To Offer Is Not Hard To Hear
The biggest, most immediate staging in the largest acoustic space
The most Tubey Magic, without which you have almost nothing. CDs give you clean and clear. Only the best vintage vinyl pressings offer the kind of Tubey Magic that was on the tapes in 1967
Tight, note-like, rich, full-bodied bass, with the correct amount of weight down low
Natural tonality in the midrange -- with all the instruments having the correct timbre
Transparency and resolution, critical to hearing into the three-dimensional studio space
No doubt there's more but we hope that should do for now. Playing the record is the only way to hear all of the qualities we discuss above, and playing the best pressings against a pile of other copies under rigorously controlled conditions is the only way to find a pressing that sounds as good as this one does.
Botnick and Levine Knock One Out of the Park
The music is of course wonderful, but what separates Sergio from practically all of his '60s contemporaries is the amazing sound of his recordings. Like their debut, this one was engineered by the team of Bruce Botnick and Larry Levine. Botnick is, of course, the man behind the superb recordings of The Doors, Love, and others too numerous to mention.
Levine is no slouch either, having engineered one of the best sounding albums on the planet, Mendes' Stillness.
Only the better copies are sufficiently transparent to let the listener hear all the elements laid out clearly, with each occupying a real three-dimensional space within the soundfield. When you hear one of those copies, you have to give Botnick and Levine their due. These guys knew what they were doing like few that have come after them.
Complex Arrangements
One reason you have to hand the tallest trophy to Bruce for this album is that the arrangements are dramatically more complex here than on any comparable rock record of the era. There are so many elements to juggle in the densest parts of the mix, with multiple lead vocal parts, often double-tracked; background vocals by Sergio and the girls coming from every location; keyboards, bass and drums; tons of percussion popping out all over the place -- there is a rich tapestry of instruments and voices, stretching across the soundstage from wall to wall, with wonderfully layered front-to-back depth.
This is one of my favorite albums, one which certainly belongs in any Audiophile's collection. Better sound is hard to find -- when you have the right pressing. One of the first records I ever played for my good audio buddy Robert Pincus (Cisco Records) to demonstrate the sound of my system was Sergio's syncopated version of "Day Tripper" off the first album. That was close to forty years ago, and I can honestly say I have never tired of this music in the decades since.
What We're Listening For On Equinox
Energy for starters. What could be more important than the life of the music?
Then: presence and immediacy. The vocals aren't "back there" somewhere, lost in the mix. They're front and center where any recording engineer worth his salt -- Bruce Botnick and Larry Levine in this case -- would have put them.
The Big Sound comes next -- wall to wall, lots of depth, huge space, three-dimensionality, all that sort of thing.
Then transient information -- fast, clear, sharp attacks, not the smear and thickness so common to these LPs.
Tight punchy bass -- which ties in with good transient information, also the issue of frequency extension further down.
Next: transparency -- the quality that allows you to hear deep into the soundfield, showing you the space and air around all the instruments.
Extend the top and bottom and voila, you have The Real Thing -- an honest to goodness Hot Stamper.
Vinyl Condition
Mint Minus Minus and maybe a bit better is about as quiet as any vintage pressing will play, and since only the right vintage pressings have any hope of sounding good on this album, that will most often be the playing condition of the copies we sell. (The copies that are even a bit noisier get listed on the site are seriously reduced prices or traded back in to the local record stores we shop at.)
Those of you looking for quiet vinyl will have to settle for the sound of later pressings and Heavy Vinyl reissues, purchased elsewhere of course as we have no interest in selling records that don't have the vintage analog magic of these wonderful recordings.
If you want to make the trade-off between bad sound and quiet surfaces with whatever Heavy Vinyl pressing might be available, well, that's certainly your prerogative, but we can't imagine losing what's good about this music -- the size, the energy, the presence, the clarity, the weight -- just to hear it with less background noise.
Sergio's Sophomore Effort Is A Demo Disc Quality Pop Record
It's a recording that should be part of any serious Popular Music Collection. Others that belong in that category can be found here.
Side One
Constant Rain
Cinnamon and Clove
Watch What Happens
For Me
Bim-Bom
Side Two
Night and Day
Triste
Gente
Wave
Só Danço Samba
AMG 4 1/2 Star Review
Equinox continues the scrumptiously winning sound that Sergio Mendes cooked up in the mid-'60s, this time a bit more fleshed out with John Pisano's guitar, a slightly thicker texture, and even an imitation sitar (this was, after all, 1967). Again, the mix of American pop tunes old and new and Brazilian standards and sleepers is impeccable (although it didn't yield any substantial hits), and the treatments are smooth, swinging, and very much to the point.
While Mendes reaps a predictable harvest from Antonio Carlos Jobim -- he was one of the first to discover and record "Triste" and "Wave" -- he also likes to explore the work of other outstanding Brazilian writers like Jorge Ben, Joao Gilberto, and especially Edu Lobo (whose "For Me," with its bright flashes of combo organ, is one of the album's highlights).
Lani Hall's star was just rising at this time, and it is her cool, clear voice that haunts the memory most often. Like its predecessor, Equinox is exceedingly brief in duration, yet not a motion is wasted.