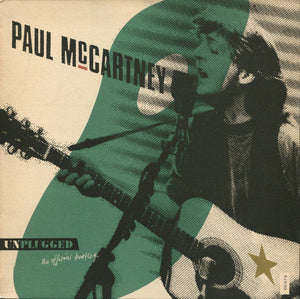 The copy we are selling is similar to the one pictured above.
Sonic Grade
Side One:
Side Two:
Vinyl Grade
Side One: Mint Minus to Mint Minus Minus
Side Two: Mint Minus to Mint Minus Minus
A true Demo Disc and excellent sounding import pressing that boasts STUNNING Shootout Winning Triple Plus (A+++) grades or close to them on both sides - exceptionally quiet vinyl too
A strikingly intimate document of a live show, fronted by one of the greatest performers in history, Sir Paul McCartney
You get more extension up top, more weight down low, and more transparency in the midrange, than on all other copies we played
4 stars: "... it remains one of the most enjoyable records in McCartney's catalog. McCartney is carefree and charming, making songs like 'Be-Bop-a-Lula' and 'Blue Moon of Kentucky' sound fresh."
100% Money Back Guarantee on all Hot Stampers
FREE Domestic Shipping on all LP orders over $150
Incredible sound for this amazing recording! It's a strikingly intimate document of a live show, one which just happens to be fronted by one of the greatest performers in the history of popular music, Sir Paul McCartney.
On the better copies, the sound is warmer, richer, and sweeter, or in a word, more ANALOG sounding. You get more extension up top, more weight down low, and more transparency in the midrange. It's surprising how veiled and two-dimensional so many copies can be, considering that this is a live recording (by the legendary Geoff Emerick himself) with not a lot of "messing around" after the fact.
This vintage import pressing has the kind of Tubey Magical Midrange that modern records can barely BEGIN to reproduce. Folks, that sound is gone and it sure isn't showing signs of coming back. If you love hearing INTO a recording, actually being able to "see" the performers, and feeling as if you are sitting in the studio with the band, this is the record for you. It's what vintage all analog recordings are known for -- this sound.
If you exclusively play modern repressings of vintage recordings, I can say without fear of contradiction that you have never heard this kind of sound on vinyl. Old records have it -- not often, and certainly not always -- but maybe one out of a hundred new records do, and those are some pretty long odds.
What The Best Sides Of Unplugged Have To Offer Is Not Hard To Hear
The biggest, most immediate staging in the largest acoustic space
The most Tubey Magic, without which you have almost nothing. CDs give you clean and clear. Only the best vintage vinyl pressings offer the kind of Tubey Magic that was on the tapes even as late as 1991
Tight, note-like, rich, full-bodied bass, with the correct amount of weight down low
Natural tonality in the midrange -- with all the instruments having the correct timbre
Transparency and resolution, critical to hearing into the three-dimensional studio space
No doubt there's more but we hope that should do for now. Playing the record is the only way to hear all of the qualities we discuss above, and playing the best pressings against a pile of other copies under rigorously controlled conditions is the only way to find a pressing that sounds as good as this one does.
Finding The Best Sound
This isn't your typical rock record that sounds crappy on eight out of ten copies. Most copies of Unplugged sound pretty good. We did hear quite a few that had a somewhat brittle quality to the top end, with no real extension to speak of. It wasn't ever a dealbreaker, but the copies with a silky openness up there are much more enjoyable -- and, unfortunately, fairly uncommon.
There are copies that lack warmth, copies that never fully come to life, and copies that are a bit dark. Some that we auditioned didn't seem to get the breath in the vocals, and others lacked weight to the piano. Again -- not one of the pressings we played sounded bad, but many of them definitely sounded dry, boring and lifeless.
Just for fun, check out Linda's percussion and tambourine work in the right channel of the first track on side one, "Be-Bop-A-Lula." Since that's one of our test tracks, we had the opportunity to hear her 'contribution' to the song about twenty times or so, and it became a source of -- to be charitable -- 'entertainment' in its own right as the shootout progressed.
What We're Listening For On Unplugged
Energy for starters. What could be more important than the life of the music?
Then: presence and immediacy. The vocals aren't "back there" somewhere, lost in the mix. They're front and center where any recording engineer worth his salt would put them.
The Big Sound comes next -- wall to wall, lots of depth, huge space, three-dimensionality, all that sort of thing.
Then transient information -- fast, clear, sharp attacks, not the smear and thickness so common to these LPs.
Tight punchy bass -- which ties in with good transient information, also the issue of frequency extension further down.
Next: transparency -- the quality that allows you to hear deep into the soundfield, showing you the space and air around all the instruments.
Extend the top and bottom and voila, you have The Real Thing -- an honest to goodness Hot Stamper.
It's Also An Excellent Test Disc
This is a Must-Own LP for testing purposes. When Paul's voice and the guitars sound right it's pretty obvious that the system is working. Of course, what makes this a great test disc is that when they sound wrong, it's just as obvious.
Vinyl Condition
Mint Minus Minus is about as quiet as any vintage pressing will play, and since only the right vintage pressings have any hope of sounding good on this album, that will most often be the playing condition of the copies we sell. (The copies that are even a bit noisier get listed on the site are seriously reduced prices or traded back in to the local record stores we shop at.)
Those of you looking for quiet vinyl will have to settle for the sound of other pressings and Heavy Vinyl reissues, purchased elsewhere of course as we have no interest in selling records that don't have the vintage analog magic of these wonderful recordings.
If you want to make the trade-off between bad sound and quiet surfaces with whatever Heavy Vinyl pressing might be available, well, that's certainly your prerogative, but we can't imagine losing what's good about this music -- the size, the energy, the presence, the clarity, the weight -- just to hear it with less background noise.
A Must Own McCartney Record
McCartney Unplugged is a recording that should be part of any serious Popular Music Collection. Others that belong in that category can be found here.
Side One
Be-Bop-A-Lula
I Lost My Girl
Here There And Everywhere
Blue Moon of Kentucky
We Can Work It Out
San Francisco Bay Blues
I've Just Seen A Face
Every Night
She's A Woman
Side Two
Hi-Heel Sneakers
And I Love Her
That Would Be Something
Blackbird

Before this song starts, Paul banters with the audience for a minute or two. He spots a woman in the crowd and jokes with her. If your system is capable of resolving it, you can hear their conversation clearly. The sense of actually being in the room with the audience and the performers is uncanny. All the "messing around" on stage stuff gives the listener plenty of nice ambience cues to listen for.

Also, Paul moves the microphone, scraping it along the floor, which causes a huge wave of bass to envelop the room. I was over at one of my customer's houses one time, doing a shootout with various electronics and tweaks, and I remember distinctly that the microphone stand was shrunken and lean sounding in a way I had never heard before. Now this customer, whose system was in the $100K range, had no idea what that microphone stand could really do. I did, because I've been hearing it do it for years.

Some speakers can't move enough air down there to reproduce that sound. And some speakers shrink the size of images. These are two things I listen for in a system: if it doesn't have the bottom end and it doesn't have correctly sized images for the instruments, that's a system that is failing in fundamental ways. If you close your eyes, you're not in the presence of the musicians. That's the goal, and all the equipment in a system must work to serve that purpose.

That's why this is a good test disc. The band is RIGHT THERE. To the extent that you can make them sound live in your living room, you are getting the job done. The last tiny bit of resolution is not the point. Full-sized live musicians in your living room is the point. Either Paul and his band are in front of you, or they're not. When they're not, it's time to get to work and find out what part of the system is not doing its job.

Ain't No Sunshine
Good Rockin' Tonight
Singing The Blues
Junk
AMG 4 Star Review
... it remains one of the most enjoyable records in McCartney's catalog. Running through a selection of oldies — not only his own, but Beatles and rock & roll chestnuts — McCartney is carefree and charming, making songs like "Be-Bop-a-Lula" and "Blue Moon of Kentucky" (which finds Paul melding Bill Monroe with Elvis) sound fresh.
But the real revelations of the record are the songs McCartney hauls out from his debut — "That Would Be Something," "Every Night," and "Junk" — which sound lovely and timeless, restoring them to their proper place in his canon. They help make Unplugged into a thoroughly enjoyable minor gem.