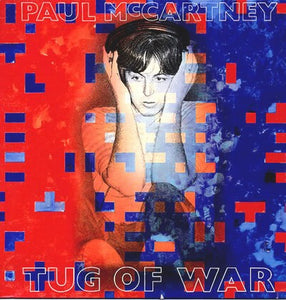 The copy we are selling is similar to the one pictured above.
Sonic Grade
Side One:
Side Two:
Vinyl Grade
Side One: Mint Minus to Mint Minus Minus
Side Two: Mint Minus to Mint Minus Minus
A Tug of War like you've never heard, with seriously good Double Plus (A++) grades on both sides of this original UK copy - exceptionally quiet vinyl too
We had a devil of a time finding sound as good as this on Tug of War - most copies are just plain awful
A copy with transparency and clarity like this lets you appreciate George Martin's masterful production work - you will easily hear the results on "Ebony and Ivory"
4 1/2 stars: "[Its] crowd-pleasing genre-hopping finds its apotheosis on "Take It Away," a salute to eager performers and the crowds who love them, which means it summarizes not only the appeal of Tug of War in general - it is, by design, a record that gives the people old Beatle Paul - but McCartney in general."
100% Money Back Guarantee on all Hot Stampers
FREE Domestic Shipping on all LP orders over $150
Drop the needle on the opener "Tug Of War" and listen to how wide and deep the sound field is. "Take It Away" follows with a bit of an '80s reggae feel, and on the better copies you get meaty, tight bass that sets the foundation for the fun to follow.
Some of McCartney's '80s albums -- and let's be honest, some of his '70s albums too -- can drag a bit at times, but this one is pretty darn consistent. Allmusic gave it 4 1/2 stars, matching Band On The Run.
What The Best Sides of Tug of War Have To Offer Is Not Hard To Hear
The biggest, most immediate staging in the largest acoustic space
The most Tubey Magic, without which you have almost nothing. CDs give you clean and clear. Only the best vintage vinyl pressings offer the kind of Tubey Magic that was on the tapes even as late as 1982
Tight, note-like, rich, full-bodied bass, with the correct amount of weight down low
Natural tonality in the midrange -- with all the instruments having the correct timbre
Transparency and resolution, critical to hearing into the three-dimensional studio space
No doubt there's more but we hope that should do for now. Playing the record is the only way to hear all of the qualities we discuss above, and playing the best pressings against a pile of other copies under rigorously controlled conditions is the only way to find a pressing that sounds as good as this one does.
What To Listen For
A bigger presentation -- more size, more space, more room for all the instruments and voices to occupy. The bigger the speakers you have to play this record the better.
More bass and tighter bass. This is fundamentally a rock record. It needs weight down low to rock the way the engineers wanted it to.
Present, breathy vocals. A veiled midrange is the rule, not the exception.
Good top end extension to reproduce the harmonics of the instruments and details of the recording including the studio ambience.
Last but not least, balance. All the elements from top to bottom should be heard in harmony with each other. Take our word for it, assuming you haven't played a pile of these yourself, balance is not that easy to find.
Our best copies will have it though, of that there is no doubt.
Best Practices
If you have five or ten copies of a record and play them over and over against each other, the process itself teaches you what's right and what's wrong with the sound of the album. Once your ears are completely tuned to what the best pressings do well that the others do not do as well, using a few specific passages of music, it will quickly become obvious how well any given pressing reproduces those passages.
The process is simple enough. First, you go deep into the sound. There you find something special, something you can't find on most copies. Now, with the hard-won knowledge of precisely what to listen for, you are perfectly positioned to critique any and all pressings that come your way.
Vinyl Condition
Mint Minus Minus is about as quiet as any vintage pressing will play, and since only the right vintage pressings have any hope of sounding good on this album, that will most often be the playing condition of the copies we sell. (The copies that are even a bit noisier get listed on the site are seriously reduced prices or traded back in to the local record stores we shop at.)
Those of you looking for quiet vinyl will have to settle for the sound of later pressings and Heavy Vinyl reissues, purchased elsewhere of course as we have no interest in selling records that don't have the vintage analog magic of these wonderful recordings.
If you want to make the trade-off between bad sound and quiet surfaces with whatever Heavy Vinyl pressing might be available, well, that's certainly your prerogative, but we can't imagine losing what's good about this music -- the size, the energy, the presence, the clarity, the weight -- just to hear it with less background noise.
Side One
Tug of War
Take It Away
Somebody Who Cares
What's That You're Doing? (feat. Stevie Wonder)
Here Today
Side Two
Ballroom Dancing
The Pound Is Sinking
Wanderlust
Get It
Be What You See
Dress Me Up As a Robber
Ebony and Ivory (feat. Stevie Wonder)
AMG 4 1/2 Star Review
Like 1970's McCartney, 1980's McCartney II functioned as a way for Paul McCartney to clear the decks: to experiment and recalibrate in the aftermath of his band falling apart. This means 1982's Tug of War is, in many ways, the very first Paul McCartney solo album, a record recorded not at home but in a studio, a record made without Wings and not co-credited to Linda, who nevertheless is present as a backing vocalist.
McCartney recognized this album as something of a major opportunity, so he revived his relationship with Beatles producer George Martin and brought in several heavy-hitters as guests, including his hero Carl Perkins, his Motown counterpart Stevie Wonder, fusion star Stanley Clarke, prog rock refugees Eric Stewart and Andy Mackay, and his old bandmate Ringo Starr, whose presence was overshadowed by "Here Today," an elegy written for the murdered John Lennon.
...much of the charm of Tug of War lies in the excess around the edges, whether it's the rockabilly lark of the Perkins duet "Get It," the later-period Beatles whimsy of '"The Pound Is Sinking," the electro-throwaway "Dress Me Up as a Robber," or the long, electro-funk workout of "What's That You're Doing?," a track that's a fuller collaboration between Paul and Stevie than "Ebony and Ivory."
Such crowd-pleasing genre-hopping finds its apotheosis on "Take It Away," a salute to eager performers and the crowds who love them, which means it summarizes not only the appeal of Tug of War in general -- it is, by design, a record that gives the people old Beatle Paul -- but McCartney in general.