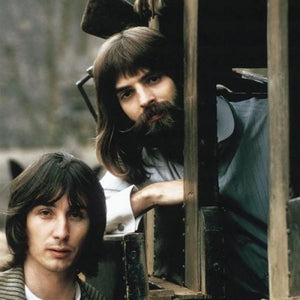 The copy we are selling is similar to the one pictured above.
Sonic Grade
Side One:
Side Two:
Vinyl Grade
Side One: Mint Minus Minus (often quieter than this grade)
Side Two: Mint Minus Minus (often quieter than this grade)
L&M's 1974 release comes to life on this vintage copy with outstanding Double Plus (A++) sound on both sides - fairly quiet vinyl too
A surprisingly dynamic, well-recorded album - with Demo Disc Quality Sound - and a personal favorite from way back
I can't recall another pop or rock recording that better captures both the plucked energy and the harmonic nuances of the mandolin
Never a band to find favor with the critics, even Allmusic had to concede that the album was "Elegantly, tastefully accomplished."
100% Money Back Guarantee on all Hot Stampers
FREE Domestic Shipping on all LP orders over $150
Vintage covers for this album are hard to find in exceptionally clean shape. Most of the will have at least some amount of ringwear, seam wear and edge wear. We guarantee that the cover we supply with this Hot Stamper is at least VG
---
This superb Hot Stamper pressing of L&M's fourth release demonstrates pretty convincingly just how well-recorded this album is! The bottom end is tight and punchy, and the clarity and transparency are truly off-the-charts.

When Jim Messina rips into his mandolin solo half way through "Be Free," your jaw is likely to hit the ground. On the better copies, it positively leaps out of the left speaker. I can't recall another pop or rock recording that captures either the plucked energy or the harmonic nuances of the instrument better. To hear such a well-recorded mandolin on a copy of this quality is nothing less than a thrill.
This copy gives us full-bodied pianos; rich, lively vocals, full of presence and brimming with enthusiasm; harmonically-rich guitars, mandolins, dobros and the like, as well as a three-dimensional soundstage that reveals the space around them all.
What The Best Sides Of Mother Lode Have To Offer Is Not Hard To Hear
The biggest, most immediate staging in the largest acoustic space
The most Tubey Magic, without which you have almost nothing. CDs give you clean and clear. Only the best vintage vinyl pressings offer the kind of Tubey Magic that was on the tapes in 1974
Tight, note-like, rich, full-bodied bass, with the correct amount of weight down low
Natural tonality in the midrange -- with all the instruments having the correct timbre
Transparency and resolution, critical to hearing into the three-dimensional studio space
No doubt there's more but we hope that should do for now. Playing the record is the only way to hear all of the qualities we discuss above, and playing the best pressings against a pile of other copies under rigorously controlled conditions is the only way to find a pressing that sounds as good as this one does.
What We're Listening For On Loggins and Messina
What typically separates the killer copies from the merely good ones are two qualities that we often look for in the records we play: transparency and lack of smear. Transparency allows you to hear into the recording, reproducing the ambience and subtle musical cues and details that high-resolution analog is famous for.
Lack of smear is also important, especially on a recording with so many plucked instruments. The speed and clarity of the transients, the sense that fingers are pulling on strings -- strings that are ringing with tonally correct harmonics -- is what makes these L&M records so much fun to play. The better copies really get that sound right, in the same way that the better copies of Cat Stevens' records get the sound of stringed instruments right.
Here is a more comprehensive breakdown of what we were listening for when evaluating a Folk Pop/Rock album such as Mother Lode.
Clarity and Presence
Many copies are veiled in the midrange, partly because they may have shortcomings up top, but also because they suffer from blurry, smeary mids and upper mids. With so many mandolins and guitars on practically every song, dull, dead-sounding L & M pressings can't begin to communicate the musical values in this superb recording.

With a real Hot Stamper the sound is totally involving, and so is the music! You hear the breath in the voices, the pick on the strings of the guitars and mandolins -- these are the things that allow us to suspend our disbelief, to forget it's a recording we're listening to and not living, breathing musicians.
Top End Extension
Most copies of this album have no extreme highs, which causes the guitar harmonics to be blunted and dull. Without extreme highs, the percussion can't extend up and away from the other elements. Consequently, these elements end up fighting for space in the midrange and getting lost in the mix.
Transparency
Although this quality is related to the above two, it's not as important overall as the one below, but it sure is nice to have. When you can really "see" into the mix, it's much easier to pick out each and every instrument in order to gain more insight into the arrangement and the recording of the material.

Seeing into the mix is a way of seeing into the mind of the artist. To hear the hottest copies was to appreciate even more the talents of all the musicians and producers involved, not to mention the engineers.
Bass
No rock or pop record without good bass can qualify as a top quality Hot Stamper. How could it? It's the rhythmic foundation of the music, and who wants a pop record that lacks rhythm?

The best copies have prodigious amounts of fairly deep, note-like, well-controlled bass. If you have a high-fidelity full-range system, this is some serious Demo Disc Quality Pop Sound.
Vinyl Condition
Mint Minus Minus and maybe a bit better is about as quiet as any vintage pressing will play, and since only the right vintage pressings have any hope of sounding good on this album, that will most often be the playing condition of the copies we sell. (The copies that are even a bit noisier get listed on the site are seriously reduced prices or traded back in to the local record stores we shop at.)
Those of you looking for quiet vinyl will have to settle for the sound of other pressings and Heavy Vinyl reissues, purchased elsewhere of course as we have no interest in selling records that don't have the vintage analog magic of these wonderful recordings.
If you want to make the trade-off between bad sound and quiet surfaces with whatever Heavy Vinyl pressing might be available, well, that's certainly your prerogative, but we can't imagine losing what's good about this music -- the size, the energy, the presence, the clarity, the weight -- just to hear it with less background noise.
Side One
Growin'
Be Free
Changes
Brighter Days
Time to Space
Side Two
Lately My Love
Move On
Get a Hold
Keep Me in Mind
Fever Dream
Billboard Review
This is another well thought out album by one of America's most popular bands. Each tune features a different quality. Because the group is a self-contained unit of rhythm and horns, they are capable of reproducing each tone almost exactly the same in concert.
Musically this six-man band is getting tighter and tighter and the vocals of each group leader are different, but complementary to one another. Several of the tunes are almost certain to garner commercial appeal and overall this record will surely enhance their reputation for putting out appealing and danceable material.
One of the group's most fortunate attributes is the presence of its versatile musicians. Because of this they are able to pull off soft material utilizing a violin and flute, as well as more rocking numbers using a rich array of horns. This is definitely one of America's premier groups. Best cuts: "Growing," "Changes," "Brighter Days," "Time To Space," "Lately My Love."
— Billboard, 1974