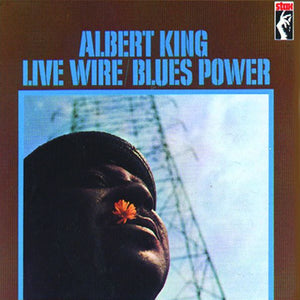 The copy we are selling is similar to the one pictured above.
Sonic Grade
Side One:
Side Two:
Vinyl Grade
Side One: Mint Minus to Mint Minus Minus
Side Two: Mint Minus Minus (often quieter than this grade)
A superb pressing of this Must Own Live Blues Album with Double Plus (A++) sound throughout - remarkably quiet vinyl too
Accept no substitutes - no reissue of the album can ever give you the energy, size and you-are-there presence that's on this disc
Finding originals with sound this good and surfaces this quiet is quite a feat, but here is an awfully good one
4 1/2 stars: "Live Wire / Blues Power is one of Albert King's definitive albums. Recorded live at the Fillmore Auditorium in 1968, the guitarist is at the top of his form throughout the record — his solos are intense and piercing... he makes Herbie Hancock's 'Watermelon Man' dirty and funky and wrings out all the emotion from 'Blues at Sunrise.'"
100% Money Back Guarantee on all Hot Stampers
FREE Domestic Shipping on all LP orders over $150
Vintage covers for this album are hard to find in exceptionally clean shape. Most of the will have at least some amount of ringwear, seam wear and edge wear. We guarantee that the cover we supply with this Hot Stamper is at least VG
---
This is one of the all time great live Blues albums. This Is Blues Power!
If you exclusively play modern repressings of vintage recordings, I can say without fear of contradiction that you have never heard this kind of sound on vinyl. Old records have it -- not often, and certainly not always -- but maybe one out of a hundred new records do, and those are some pretty long odds.
What The Best Sides Of This Blues Rock Album Have To Offer Is Not Hard To Hear
The biggest, most immediate staging in the largest acoustic space
The most Tubey Magic, without which you have almost nothing. CDs give you clean and clear. Only the best vintage vinyl pressings offer the kind of Tubey Magic that was on the tapes in 1968
Tight, note-like, rich, full-bodied bass, with the correct amount of weight down low
Natural tonality in the midrange -- with all the instruments having the correct timbre
Transparency and resolution, critical to hearing into the three-dimensional studio space
No doubt there's more but we hope that should do for now. Playing the record is the only way to hear all of the qualities we discuss above, and playing the best pressings against a pile of other copies under rigorously controlled conditions is the only way to find a pressing that sounds as good as this one does.
Bill Halverson
Halverson was the engineer on this album as well as a slough of other favorites of ours here at Better Records, Classic Rock Albums that we know to have potentially amazing sound. We're talking Deja Vu (from the next year, 1970, and surely his engineering masterpiece), Steve Stills' first album (1971), the first Crosby/Nash album (1972), and the live material on Cream's various releases from Wheels of Fire to Goodbye (1968-1969).
It has been our experience, and possibly yours, that one has to work very hard to find good sounding pressings of most of the albums he recorded. But that should take nothing away from the extraordinary engineering skills he employed in recording them.
Until we found the right pressings of his albums, we had no idea what a brilliant job he had done recording so many of the records we've known and loved from the '60s and early '70s. As unlikely as it would seem, it's only been within the last ten years or so that the best pressings of Deja Vu, Goodbye and Wheels of Fire were randomly discovered during our regular shootouts. Sure, we'd played them by the score, but the fact is that the right copies had managed to elude us, for decades.
The better copies of the albums mentioned above have superb, Demo Disc sound, especially Deja Vu and Goodbye, both of which can be mind-blowing when you find the right copy.
What We're Listening For On Live Wire - Blues Power
Energy for starters. What could be more important than the life of the music?
Then: presence and immediacy. The vocals aren't "back there" somewhere, lost in the mix. They're front and center where any recording engineer worth his salt would put them.
The Big Sound comes next -- wall to wall, lots of depth, huge space, three-dimensionality, all that sort of thing.
Then transient information -- fast, clear, sharp attacks, not the smear and thickness so common to these LPs.
Tight punchy bass -- which ties in with good transient information, also the issue of frequency extension further down.
Next: transparency -- the quality that allows you to hear deep into the soundfield, showing you the space and air around all the instruments.
Extend the top and bottom and voila, you have The Real Thing -- an honest to goodness Hot Stamper.
Vinyl Condition
Mint Minus Minus and maybe a bit better is about as quiet as any vintage pressing will play, and since only the right vintage pressings have any hope of sounding good on this album, that will most often be the playing condition of the copies we sell. (The copies that are even a bit noisier get listed on the site are seriously reduced prices or traded back in to the local record stores we shop at.)
Those of you looking for quiet vinyl will have to settle for the sound of other pressings and Heavy Vinyl reissues, purchased elsewhere of course as we have no interest in selling records that don't have the vintage analog magic of these wonderful originals.
If you want to make the trade-off between bad sound and quiet surfaces with whatever Heavy Vinyl pressing might be available, well, that's certainly your prerogative, but we can't imagine losing what's good about this music -- the size, the energy, the presence, the clarity, the weight -- just to hear it with less background noise.
Side One
Watermelon Man
Blues Power
Night Stomp

Side Two

Blues at Sunrise
Please Love Me
Look Out
Albert King
Albert Nelson (April 25, 1923 – December 21, 1992), known by his stage name Albert King, was an American guitarist and singer who is often regarded as one of the greatest and most influential blues guitarists of all time. He is perhaps best known for his popular and influential album Born Under a Bad Sign (1967) and its title track. He, B.B. King, and Freddie King, all unrelated, were known as the "Kings of the Blues." The left-handed King was known for his "deep, dramatic sound that was widely imitated by both blues and rock guitarists."
He was once nicknamed "The Velvet Bulldozer" because of his smooth singing and large size–he stood taller than average, with sources reporting 6 ft 4 in (1.93 m) or 6 ft 7 in (2.01 m), and weighed 250 lb (110 kg) – and also because he drove a bulldozer in one of his day jobs early in his career.
King was inducted into the Blues Hall of Fame in 1983. He was posthumously inducted into the Rock and Roll Hall of Fame in 2013. In 2011, he was ranked number 13 on Rolling Stone's 100 Greatest Guitarists of All Time.
King began his professional work as a musician with a group called the Groove Boys in Osceola, Arkansas. During this time he was exposed to the work of many Delta blues artists, including Elmore James and Robert Nighthawk.
In 1953, he moved north to Gary, Indiana where he briefly played drums in Jimmy Reed's band and on several of Reed's early recordings. In Gary, he recorded his first single ("Bad Luck Blues" backed with "Be On Your Merry Way"), for Parrot Records. The record sold a few copies, but made no significant impact and Parrot did not request any follow-up records or sign King to a long-term contract. In 1954, he returned to Osceola and re-joined the Groove Boys for two years.
In 1956, he moved to Brooklyn, Illinois, just across the river from St. Louis, and formed a new band. He became a popular attraction around the St. Louis nightclub scene alongside Ike Turner's Kings of Rhythm and Chuck Berry. He signed to Little Milton's Bobbin label in 1959, releasing a few singles, but none of them charted. However, he caught the attention of King Records which released the single "Don't Throw Your Love on Me So Strong" in November 1961. The recording features musician Ike Turner on piano and became King's first hit; peaking at number 14 on the Billboard R&B chart. The song was included on his first album The Big Blues in 1962. King left Bobbin in late 1962 and recorded one session for King Records. In 1963, He signed with jazz artist Leo Gooden's Coun-Tree label and cut two records for them, but these failed to chart.
With no apparent career prospects other than touring the club circuit in the South and Midwest, King moved to Memphis, where he signed with the Stax record label. Produced by Al Jackson Jr., King with Booker T. & the MGs recorded dozens of influential sides, such as "Crosscut Saw" and "As the Years Go Passing By." In 1967, Stax released the album Born Under a Bad Sign, a collection of the singles King recorded at Stax. The title track of that album (written by Booker T. Jones and William Bell) became King's best-known song and has been covered by several artists (including Cream, Paul Rodgers, Homer Simpson, and Jimi Hendrix). The production of the songs was sparse and clean and maintained a traditional blues sound while also sounding fresh and thoroughly contemporary. The key to King's success at Stax was giving his songs an upbeat, slick R&B feel that made the songs more appealing and radio-friendly than the slow, maudlin traditional blues sound.
In 1968, King was performing at Ike Turner's Manhattan Club in East St. Louis when promoter Bill Graham offered him $1,600 to play three nights at the The Fillmore Auditorium in San Francisco. He released the albums Live Wire/Blues Power, Wednesday Night in San Francisco and Thursday Night in San Francisco from the concerts.
In 1969, King performed live with the St. Louis Symphony Orchestra. That same year, he released the album Years Gone By. In 1970, he released an Elvis Presley tribute album, Albert King Does the King's Things. It was a collection of Presley's 1950s hits reworked and re-imagined in King's musical style, although critics felt the results were mixed.
On June 6, 1970, King joined the Doors on stage at the Pacific Coliseum in Vancouver, Canada. Recordings of this performance were released in 2010 by Rhino Records as Live in Vancouver 1970.
In 1971, he released the album Lovejoy which notably includes a cover of the Rolling Stones' hit "Honky Tonk Women." To retain his popular appeal, King eagerly embraced the new sound of funk. In 1972, he recorded "I'll Play the Blues for You," which featured accompaniment from the Bar-Kays, the Memphis Horns, and the Movement (Isaac Hayes's backing group). He recorded another album with the Bar-Kays, I Wanna Get Funky (1974). He also made a cameo on an Albert Brooks' comedy album, A Star Is Bought (1975).
In 1975, King's career took a turn downward when Stax Records filed for bankruptcy, after which he moved to the small Utopia label. His next two albums, Albert and Truckload of Lovin' (1976), devolved into generic 1970s pop music. His third album for Utopia, King Albert (1977), while somewhat more subdued, still lacked any standout material, and King's guitar took a backseat to the background instruments. Clara McDaniel teamed up with King at Ned Love's Club. This led to her touring with King in the Deep South in the 1970s. When McDaniel returned home she managed King's fleet of taxicabs. The last recording King made for Utopia was Live Blues in 1977, from his performance at the Montreux Jazz Festival. The track "As the Years Go Passing By" is noteworthy for his duet with the Irish guitarist Rory Gallagher.
In 1978, King moved to a new label, Tomato Records, for which he recorded the album New Orleans Heat. The label paired him with the R&B producer Allen Toussaint, who had been responsible for scores of hits in that genre in the 1960s and 1970s but was a novice at working with blues artists. The album was a mix of new songs (including Toussaint's own "Get Out of My Life, Woman") and re-recordings of old material, such as "Born Under a Bad Sign."
King took a four-year break from recording after the disappointing sales of his albums in the late 1970s. During this period, he re-embraced his roots as a blues artist and abandoned any arrangements except straight 12-bar guitar, bass, drums, and piano. In 1983, he released a live album for Fantasy Records, San Francisco '83, which was nominated for a Grammy Award. The same year he recorded a studio television session, more than an hour long, for CHCH Television in Canada, featuring the up-and-coming blues sensation Stevie Ray Vaughan; it was subsequently released as an audio album and later as an audio album plus DVD titled In Session.
In 1984, King released the album, I'm in a Phone Booth, Baby, which was nominated for a Grammy Award. The album included a redo of "Truckload of Lovin'" and two old songs by Elmore James, "Dust My Broom" and "The Sky Is Crying."
King's health problems led him to consider retirement in the 1980s, but he continued regular tours and appearances at blues festivals, using a customized Greyhound tour bus with "I'll Play The Blues For You" painted on the side. His final album, Red House (named after the Jimi Hendrix song) was released in 1991.
At the time of his death, he was planning a tour with B.B. King and Bobby "Blue" Bland. Bland told the Associated Press, "there was never any type of jealousy when we three worked together on a package. One just pushed the others."
-Wikipedia