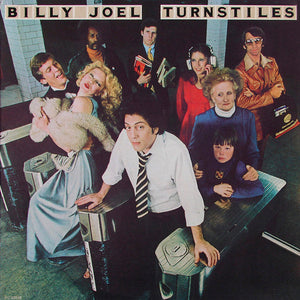 The copy we are selling is similar to the one pictured above.
Sonic Grade
Side One:
Side Two:
Vinyl Grade
Side One: Mint Minus Minus
Side Two: Mint Minus Minus
This outstanding copy of Turnstiles (one of only a small handful to hit the site after many, many years) boasts two solid Double Plus (A++) sides
ANALOG at its Tubey Magical finest - you'll never play a CD (or any other digitally sourced material) that sounds as good as this record as long as you live
More than half of the songs on Songs in the Attic come from this very album: "Say Goodbye to Hollywood," "Miami 2017," "Summer, Highland Falls," "Say Goodbye to Hollywood" and "I've Loved These Days" - songs that Joel felt were unfairly overlooked and felt deserved a wider audience
4 1/2 stars: "A whirlwind tour of pop styles, from Sinatra to Springsteen. There's little question that the cinematic sprawl of Born to Run had an effect on Turnstiles, since it has a similar widescreen feel, even if it clocks in at only eight songs. The key to the record's success is variety… It remains one of his most accomplished and satisfying records."
100% Money Back Guarantee on all Hot Stampers
FREE Domestic Shipping on all LP orders over $150
Vintage covers for this album are hard to find in exceptionally clean shape. Most of the will have at least some amount of ringwear, seam wear and edge wear. We guarantee that the cover we supply with this Hot Stamper is at least VG
---
We were favorably impressed with just how good the sound can be on a great pressing like this. We've played a ton of copies of this one over the years but most copies left us unmoved. Here you get real weight to the piano -- essential for any Billy Joel album -- and big, punchy drums.
Note that the orchestra was recorded at the famed Columbia 30th Street studios.
This vintage pressing has the kind of Tubey Magical Midrange that modern records can barely BEGIN to reproduce. Folks, that sound is gone and it sure isn't showing signs of coming back. If you love hearing INTO a recording, actually being able to "see" the performers, and feeling as if you are sitting in the studio with the band, this is the record for you. It's what vintage all analog recordings are known for -- this sound.
If you exclusively play modern repressings of vintage recordings, I can say without fear of contradiction that you have never heard this kind of sound on vinyl. Old records have it -- not often, and certainly not always -- but maybe one out of a hundred new records do, and those are some pretty long odds.
What The Best Sides Of Turnstiles Have To Offer Is Not Hard To Hear
The biggest, most immediate staging in the largest acoustic space
The most Tubey Magic, without which you have almost nothing. CDs give you clean and clear. Only the best vintage vinyl pressings offer the kind of Tubey Magic that was on the tapes in 1976
Tight, note-like, rich, full-bodied bass, with the correct amount of weight down low
Natural tonality in the midrange -- with all the instruments having the correct timbre
Transparency and resolution, critical to hearing into the three-dimensional studio space
No doubt there's more but we hope that should do for now. Playing the record is the only way to hear all of the qualities we discuss above, and playing the best pressings against a pile of other copies under rigorously controlled conditions is the only way to find a pressing that sounds as good as this one does.
What We're Listening For On Turnstiles
Energy for starters. What could be more important than the life of the music?
Then: presence and immediacy. The vocals aren't "back there" somewhere, lost in the mix. They're front and center where any recording engineer worth his salt would put them.
The Big Sound comes next -- wall to wall, lots of depth, huge space, three-dimensionality, all that sort of thing.
Then transient information -- fast, clear, sharp attacks, not the smear and thickness so common to these LPs.
Tight punchy bass -- which ties in with good transient information, also the issue of frequency extension further down.
Next: transparency -- the quality that allows you to hear deep into the soundfield, showing you the space and air around all the instruments.
Extend the top and bottom and voila, you have The Real Thing -- an honest to goodness Hot Stamper.
More of What To Listen For
On side two "Prelude/Angry Young Man" are key test tracks. The biggest, richest copies with the most space were the ones that consistently brought out the best in the songs and individual performances of the players.
"Summer, Highland Falls" is a great test -- listen for breathy vocals, a full piano, a clear snare drum once it comes in and, most importantly, an energetic performance. You will need all four to score well in one of our shootouts.
Note that the first track on side one has a tendency to be a bit brighter than those that follow.
CBS 30th Street Studio
CBS 30th Street Studio, also known as Columbia 30th Street Studio, and nicknamed "The Church", was an American recording studio operated by Columbia Records from 1949 to 1981 located at 207 East 30th Street, between Second and Third Avenues in Manhattan, New York City.
It was considered by some in the music industry to be the best sounding room in its time and others consider it to have been the greatest recording studio in history. A large number of recordings were made there in all genres, including Miles Davis' Kind of Blue (1959), Leonard Bernstein's West Side Story (Original Broadway Cast recording, 1957), Percy Faith's Theme from A Summer Place (1960), and Pink Floyd's The Wall (1979).
Recording studio
Having been a church for many years, it had been abandoned and empty for some time, and in 1949 it was transformed into a recording studio by Columbia Records.
"There was one big room, and no other place in which to record," wrote John Marks in an article in Stereophile magazine in 2002.
The recording studio had 100 foot high ceilings, a 100 foot floorspace for the recording area, and the control room was on the second floor being only 8 by 14 feet. Later, the control room was moved down to the ground floor.
"It was huge and the room sound was incredible," recalls Jim Reeves, a sound technician who had worked in it. "I was inspired," he continues "by the fact that, aside from the artistry, how clean the audio system was."
Musical Artists
Many celebrated musical artists from all genres of music used the 30th Street Studio for some of their most famous recordings.
Bach: The Goldberg Variations, the 1955 debut album of the Canadian classical pianist Glenn Gould, was recorded in the 30th Street Studio. It was an interpretation of Johann Sebastian Bach's Goldberg Variations (BWV 988), the work launched Gould's career as a renowned international pianist, and became one of the most well-known piano recordings. On May 29, 1981, a second version of the Goldberg Variations by Glenn Gould was recorded in this studio, and would be the last production by the famous studio.
Jazz trumpeter Miles Davis recorded almost exclusively at the 30th Street Studio during his years under contract to Columbia, including his album Kind of Blue (1959). Other noteworthy jazz musicians having recorded in this place: Duke Ellington, Dizzy Gillespie, Thelonious Monk, Dave Brubeck.
In 1964, Bob Dylan and record producer Tom Wilson were experimenting with their own fusion of rock and folk music. The first unsuccessful test involved overdubbing a "Fats Domino early rock & roll thing" over Dylan's earlier, recording of "House of the Rising Sun", using non-electric instruments, according to Wilson. This took place in the Columbia 30th Street Studio in December 1964. It was quickly discarded, though Wilson would more famously use the same technique of overdubbing an electric backing track to an existing acoustic recording with Simon & Garfunkel's "The Sound of Silence".
Heavy Vinyl
Mobile Fidelity did a version of this album not long ago but we couldn't begin to tell you how it sounds. We simply cannot devote the resources required to play all the reissues coming out these days, especially considering how second rate most of them are. If you've picked one of the new pressings up we guarantee our Hot Stamper will beat it soundly or your money back.
Vinyl Condition
Mint Minus Minus and maybe a bit better is about as quiet as any vintage pressing will play, and since only the right vintage pressings have any hope of sounding good on this album, that will most often be the playing condition of the copies we sell. (The copies that are even a bit noisier get listed on the site are seriously reduced prices or traded back in to the local record stores we shop at.)
Those of you looking for quiet vinyl will have to settle for the sound of other pressings and Heavy Vinyl reissues, purchased elsewhere of course as we have no interest in selling records that don't have the vintage analog magic of these wonderful recordings.
If you want to make the trade-off between bad sound and quiet surfaces with whatever Heavy Vinyl pressing might be available, well, that's certainly your prerogative, but we can't imagine losing what's good about this music -- the size, the energy, the presence, the clarity, the weight -- just to hear it with less background noise.
Side One
Say Goodbye to Hollywood

The Big Sound! You need a superb copy to get the full effect on this one — a wall to wall, floor to ceiling Phil Spector-inspired sonic blockbuster.

Summer, Highland Falls
All You Wanna Do Is Dance
New York State of Mind
Side Two
James
Prelude/Angry Young Man
I've Loved These Days
Miami 2017 (Seen the Lights Go Out on Broadway)
AMG 4 1/2 Star Review
There's a reason Turnstiles begins with the Spector-esque epic "Say Goodbye to Hollywood." Shortly after Streetlife Serenade, Joel ditched California -- and, by implication, sensitive Californian soft rock from sensitive singer/songwriters -- for his hometown of New York. "Say Goodbye to Hollywood" was a celebration of his move, a repudiation of his past, a fanfare for a new beginning, which is exactly what Turnstiles was.
He still was a singer/songwriter -- indeed, "Summer, Highland Falls" was his best ballad to date, possibly his best ever -- but he decided to run with his musical talents, turning the record into a whirlwind tour of pop styles, from Sinatra to Springsteen. There's little question that the cinematic sprawl of Born to Run had an effect on Turnstiles, since it has a similar widescreen feel, even if it clocks in at only eight songs.
The key to the record's success is variety, the way the album whips from the bouncy, McCartney-esque "All You Wanna Do Is Dance" to the saloon song "New York State of Mind"; the way the bitterly cynical "Angry Young Man" gives way to the beautiful "I've Loved These Days" and the surrealistic apocalyptic fantasy "Miami 2017 (Seen the Lights Go Out on Broadway)." No matter how much stylistic ground Joel covers, he's kept on track by his backing group. He fought to have his touring band support him on Turnstiles, going to the lengths of firing his original producer, and it was clearly the right move, since they lend the album a cohesive feel.
Turnstiles may not have been a hit, but it remains one of his most accomplished and satisfying records, clearly paving the way to his twin peaks of the late '70s, The Stranger and 52nd Street.
About the Album
Joel recorded Turnstiles in part as a celebration of his return to his native New York City. Three of the album's tracks reference New York: "Summer, Highland Falls," "New York State of Mind" and "Miami 2017 (Seen the Lights Go Out on Broadway)."
It begins with "Say Goodbye to Hollywood" (inspired by The Ronettes song "Be My Baby") and also includes "I've Loved These Days," a tongue-in-cheek expression of regret at leaving behind Hollywood decadence.
The songs were first recorded at Caribou Ranch, with members of Elton John's band (Nigel Olsson on drums and Dee Murray on bass) and produced by Chicago producer James William Guercio.
Dissatisfied with the results, Joel took over as producer and returned to New York, where he re-recorded the album in its entirety, with his own touring band, which consisted of Long Island musicians Richie Cannata and the members of the band Topper: Liberty DeVitto, Russell Javors, Howie Emerson, and Doug Stegmeyer.
Turnstiles marked the first time that Joel's band played on one of his studio albums.
The album cover photo was shot in the Astor Place station on the IRT Lexington Avenue Line of the New York City Subway. According to Joel, each of the characters on the album cover was meant to represent a particular song (e.g., the girl in headphones for "All You Wanna Do is Dance," the wealthy couple for "I've Loved These Days").
-Wikipedia