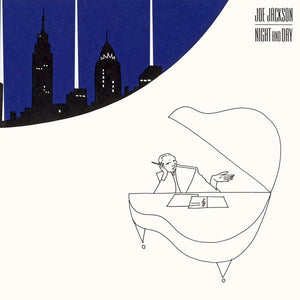 The copy we are selling is similar to the one pictured above.
Sonic Grade
Side One:
Side Two:
Vinyl Grade
Side One: Mint Minus to Mint Minus Minus
Side Two: Mint Minus to Mint Minus Minus
A superb copy of Joe Jackson's 1982 masterpiece with Double Plus (A++) sound from first note to last - exceptionally quiet vinyl too
Rich solid piano tone, lively drums, tight powerful bass and strong vocal presence - it's all here and more
From that opening big drum on "Another World," you'll know this pressing has the Night and Day magic
4 1/2 stars: "...his blend of percolating Latin rhythms, jazzy horns and pianos, stylish synths, and splashy pop melodies uncannily feel like a bustling, glitzy evening in the big city."
100% Money Back Guarantee on all Hot Stampers
FREE Domestic Shipping on all LP orders over $150
Vintage covers for this album are hard to find in exceptionally clean shape. Most of the will have at least some amount of ringwear, seam wear and edge wear. We guarantee that the cover we supply with this Hot Stamper is at least VG
---
You'll want to turn this one up good and loud to get the full effect because the music really swings on a copy that sounds as good as this one does. It not only swings, it rocks.
From that opening big drum on "Another World" you know you're in for some wonderful sound: big, spacious, transparent, dynamic -- you name it, this record pretty much has it all.
Night and Day is Joe Jackson's masterpiece. It's simply wonderful from start to finish. This is adult popular music that belongs in any serious thinking person's record collection. Not many records from the '80s sound as natural as this one. It's analog, that's for damn sure.
What The Best Sides Of Night and Day Have To Offer Is Not Hard To Hear
The biggest, most immediate staging in the largest acoustic space
The most Tubey Magic, without which you have almost nothing. CDs give you clean and clear. Only the best vintage vinyl pressings offer the kind of Tubey Magic that was on the tapes even as late as 1982
Tight, note-like, rich, full-bodied bass, with the correct amount of weight down low
Natural tonality in the midrange -- with all the instruments having the correct timbre
Transparency and resolution, critical to hearing into the three-dimensional studio space
No doubt there's more but we hope that should do for now. Playing the record is the only way to hear all of the qualities we discuss above, and playing the best pressings against a pile of other copies under rigorously controlled conditions is the only way to find a pressing that sounds as good as this one does.
Copies with rich lower mids and nice extension up top did the best in our shootout, assuming they weren't veiled or smeary of course. So many things can go wrong on a record! We know, we've heard them all.
Top end extension is critical to the sound of the best copies. Lots of old records (and new ones) have no real top end; consequently, the studio or stage will be missing much of its natural air and space, and instruments will lack their full complement of harmonic information.
Tube smear is common to most vintage pressings. The copies that tend to do the best in a shootout will have the least (or none), yet are full-bodied, tubey and rich.
Balancing Night and Day
There are basically four elements that go into the making of Night and Day: vocals; keyboards (mostly the piano); percussion (in the mids and highs) and rhythm (drums and bass).
No two copies will get all of these elements to sound their best. The trick to finding the hotter of the Hot Stamper pressings is to find copies of the album that reproduce these four elements clearly and correctly, in balance, and reveals their placement in a large, three-dimensional studio space.
It may sound easy but I assure you it is not. With this many instruments in the mix it's a lot to get right.
Vocals

Pop records live and die by the quality of their vocals and Night and Day is no different in that respect. The vocals have to be front and center. Veiling in the midrange costs a fair number of points. They should also be smooth, not thin or edgy. I would rather have slightly veiled vocals relative to thin and edgy ones, but some copies manage to give you full, clear, present vocals, and those are the ones we tend to like the best.

Keyboards

When the sound is thin in the lower midrange and upper bass the piano will lose its weight and solidity. In the denser mixes it can easily get washed out, and nobody wants a washed out piano.

There is no guitar on this record. The piano carries much of the structural energy of the music. You need to be able to hear the piano clearly and hear that it is both full-bodied and percussive.

Percussion

The list of percussion instruments played on this record is long indeed, with congas, bongos, timbales, bells and let us not forget the all-import xylophone. (See the Musicians and Instruments tab above.) Most copies don't have the extension on the top end to reproduce the harmonics of most of the higher-frequency instruments, but the few that do can show you a world of sound that the other pressings barely hint at.

The percussion also drives the rhythmic energy and fills out the studio space above the vocals. The energy level drops when these instruments aren't heard properly, and the space of the music shrinks in proportion as well.

The big drum and other percussion instruments that lead off Another World on side one -- and by percussion instruments I am also referring to the piano -- tell you most everything you need to know. The timbre of that big drum is very pronounced on the better copies.

Rhythm

Another critically important element in a pop/rock record, and especially important to this one. The thinner, somewhat leaned-out copies emphasize the mids and upper-mids too much. They tend to be harsher and more unpleasant. The ones with clear, tight bass and solid drums to anchor the arrangements naturally work the best.
What We're Listening For On Night and Day
Energy for starters. What could be more important than the life of the music?
The Big Sound comes next -- wall to wall, lots of depth, huge space, three-dimensionality, all that sort of thing.
Then transient information -- fast, clear, sharp attacks, not the smear and thickness so common to these LPs.
Tight punchy bass -- which ties in with good transient information, also the issue of frequency extension further down.
Next: transparency -- the quality that allows you to hear deep into the soundfield, showing you the space and air around all the instruments.
Extend the top and bottom and voila, you have The Real Thing -- an honest to goodness Hot Stamper.
Reissues
Most reissues are clearly made from sub-generation tapes. They sound smeared and dead and are guaranteed to bore you to tears. With the right originals, the sound is MAGIC.
Lesser original copies can be grainy, irritating, flat and lifeless. Nothing new there, right? You have to work to find a good Night and Day -- or buy one from us because we've already done the work!
Vinyl Condition
Mint Minus Minus and maybe a bit better is about as quiet as any vintage pressing will play, and since only the right vintage pressings have any hope of sounding good on this album, that will most often be the playing condition of the copies we sell. (The copies that are even a bit noisier get listed on the site are seriously reduced prices or traded back in to the local record stores we shop at.)
Those of you looking for quiet vinyl will have to settle for the sound of other pressings and Heavy Vinyl reissues, purchased elsewhere of course as we have no interest in selling records that don't have the vintage analog magic of these wonderful recordings.
If you want to make the trade-off between bad sound and quiet surfaces with whatever Heavy Vinyl pressing might be available, well, that's certainly your prerogative, but we can't imagine losing what's good about this music -- the size, the energy, the presence, the clarity, the weight -- just to hear it with less background noise.
A Must Own Pop Record
We consider this Joe Jackson album his Masterpiece. It's a recording that should be part of any serious popular Music Collection.
Others that belong in that category can be found here.
Side One
Another World

The big drum and all the percussion instruments that lead off this track -- and by percussion instruments I am also referring to the piano -- tell you everything you need to know. The timbre of the big drum is very pronounced on the best copies.

Chinatown
T.V. Age
Target

This track has some REALLY DEEP BASS. Check it out.

Steppin' Out
Side Two
Breaking Us in Two
Cancer
Real Men
A Slow Song

This is a tough track because Jackson's vocal can sound a bit strained on even the best copies, and positively painful on the worst ones. If side two has plenty of top end and not much edge to his voice, you have a copy that's definitely in the ballpark.
AMG 4 1/2 Star Review
1982 will forever be known as the year that the punks got class -- or at least when Joe Jackson and Elvis Costello, rivals for the title of Britain's reigning Angry Young Man -- decided that they were not just rockers, but really songwriters in the Tin Pan Alley tradition. Both had been genre-hopping prior to 1982, but Jackson's Night and Day and Costello's Imperial Bedroom announced to the world that both were "serious songwriters," standing far apart from the clamoring punkers and silly new wavers.
Night and Day had greater success because it's sleek and bright, entirely more accessible than the dense, occasionally unwieldy darkness of Imperial Bedroom. Plus, Jackson plays up the comparisons to classic pop songwriting by lifting his album title from Cole Porter, dividing the record into a "night" and "day" side, and then topping it off with a neat line drawing of him at his piano in a New York apartment on the cover.
All of these classy trappings are apparent on the surface... his blend of percolating Latin rhythms, jazzy horns and pianos, stylish synths, and splashy pop melodies uncannily feel like a bustling, glitzy evening in the big city. On that front, Night and Day is a success, since it creates a mood and sustains it very well.
There is, of course, the breakthrough hit "Steppin' Out," which pulsates anticipatory excitement, but the aching "Breaking Us in Two" is just as good, as is the haunting "Real Men" and the album opener, "Another World," a vibrant, multi-colored song that perfectly sets up the sonic and lyrical themes of the album.
Testimonial
(Note that the italics below have been added by us.)
Hi, Tom:

Just a quick note to let you know I listened to your Joe Jackson Night and Day hot stamper LP. I don't think I have listened to this record for at least 15 years and forgot how much Joe Jackson was on top of his game then. Great record. And it is aptly named as there is a night-and-day difference in sound between it and the Mobile Fidelity half-speed version I have. I was surprised at how bland and undynamic the MoFi was compared to the hot stamper version. Did MFSL ever listen to this title? What did they compare it to, an 8-track tape version, maybe?

The hot stamper was far more dynamic, warm, punchy, and detailed than the MoFi. The piano had a lot more weight and stood apart in the mix. In fact, I could hear all the instruments stand out in the mix a lot more with the HS version. The MoFi sounded like many, but not all, typical MFSL pressings. The very low bass was raised in the mix as was the extreme treble, like it was equalized, but there was a lot less bass and the treble was recessed and sounded more like a can of spray mist being actuated.

I was surprised at how the music came alive with the HS pressing instead of the blah MFSL. Great job on picking this one. I will be keeping both pressings of this record: the MFSL for its collectability and my ability to sell it for big bucks to some bozo who won't know the difference, and the HS version, the one I will actually listen to.

Roger