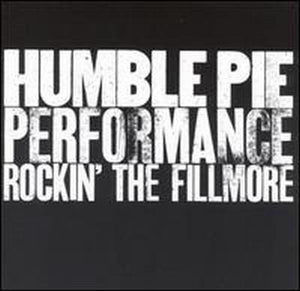 The copy we are selling is similar to the one pictured above.
Sonic Grade
Side One:
Side Two:
Side Three:
Side Four:
Vinyl Grade
Side One: Mint Minus to Mint Minus Minus
Side Two: Mint Minus to Mint Minus Minus
Side Three: Mint Minus to Mint Minus Minus
Side Four: Mint Minus to Mint Minus Minus
These original pressings on the custom A&M label are ROCKIN' with excellent Double Plus (A++) grades on all FOUR sides - exceptionally quiet vinyl too
Performance is one of the best sounding - perhaps even the best sounding - Hard Rock concert albums we've ever heard
Engineered by the legendary Eddie Kramer, what other live rock record sounds this good?
4 1/2 stars: "... [O]ne of the classic double-live albums of the '70s: a two-LP set from a band that were earning a reputation as in-concert monsters, grinding out a living on a circuit that brought them from coast to coast in America... this was heavy, improvised blues rock where live moments trumped the studio... "
100% Money Back Guarantee on all Hot Stampers
FREE Domestic Shipping on all LP orders over $150
Performance - Rockin' The Fillmore on the right original pressing is one of the best -- if not THE best -- rock concert albums we have ever played.
Can you imagine if Frampton Comes Alive sounded like this? If you want to hear some smokin' Peter Frampton guitar work from the days when he was with the band, this album captures that sound better than any of their studio releases, and far better than FCA on even the best copies.
Grungy guitars that jump out of the speakers, prodigious punchy deep bass, dynamic vocals and drum work -- the best pressings of Rockin' The Fillmore have more live FIREPOWER than any live recording we've ever heard. Who knew?
What The Best Sides Of Performance - Rockin' The Fillmore Have To Offer Is Not Hard To Hear
The biggest, most immediate staging in the largest acoustic space
The most Tubey Magic, without which you have almost nothing. CDs give you clean and clear. Only the best vintage vinyl pressings offer the kind of Tubey Magic that was on the tapes in 1971
Tight, note-like, rich, full-bodied bass, with the correct amount of weight down low
Natural tonality in the midrange -- with all the instruments having the correct timbre
Transparency and resolution, critical to hearing into the three-dimensional space of the venue
No doubt there's more but we hope that should do for now. Playing these records are the only way to hear all of the qualities we discuss above, and playing the best pressings against a pile of other copies under rigorously controlled conditions is the only way to find pressing that sound as good as these two do.
Eddie Kramer, King of the Rockers
What Eddie Kramer did for Led Zeppelin II he's done for Humble Pie on this album, and that's saying a lot. If Zep II is the hardest rocking studio album in the history of the world, Rockin' The Fillmore is its close companion, the hardest rockin' live album in the history of the world.
This is very hard rock, recorded, mixed and mastered to be played good and loud. If you have the system for it this record can sound like you wheeled a stack of Marshall amps into your listening room and cranked them up to 10.
If you like the raw, distorted guitar sound that Free captured so well on their albums you are going to love Frampton's guitar tone here. (I saw him in concert about twenty years ago and he played a set like this one -- all hard rockin', all of the time, and very, very loud. By all accounts he deeply loves that kind of music, even though for the most part he gave up recording it a long time ago.)
Top 100? Next time we update the list this album has got to go on it.
What We're Listening For On Performance - Rockin' The Fillmore
Energy for starters. What could be more important than the life of the music?
Then: presence and immediacy. The vocals aren't "back there" somewhere, lost in the mix. They're front and center where any recording engineer worth his salt would put them.
The Big Sound comes next -- wall to wall, lots of depth, huge space, three-dimensionality, all that sort of thing.
Then transient information -- fast, clear, sharp attacks, not the smear and thickness so common to these LPs.
Tight punchy bass -- which ties in with good transient information, also the issue of frequency extension further down.
Next: transparency -- the quality that allows you to hear deep into the soundfield, showing you the space and air around all the instruments.
Extend the top and bottom and voila, you have The Real Thing -- an honest to goodness Hot Stamper.
Size and Space
One of the qualities that we don't talk about on the site nearly enough is the SIZE of the record's presentation. Some copies of the album just sound small -- they don't extend all the way to the outside edges of the speakers, and they don't seem to take up all the space from the floor to the ceiling. In addition, the sound can often be recessed, with a lack of presence and immediacy in the center.
Other copies -- my notes for these copies often read "BIG and BOLD" -- create a huge soundfield, with the music positively jumping out of the speakers. They're not brighter, they're not more aggressive, they're not hyped-up in any way, they're just bigger and clearer.
We often have to go back and downgrade the copies that we were initially impressed with in light of such a standout pressing. Who knew the recording could be that huge, spacious and three dimensional? We sure didn't, not until we played the copy that had all those qualities, and that copy might have been number 8 or 9 in the rotation.
Think about it: if you had only seven copies, you might not have ever gotten to hear a copy that sounded that open and clear. And how many even dedicated audiophiles would have more than one of two clean vintage pressings with which to do a shootout? These kinds of records are expensive and hard to come by in good shape. Believe us, we know whereof we speak when it comes to getting hold of vintage pressings of albums such as these.
One further point needs to be made: most of the time these very special pressings just plain rock harder. When you hear a copy do what this copy can, it's an entirely different -- and dare I say unforgettable -- listening experience.
Vinyl Condition
Mint Minus Minus and maybe a bit better is about as quiet as any vintage pressing will play, and since only the right vintage pressings have any hope of sounding good on this album, that will most often be the playing condition of the copies we sell. (The copies that are even a bit noisier get listed on the site are seriously reduced prices or traded back in to the local record stores we shop at.)
Those of you looking for quiet vinyl will have to settle for the sound of other pressings and Heavy Vinyl reissues, purchased elsewhere of course as we have no interest in selling records that don't have the vintage analog magic of these wonderful recordings.
If you want to make the trade-off between bad sound and quiet surfaces with whatever Heavy Vinyl pressing might be available, well, that's certainly your prerogative, but we can't imagine losing what's good about this music -- the size, the energy, the presence, the clarity, the weight -- just to hear it with less background noise.
Side One
Four Day Creep
I'm Ready
Stone Cold Fever
Side Two
I Walk on Gilded Splinters
Side Three
Side Four
Hallelujah, I Love Her So
I Don't Need No Doctor
AMG 4 1/2 Star Review
... [O]ne of the classic double-live albums of the '70s: a two-LP set from a band that had yet to have a hit but were earning a reputation as in-concert monsters, grinding out a living on a circuit that brought them from coast to coast in America. It was, by design, the opposite of what Steve Marriott experienced as the leader of the Small Faces: this was heavy, improvised blues rock where live moments trumped the studio...
[T]here was a time where this kind of self-congratulatory improvisation was not only accepted but expected and Performance: Rockin' the Fillmore not only captures that point in time, but in its exacting detail it illustrates how this self-satisfied instrumental exploration could be a very good thing.
---
Artist Biography
A showcase for former Small Faces' frontman Steve Marriott and one-time Herd guitar virtuoso Peter Frampton, the hard rock outfit Humble Pie formed in Essex, England in 1969.
Signed to the Immediate label, Humble Pie soon issued their debut single "Natural Born Boogie," which hit the British Top Ten and paved the way for the group's premiere LP, As Safe as Yesterday Is.
After touring the U.S. in support of 1969's Town and Country, Humble Pie returned home only to discover that Immediate had declared bankruptcy. The band recruited a new manager, Dee Anthony, who helped land them a new deal with A&M; behind closed doors, Anthony encouraged Marriott to direct the group towards a harder-edged, grittier sound far removed from the acoustic melodies favored by Frampton.
As Marriott's raw blues shouting began to dominate subsequent LPs like 1970's eponymous effort and 1971's Rock On, Frampton's role in the band he co-founded gradually diminished; finally, after a highly charged U.S. tour which yielded 1971's commercial breakthrough Performance: Rockin' the Fillmore, Frampton exited Humble Pie to embark on a solo career.
-Jason Ankeny