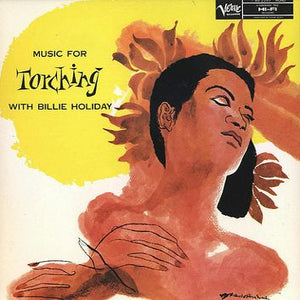 The copy we are selling is similar to the one pictured above.
Sonic Grade
Side One:
Side Two:
Vinyl Grade
Side One: Mint Minus Minus to EX++
Side Two: Mint Minus Minus to EX++
Boasting solid Double Plus (A++) sound or BETTER from first note to last, this Verve Mono reissue is doing just about everything right
A superb recording of jazz standards with a great lineup and Billie in top form - plenty of Tubey Magical richness and naturally breathy vocals as well
Great performances for classics such as "It Had to Be You," "Come Rain or Come Shine," "A Fine Romance," and too many more to list
Problems in the vinyl are sometimes the nature of the beast with these early pressings - there simply is no way around them if the superior sound of vintage analog is important to you
4 1/2 stars: "The overall feeling on this 1955 recording is strictly after-hours: the party is long over but a few close friends remain for nightcaps and, is that the sun peeking through the windows?"
100% Money Back Guarantee on all Hot Stampers
FREE Domestic Shipping on all LP orders over $150
Vintage covers for this album are hard to find in exceptionally clean shape. Most of the will have at least some amount of ringwear, seam wear and edge wear. We guarantee that the cover we supply with this Hot Stamper is at least VG
---
You'd be hard pressed to find a female vocal album from the 1950s with sound comparable to this one. We just finished up a big shootout for the sublimely titled Music For Torching, and this lovely copy was clearly one of the better pressings we played. If you love smoky jazz standards the way only Lady Day can sing them, we think you'll be blown away to hear her sound this warm, rich and present.
The formula is simple: Take one of the best female vocalists in the game, back her with a stellar crew of jazzmen and set them loose to knock out incredible versions of classic torch songs -- "It Had To Be You," "A Fine Romance," "Come Rain Or Come Shine," and so forth.
The good news is that the performances turned out to be some of the best ever recorded by this extraordinary singer and, fortunately for us audiophiles, the mono sound turned out to be dramatically better than we would have expected from Norman Granz's Verve label in 1955.
Both sides are blessed with the kind of mid-'50's Tubey Magical Analog Sound that's been lost to the world of recorded music for decades -- decades, I tell you!
Nobody can manage to get a recording to sound like this anymore and it seems as if no one can even remaster a recording like this anymore, if our direct experience with scores of such albums counts as any sort of evidence.
What The Best Sides Of Music For Torching Have To Offer Is Not Hard To Hear
The biggest, most immediate staging in the largest acoustic space
The most Tubey Magic, without which you have almost nothing. CDs give you clean and clear. Only the best vintage vinyl pressings offer the kind of Tubey Magic that was on the tapes in 1955
Tight, note-like, rich, full-bodied bass, with the correct amount of weight down low
Natural tonality in the midrange -- with all the instruments having the correct timbre
Transparency and resolution, critical to hearing into the three-dimensional studio space
No doubt there's more but we hope that should do for now. Playing the record is the only way to hear all of the qualities we discuss above, and playing the best pressings against a pile of other copies under rigorously controlled conditions is the only way to find a pressing that sounds as good as this one does.
Copies with rich lower mids and nice extension up top did the best in our shootout, assuming they weren't veiled or smeary of course. So many things can go wrong on a record! We know, we've heard them all.
Top end extension is critical to the sound of the best copies. Lots of old records (and new ones) have no real top end; consequently, the studio or stage will be missing much of its natural air and space, and instruments will lack their full complement of harmonic information.
Tube smear is common to most vintage pressings. The copies that tend to do the best in a shootout will have the least (or none), yet are full-bodied, tubey and rich.
The All Music Guide User Reviewers put this one at 4 1/2 Stars and we couldn't agree more. It's a top quality Billie Holiday album in every way -- sound, repertoire and performance -- and one that belongs in your collection.
The presence and immediacy here are wonderful. Get the volume just right and Lady Day will be standing between your speakers and putting on the performance of a lifetime. This is one of our favorite female vocal albums (along with Clap Hands, Julie Is her Name, Something Cool and not all that many others) and this amazingly good copy will show you why -- the sound and music are superb.
This mono pressing is the only way to find the Midrange Magic that's missing from modern records. As good as the best of those pressings may be, this record is dramatically more real sounding.
Billie's no longer a recording -- she's a living, breathing person. We call that "the breath of life," and this record has it in spades. Her voice is so rich, sweet, and free of artificiality you cannot help but find yourself lost in the music, because there's no "sound" to distract you.
Of Course...
Only the very best pressings show you the real magic that's on the master tape. I'm pleased to report that these sides have the goods like no Billie Holiday record you have ever heard, or your money back.
What We're Listening For On Music For Torching
Energy for starters. What could be more important than the life of the music?
The Big Sound comes next -- wall to wall, lots of depth, huge space, three-dimensionality, all that sort of thing.
Then transient information -- fast, clear, sharp attacks, not the smear and thickness so common to these LPs.
Tight note-like bass -- which ties in with good transient information, also the issue of frequency extension further down.
Next: transparency -- the quality that allows you to hear deep into the soundfield, showing you the space and air around all the instruments.
Extend the top and bottom and voila, you have The Real Thing -- an honest to goodness Hot Stamper.
The Players and Personnel
Vinyl Condition
Mint Minus Minus is about as quiet as any vintage pressing will play, and since only the right vintage pressings have any hope of sounding good on this album, that will most often be the playing condition of the copies we sell. (The copies that are even a bit noisier get listed on the site are seriously reduced prices or traded back in to the local record stores we shop at.)
Those of you looking for quiet vinyl will have to settle for the sound of other pressings and Heavy Vinyl reissues, purchased elsewhere of course as we have no interest in selling records that don't have the vintage analog magic of these wonderful recordings.
If you want to make the trade-off between bad sound and quiet surfaces with whatever Heavy Vinyl pressing might be available, well, that's certainly your prerogative, but we can't imagine losing what's good about this music -- the size, the energy, the presence, the clarity, the weight -- just to hear it with less background noise.
A Must Own Vocal Album
This Demo Disc Quality recording should be part of any serious Vocal Collection. Others that belong in that category can be found here.
Side One
It Had to Be You
Come Rain or Come Shine
I Don't Want to Cry Anymore
I Don't Stand a Ghost of a Chance With You
Side Two
A Fine Romance
Gone With the Wind
I Get a Kick Out of You
Isn't This a Lovely Day
AMG 4 1/2 Star Review
The overall feeling on this 1955 recording, which was originally titled VELVET MOOD, is strictly after-hours: the party is long over but a few close friends remain for nightcaps and, is that the sun peeking through the windows?
Producer Norman Granz may or may not have had concept album on his mind. Whatever the case, he brought together a brilliant cross-section of cats who evidently put Billie entirely at ease and in the mood--no small feat when one considers her spotty later recordings.
Lady Day's renderings here of "It Had to Be You" and "Isn't This a Lovely Day?" are timeless gems. Other highlights include Harry "Sweets" Edison and Benny Carter taking turns answering Holiday's vocalizations line by line...