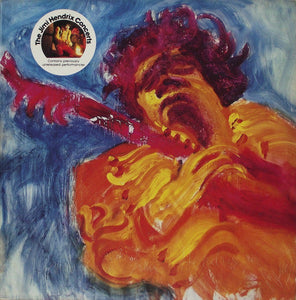 The copy we are selling is similar to the one pictured above.
Sonic Grade
Side One:
Side Two:
Side Three:
Side Four:
Vinyl Grade
Side One: Mint Minus Minus
Side Two: Mint Minus Minus*
Side Three: Mint Minus Minus
Side Four: Mint Minus Minus
This vintage 2-LP set of previously unreleased performances boasts KILLER Shootout Winning Triple Plus (A+++) sound or close to it on all FOUR sides
A great sounding live Hendrix album of outstanding material (most of his best tunes - check the track list!)
These sides have energy and presence that positively JUMPS out of the speakers, two of the qualities that we prize most highly in our Hot Stampers, and two of things among many that Heavy Vinyl does so poorly
4 stars: "With top-notch performances, consistently inspired solos, and excellent sound, this is probably the best introduction to Hendrix's live recordings."
100% Money Back Guarantee on all Hot Stampers
FREE Domestic Shipping on all LP orders over $150
*NOTE: There is an audible swoosh that plays lightly for about 1/8" at the start of track 1 on side 2, "Stone Free."
This live album, taken from concerts recorded from 1968 to 1970, is wonderful sounding on the best tracks. If you're in the market for live Hendrix on a Hot Stamper, you'll be hard-pressed to do any better.
The bass on this recording is huge, which is exactly what this kind of music needs most. At the levels we were playing this album, it really came to life. That's the true test of a good live rock record -- the louder you play it the better it sounds!
Stephen Cook writes "With top-notch performances, consistently inspired solos, and excellent sound, this is probably the best introduction to Hendrix's live recordings." We agree on all three points completely -- but only when you hear it on the right pressing.
Sonically, this recording has the key elements that a good live album needs: correct tonality, powerful dynamics, and Rock and Roll ENERGY.
What The Best Sides Of The Jimi Hendrix Concerts Have To Offer Is Not Hard To Hear
The biggest, most immediate staging in the largest acoustic space
The most Tubey Magic, without which you have almost nothing. CDs give you clean and clear. Only the best vintage vinyl pressings offer the kind of Tubey Magic that was on the tapes beginning in 1968
Tight, note-like, rich, full-bodied bass, with the correct amount of weight down low
Natural tonality in the midrange -- with all the instruments having the correct timbre
Transparency and resolution, critical to hearing into the three-dimensional studio space
No doubt there's more but we hope that should do for now. Playing these records are the only way to hear all of the qualities we discuss above, and playing the best pressings against a pile of other copies under rigorously controlled conditions is the only way to find pressings that sound as good as these two do.
What To Listen For
Here are some of the things we specifically listen for in a vintage Hendrix record.
Our highest-rated pressings are simply doing more of these things better than the other copies we played in our shootout.
The best copies have:
Greater immediacy in the vocals (most copies are veiled and distant to some degree)
Natural tonal balance (many copies are at least slightly brighter or darker than ideal; those with the right balance are the exception, not the rule)
Good solid weight (so the bass sounds full and powerful)
Spaciousness (the best copies have wonderful studio ambience and space)
Tubey Magic, without which you might as well be playing a CD;
And last but not least, transparency, the quality of being able to see into the studio, where there is plenty of musical information to be revealed in this sometimes simple, sometimes complex recording.
Vinyl Condition
Mint Minus Minus is about as quiet as any vintage pressing will play, and since only the right vintage pressings have any hope of sounding good on this album, that will most often be the playing condition of the copies we sell. (The copies that are even a bit noisier get listed on the site are seriously reduced prices or traded back in to the local record stores we shop at.)
Those of you looking for quiet vinyl will have to settle for the sound of other pressings and Heavy Vinyl reissues, purchased elsewhere of course as we have no interest in selling records that don't have the vintage analog magic of these wonderful recordings.
If you want to make the trade-off between bad sound and quiet surfaces with whatever Heavy Vinyl pressing might be available, well, that's certainly your prerogative, but we can't imagine losing what's good about this music -- the size, the energy, the presence, the clarity, the weight -- just to hear it with less background noise.
Side One
Fire
I Don't Live Today
Red House
Side Two
Stone Free
Are You Experienced
Side Three
Little Wing
Voodoo Chile (Slight Return)
Bleeding Heart (Blues in C Sharp)
Side Four
Hey Joe
Wild Thing
Hear My Train a Comin' (Gettin' My Heart Back Together Again)
AMG 4 1/2 Star Review
Out of several live Hendrix albums, The Jimi Hendrix Concerts stands as one of the very best. Taken from shows at Winterland, The Royal Albert Hall, and from various venues in New York, Berkeley, and San Diego, the set includes hits like "Fire," "Voodoo Chile," and "Hey Joe," as well as fine blues like "Red House," "Bleeding Heart," and "Hear My Train a Comin'."
Highlights include a definitive version of "Little Wing" and one of the most assured and driving versions of "Voodoo Chile" (these and four other stellar tracks come from what must have been an amazing concert at Winterland in the fall of '68). Another standout is "I Don't Live Today," which features a fine mix of jazz-inspired soloing and various feedback and distortion "tricks" (tricks that figure into Hendrix's way of "playing with the electronics," and which make up one of the more innovative aspects of his guitar playing). Hendrix gets adept and sympathetic support throughout from bassist Noel Redding and drummer Mitch Mitchell (Band of Gypsies' bassist Billy Cox replaces Redding on "Red House" and "Hey Joe").
With top-notch performances, consistently inspired solos, and excellent sound, this is probably the best introduction to Hendrix's live recordings.
- Stephen Cook