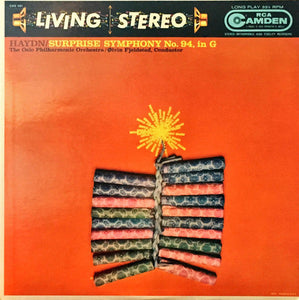 The copy we are selling is similar to the one pictured above.
Sonic Grade
Side One:
Side Two:
Vinyl Grade
Side One: Mint Minus Minus
Side Two: Mint Minus Minus
With solid Double Plus (A++) Living Stereo sound or BETTER on both sides, this original RCA Camden pressing of Fjeldstad and the Oslo Phil's outstanding performance is doing just about everything right
It's also fairly quiet at Mint Minus Minus, a grade that even our most well-cared-for vintage classical titles have trouble playing at
This copy is simply bigger, more transparent, less distorted, more three-dimensional and more REAL than most of what we played
The rich, textured sheen of the strings that Living Stereo made possible in the '50s and early '60s is clearly evident throughout these pieces, something that the Heavy Vinyl crowd will never experience, because that sound just does not exist on modern records
More of the music of Joseph Haydn (1732-1809) / More Classical and Orchestral Recordings
100% Money Back Guarantee on all Hot Stampers
FREE Domestic Shipping on all LP orders over $150
Vintage covers for this album are hard to find in exceptionally clean shape. Most of the will have at least some amount of ringwear, seam wear and edge wear. We guarantee that the cover we supply with this Hot Stamper is at least VG
---
This vintage RCA Living Stereo Camden LP has stunning Hot Stamper sound on both sides. It's one of the best Camdens, if not actually the best. In true Living Stereo fashion, a natural, realistic concert hall perspective unfolds before you. The sound is rich, smooth, sweet and tubey, with lovely sheen on the strings -- what's not to like?
Fjeldstad's performance is excellent as well. Fjeldstad, you may remember, is the man behind the definitive Peer Gynt on Decca (SXL 2012). His recordings may not be common but they have never disappointed. If you can't own all 104 of Haydn's symphonies, make sure that at least this one is in your collection.
If you exclusively play modern repressings of vintage recordings, I can say without fear of contradiction that you have never heard this kind of sound on vinyl. Old records have it -- not often, and certainly not always -- but maybe one out of a hundred new records do, and those are some pretty long odds.
What The Best Sides Of "Surprise" Symphony No. 94 Have To Offer Is Not Hard To Hear
The biggest, most immediate staging in the largest acoustic space
The most Tubey Magic, without which you have almost nothing. CDs give you clean and clear. Only the best vintage vinyl pressings offer the kind of Tubey Magic that was on the tapes in 1959
Tight, note-like, rich, full-bodied bass, with the correct amount of weight down low
Natural tonality in the midrange -- with all the instruments having the correct timbre
Transparency and resolution, critical to hearing into the three-dimensional studio space
No doubt there's more but we hope that should do for now. Playing the record is the only way to hear all of the qualities we discuss above, and playing the best pressings against a pile of other copies under rigorously controlled conditions is the only way to find a pressing that sounds as good as this one does.
Copies with rich lower mids and nice extension up top did the best in our shootout, assuming they weren't veiled or smeary of course. So many things can go wrong on a record! We know, we've heard them all.
Top end extension is critical to the sound of the best copies. Lots of old records (and new ones) have no real top end; consequently, the studio or stage will be missing much of its natural air and space, and instruments will lack their full complement of harmonic information.
Tube smear is common to most vintage pressings. The copies that tend to do the best in a shootout will have the least (or none), yet are full-bodied, tubey and rich.
Size and Space
One of the qualities that we don't talk about on the site nearly enough is the SIZE of the record's presentation. Some copies of the album just sound small -- they don't extend all the way to the outside edges of the speakers, and they don't seem to take up all the space from the floor to the ceiling. In addition, the sound can often be recessed, with a lack of presence and immediacy in the center.
Other copies -- my notes for these copies often read "BIG and BOLD" -- create a huge soundfield, with the music positively jumping out of the speakers. They're not brighter, they're not more aggressive, they're not hyped-up in any way, they're just bigger and clearer.
And most of the time those very special pressings are just plain more involving. When you hear a copy that does all that -- a copy like this one -- it's an entirely different listening experience.
What We're Listening For On "Surprise" Symphony No. 94
Energy for starters. What could be more important than the life of the music?
The Big Sound comes next -- wall to wall, lots of depth, huge space, three-dimensionality, all that sort of thing.
Then transient information -- fast, clear, sharp attacks, not the smear and thickness so common to these LPs.
Powerful bass -- which ties in with good transient information, also the issue of frequency extension further down.
Next: transparency -- the quality that allows you to hear deep into the soundfield, showing you the space and air around all the instruments.
Extend the top and bottom and voila, you have The Real Thing -- an honest to goodness Hot Stamper.
Vinyl Condition
Mint Minus Minus and maybe a bit better is about as quiet as any vintage pressing will play, and since only the right vintage pressings have any hope of sounding good on this album, that will most often be the playing condition of the copies we sell. (The copies that are even a bit noisier get listed on the site are seriously reduced prices or traded back in to the local record stores we shop at.)
Those of you looking for quiet vinyl will have to settle for the sound of other pressings and Heavy Vinyl reissues, purchased elsewhere of course as we have no interest in selling records that don't have the vintage analog magic of these wonderful recordings.
If you want to make the trade-off between bad sound and quiet surfaces with whatever Heavy Vinyl pressing might be available, well, that's certainly your prerogative, but we can't imagine losing what's good about this music -- the size, the energy, the presence, the clarity, the weight -- just to hear it with less background noise.
Side One
First Movement: Adagio Cantabile, Vivace Assai
Second Movement: Adagio
Side Two
Third Movement: Adagio, Trio
Fourth Movement: Allegro Di Molto
Wikipedia Background on Haydn's Surprise Symphony
Haydn's music contains many jokes, and the Surprise Symphony includes probably the most famous of all: a sudden fortissimo chord at the end of an otherwise piano opening theme in the variation-form second movement. The music then returns to its original quiet dynamic, as if nothing had happened, and the ensuing variations do not repeat the joke.
In Haydn's old age, George August Griesinger, his biographer, asked whether he wrote this "surprise" to awaken the audience. Haydn replied:
No, but I was interested in surprising the public with something new, and in making a brilliant debut, so that my student Pleyel, who was at that time engaged by an orchestra in London (in 1792) and whose concerts had opened a week before mine, should not outdo me. The first Allegro of my symphony had already met with countless Bravos, but the enthusiasm reached its highest peak at the Andante with the Drum Stroke. Encore! Encore! sounded in every throat, and Pleyel himself complimented me on my idea.
The work was popular at its premiere. The Woodfall's Register critic wrote: "The third piece of HAYDN was a new Overture [i.e. symphony], of very extraordinary merit. It was simple, profound, and sublime. The andante movement was particularly admired."
The Morning Herald critic wrote:
The Room was crowded last night…. A new composition from such a man as HAYDN is a great event in the history of music. — His novelty of last night was a grand Overture, the subject of which was remarkably simple, but extended to vast complication, exquisitly [sic] modulated and striking in effect. Critical applause was fervid and abundant.
The symphony is still popular today, and is frequently performed and recorded.