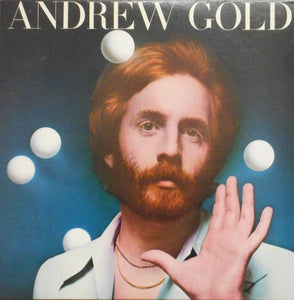 The copy we are selling is similar to the one pictured above.
Sonic Grade
Side One:
Side Two:
Vinyl Grade
Side One: Mint Minus Minus (often quieter than this grade)
Side Two: Mint Minus Minus (often quieter than this grade)*
Superb Double Plus (A++) sound throughout this original Asylum LP of Andrew Gold's self-titled debut album - fairly quiet vinyl too
These sides are dripping with ANALOG magic - transparent, sweet and rich from beginning to end, and the bass is especially meaty and well-defined
Those of you who have tried our Hot Stampers of JT will know exactly what to expect - Val Garay loves to put plenty of bass on his recordings, and we love that sound
4 stars: "An abundance of riches can be heard in Andrew Gold's first solo album. There are great Beatlesque melodies here, as well as heartfelt love songs that are Gold's specialties. Playing nearly all of the instruments himself makes this a truly 'solo' effort."
More Andrew Gold
/
More of the Most Tubey Magical Rock Recordings of All Time
100% Money Back Guarantee on all Hot Stampers
FREE Domestic Shipping on all LP orders over $150
*NOTE: There is a minor pressing defect that plays as 12 light thumps about 1/3 of the way into track 4 on side 2, "Ten Years Behind Me."
Vintage covers for this album are hard to find in exceptionally clean shape. Most of the will have at least some amount of ringwear, seam wear and edge wear. We guarantee that the cover we supply with this Hot Stamper is at least VG
---
Tubey Magical Acoustic Guitar reproduction is superb on the better copies of this recording. Simply phenomenal amounts of Tubey Magic can be heard on every strum, along with richness, body and harmonic coherency that have all but disappeared from modern recordings (and especially from modern remasterings).
The guitars on this record are a true test of stereo reproduction quality. Most of the pressings of this record do not get the guitars to sound right. And when the guitars are perfection, the voices and all the other instruments tend to be right as well.
Let's face it: they just don't know how to make acoustic guitars sound like this anymore. You have to go back to nearly 50-year-old records like this one to find that sound.
As audiophiles, we all know that sound and music are inseparable. My comments for this copy note how spacious and present and full of energy it is. After dropping the needle on a dozen or so copies, all originals by the way, you know when the music is working its magic and when it's not.
As with any pop album there are always some tracks that sound better than others, but when you find yourself marveling at how well-written and well-produced a song is, you know that the sound is doing what it needs to do. It's communicating the Musical Values of the material. This Hot Stamper copy brings Andrew Gold's music to life.
The bass is especially meaty and well-defined here. Val Garay puts plenty on his recordings, one of the reasons we love listening to them. The vocals are present and clear, the studio is huge, and the snare is FAT the way it always is on Val's recordings.
What The Best Sides Of This Debut Album Have To Offer Is Not Hard To Hear
The biggest, most immediate staging in the largest acoustic space
The most Tubey Magic, without which you have almost nothing. CDs give you clean and clear. Only the best vintage vinyl pressings offer the kind of Tubey Magic that was on the tapes in 1975
Tight, note-like, rich, full-bodied bass, with the correct amount of weight down low
Natural tonality in the midrange -- with all the instruments having the correct timbre
Transparency and resolution, critical to hearing into the three-dimensional studio space
No doubt there's more but we hope that should do for now. Playing the record is the only way to hear all of the qualities we discuss above, and playing the best pressings against a pile of other copies under rigorously controlled conditions is the only way to find a pressing that sounds as good as this one does.
Andrew Gold Is Fab
I remember the title of the Rolling Stone review for this first album from decades ago: "Andrew Gold Is Fab." If you like The Beatles, Badfinger, The Hollies and all the other melodic pop bands from the '60s (and who doesn't?), you have to like this guy.
For Heart Like a Wheel we noted: "Pay special attention to Andrew Gold's Abbey Road-ish guitars heard throughout the album. His sound is all over this record. If anybody deserves credit besides Linda for the success of HLAW, it's Andrew Gold."
We are big fans of Heart Like a Wheel. If you like that one you should find much to like here.
Val Garay Is The Man
Kudos once again must go to Val Garay, the man behind so many of our favorite recordings: James Taylor's JT (a Top 100 title), Simple Dreams (also a Top 100 title), Prisoner In Disguise , etc. They all share his trademark super-punchy, jump-out-the-speakers, rich and smooth ANALOG sound. With big drums; can't forget those. (To be clear, only the better copies share it. Most copies only hint at it.)
I don't think Mr Garay gets anything like his due with audiophiles and the reviewers who write for them. This is a shame; the guy makes Demo Disc Quality Pop Records about as good as those kinds of records can be made. If you have a Big System that really rocks you owe it to yourself to get to know his work. This is truly a knockout disc if you have the equipment for it. We do, and it's records like this that make the effort and expense of building a full-range dynamic system worthwhile.
What We're Listening For On Andrew Gold
Energy for starters. What could be more important than the life of the music?
Then: presence and immediacy. The vocals aren't "back there" somewhere, lost in the mix. They're front and center where any recording engineer worth his salt would put them.
The Big Sound comes next -- wall to wall, lots of depth, huge space, three-dimensionality, all that sort of thing.
Then transient information -- fast, clear, sharp attacks, not the smear and thickness so common to these LPs.
Tight punchy bass -- which ties in with good transient information, also the issue of frequency extension further down.
Next: transparency -- the quality that allows you to hear deep into the soundfield, showing you the space and air around all the instruments.
Extend the top and bottom and voila, you have The Real Thing -- an honest to goodness Hot Stamper.
Vinyl Condition
Mint Minus Minus and maybe a bit better is about as quiet as any vintage pressing will play, and since only the right vintage pressings have any hope of sounding good on this album, that will most often be the playing condition of the copies we sell. (The copies that are even a bit noisier get listed on the site are seriously reduced prices or traded back in to the local record stores we shop at.)
Those of you looking for quiet vinyl will have to settle for the sound of other pressings and Heavy Vinyl reissues, purchased elsewhere of course as we have no interest in selling records that don't have the vintage analog magic of these wonderful originals.
If you want to make the trade-off between bad sound and quiet surfaces with whatever Heavy Vinyl pressing might be available, well, that's certainly your prerogative, but we can't imagine losing what's good about this music -- the size, the energy, the presence, the clarity, the weight -- just to hear it with less background noise.
A Must Own Pop Record
We consider this Andrew Gold album his Masterpiece. It's a recording that should be part of any serious popular Music Collection.
Others that belong in that category can be found here.
Side One
That's Why I Love You
Heartaches in Heartaches
Love Hurts
A Note from You
Resting in Your Arms
Side Two
I'm a Gambler
Endless Flight
Hang My Picture Straight
Ten Years Behind Me
I'm Coming Home
AMG 4 Star Review
An abundance of riches can be heard in Andrew Gold's first solo album. There are great Beatlesque melodies here, as well as heartfelt love songs that are Gold's specialties. Playing nearly all of the instruments himself makes this a truly "solo" effort.