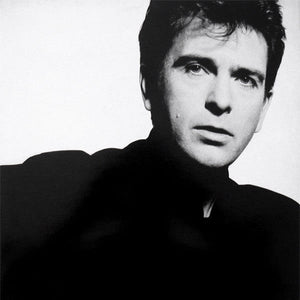 The copy we are selling is similar to the one pictured above.
Sonic Grade
Side One:
Side Two:
Vinyl Grade
Side One: Mint Minus Minus (closer to M-- to EX++ in parts)*
Side Two: Mint Minus Minus (closer to M-- to EX++ in parts)*
A superb copy of Gabriel's breakthrough album from 1986, with solid Double Plus (A++) sound or BETTER throughout
Both of these sides are lively, solid and rich - drop the needle on any track and you'll see what we mean
Great songs including "Don't Give Up," "Sledgehammer," "Big Time," "Mercy Street," "Red Rain," "In Your Eyes," and more
4 stars: "...[Gabriel's] most accessible and...catchiest, happiest record he ever cut. "Sledgehammer" propelled the record toward blockbuster status, and [it] had enough songs with single potential to keep it there."
100% Money Back Guarantee on all Hot Stampers
FREE Domestic Shipping on all LP orders over $150
*NOTE: This record was not noisy enough to rate our M-- to EX++ grade, but it's not quite up to our standards for Mint Minus Minus either. If you're looking for quiet vinyl, this is probably not the best copy for you.
Vintage covers for this album are hard to find in exceptionally clean shape. Most of the will have at least some amount of ringwear, seam wear and edge wear. We guarantee that the cover we supply with this Hot Stamper is at least VG
---
Here is a copy of So with the big and bold Peter Gabriel sound we love. If you want your Art Rock to actually rock (as well as be arty), this is the copy for you.
It's not a perfect recording by any means, but when it sounds this good you can just forget its shortcomings and marvel at how consistently good the material and the production are.
This vintage Geffen pressing has the kind of Tubey Magical Midrange that modern records can barely BEGIN to reproduce. Folks, that sound is gone and it sure isn't showing signs of coming back. If you love hearing INTO a recording, actually being able to "see" the performers, and feeling as if you are sitting in the studio with the band, this is the record for you. It's what vintage all analog recordings are known for -- this sound.
If you exclusively play modern repressings of vintage recordings, I can say without fear of contradiction that you have never heard this kind of sound on vinyl. Old records have it -- not often, and certainly not always -- but maybe one out of a hundred new records do, and those are some pretty long odds.
What The Best Sides Of So Have To Offer Is Not Hard To Hear
The biggest, most immediate staging in the largest acoustic space
The most Tubey Magic, without which you have almost nothing. CDs give you clean and clear. Only the best vintage vinyl pressings offer the kind of Tubey Magic that was on the tapes even as late as 1986
Tight, note-like, rich, full-bodied bass, with the correct amount of weight down low
Natural tonality in the midrange -- with all the instruments having the correct timbre
Transparency and resolution, critical to hearing into the three-dimensional studio space
No doubt there's more but we hope that should do for now. Playing the record is the only way to hear all of the qualities we discuss above, and playing the best pressings against a pile of other copies under rigorously controlled conditions is the only way to find a pressing that sounds as good as this one does.
No Mean Feat
It's exceptionally hard to find good-sounding copies of this album, as you can read about below. With a digital recording such as this, the margin for mastering error is very slim. Most copies just aren't worth the vinyl they're pressed on. They can sound harsh, gritty, grainy, edgy, and thin.
We did a shootout years ago that taught us a few things. The most surprising finding? The Brit copy I had in my own collection sucked -- how about that! As a rule, I like the Brit pressings best for PG, but that rule got broken after playing all these domestic copies, some of which really sound good, clearly better than the average Brit.
Recording Issues
This is a digital recording, and most of the time it is bright, spitty, and grainy like a typical digital recording, which plays right into our prejudices. After hearing a bad copy, what audiophile wouldn't conclude that all copies will have these bad qualities? After all, it's digital. It can't be fixed simply by putting it on vinyl.
Ah, but that's where logic breaks down. Proper mastering can ameliorate many if not most of a recording's shortcomings. When we say Hot Stampers, we are talking about high-quality mastering doing exactly that.
What We're Listening For On So
Energy for starters. What could be more important than the life of the music?
Then: presence and immediacy. The vocals aren't "back there" somewhere, lost in the mix. They're front and center where any recording engineer worth his salt would put them.
The Big Sound comes next -- wall to wall, lots of depth, huge space, three-dimensionality, all that sort of thing.
Then transient information -- fast, clear, sharp attacks, not the smear and thickness so common to these LPs.
Tight punchy bass -- which ties in with good transient information, also the issue of frequency extension further down.
Next: transparency -- the quality that allows you to hear deep into the soundfield, showing you the space and air around all the instruments.
Extend the top and bottom and voila, you have The Real Thing -- an honest to goodness Hot Stamper.
Mass-Produced Plastic Problems
But of course the mastering is only one part of the puzzle. I have multiple copies with the same stampers. Some of them are terrible, some of them are wonderful -- you just can't rely on the numbers to guide you with a piece of mass-produced plastic like this. You have no choice but to play the record to know what it sounds like. (And that's a good thing. Keeps you honest. There's no "cheating" when you have nothing to go by but the sound.)
This album sold in the millions. They stamped it out until the metalwork was as smooth as a baby's bottom. Those badly pressed copies are not going to have any high-frequency extension, which leaves them with all the harsh upper mids sticking out of the mix to peel the paint in your living room and make your ears bleed.
Vinyl Condition
Mint Minus Minus and maybe a bit better is about as quiet as any vintage pressing will play, and since only the right vintage pressings have any hope of sounding good on this album, that will most often be the playing condition of the copies we sell. (The copies that are even a bit noisier get listed on the site are seriously reduced prices or traded back in to the local record stores we shop at.)
Those of you looking for quiet vinyl will have to settle for the sound of other pressings and Heavy Vinyl reissues, purchased elsewhere of course as we have no interest in selling records that don't have the vintage analog magic of these wonderful recordings.
If you want to make the trade-off between bad sound and quiet surfaces with whatever Heavy Vinyl pressing might be available, well, that's certainly your prerogative, but we can't imagine losing what's good about this music -- the size, the energy, the presence, the clarity, the weight -- just to hear it with less background noise.
Track Commentary
The Tracklist tab above will take you to a select song breakdown for each side, with plenty of What to Listen For advice. Other records with track breakdowns can be found here.
A Must Own Rock Record
This Demo Disc Quality recording should be part of any serious Rock Collection. Others that belong in that category can be found here.
Side One
Red Rain

Peter Gabriel's soaring vocals here are a great test for transparency, especially during the last minute of the song when they really become more intimate, present, delicate and breathy.

Sledgehammer

Not unlike "Red Rain," the flute intro here is a solid test for transparency and texture. But this moment passes quickly to make room for the huge horns that fire up the biggest hit on this album. The trumpets should have weight, dynamics, and texture. If they are smeary, blary or lifeless, you probably are listening to a typical compressed, low-resolution copy. (Sidenote: listen for the chatter before the singing begins - is someone talking on the phone? Last minute instructions from Peter? If you can figure out what they are saying we'll give you this record for free!)

Don't be alarmed at the veiled sound of the first two bars of vocals - it's just the recording talking. When the verse comes in full swing, you'll probably notice a little bit of spit, which is unavoidable here, especially on the super-sibilant "steam train" or "blue sky back." However, the good copies make this problem non-offensive, and actually beneficial to the life of the music. The spit should not sound gritty or grainy; if it has a somewhat silky quality that's a very good sign. But it has to be there if your copy is to have any life or presence in the midrange.

The backup singers that come in at the end of the first chorus should be subtle yet still present and clear. Also, pay attention to the reintroduction of the horns at the beginning of the second verse. The dynamic here is extremely important. The last note of their phrases should really swell up and make you appreciate what those guys are doing. (Maybe it's Peter talking in the background, reminding the horn players not to forget to do that little dynamic trick.)

Don't Give Up
That Voice Again
Side Two
In Your Eyes

This track has the potential to be the most dynamic and powerful on the record. The music is so good that the average compressed copy you play is just that much more disappointing. The better copies have consistent strengths. The triangle that drives the intro is one. You should clearly be able to hear two distinctive parts to the sound of this instrument:

1. The attack (the striker hitting the triangle)

2. The tone (the actual note of the triangle and its harmonic trails)

More often than not, we could hear one or the other during our shootout. If we only got attack, the copy generally did not have any top end. If we only got tone, the copy generally didn't have any dynamic weight and felt lifeless. When you hear it, you know the feeling: I gotta have more triangle!

The African percussion is also integral to this recording. Those (mostly drum) instruments are actually playing notes! You might not know that if you've only heard the typical copy where that information is pratically non-existent. I speak from experience; it took us about six copies before we heard it. Also, pay attention to the sonic landscape presented by these African drums. They should be really spread out from left to right, layered front to back, and sit nicely behind the more prominent elements in the mix.

Mercy Street
Big Time

The instrumentation of this track has '80s written all over it. However, it can still have great sound. On the better copies the electronic drum sounds are large and energetic, with a solid kick drum and a lot of whack in the snare. Peter Gabriel's vocals will be present and smooth, even though the best copies still had a little spit in them.

Also take special note of (the amazing) Tony Levin's bass solo. Though it is almost all attack, the better copies actually give his instrument some weight. Coming out of the solo section, the funky guitars that kick in can really tear up your sensitive ears with edgy high end. When you've got a good one, the only thing that should get torn up is the dance floor - '80s-style!

We Do What We're Told

No, we don't.
AMG 4 Star Review
Peter Gabriel introduced his fifth studio album, So, with "Sledgehammer," an Otis Redding-inspired soul-pop raver that was easily his catchiest, happiest single to date. Needless to say, it was also his most accessible, and, in that sense it was a good introduction to So, the catchiest, happiest record he ever cut.
"Sledgehammer" propelled the record toward blockbuster status, and Gabriel had enough songs with single potential to keep it there. There was "Big Time," another colorful dance number; "Don't Give Up," a moving duet with Kate Bush; "Red Rain," a stately anthem popular on album rock radio; and "In Your Eyes," Gabriel's greatest love song, which achieved genuine classic status after being featured in Cameron Crowe's classic Say Anything.
These all illustrated the strengths of the album: Gabriel's increased melodicism and ability to blend African music, jangly pop, and soul into his moody art rock. Apart from these singles, plus the urgent "That Voice Again," the rest of the record is as quiet as the album tracks of Security. The difference is, the singles on that record were part of the overall fabric; here, the singles are the fabric, which can make the album seem top-heavy (a fault of many blockbuster albums, particularly those of the mid-'80s).
Even so, those songs are so strong, finding Gabriel in a newfound confidence and accessibility, that it's hard not to be won over by them, even if So doesn't develop the unity of its two predecessors.
---
I think part of the reason So worked so well was that the band was really firing off each other. We had a great sound and production team, and it was sort of compact in the way it was put together. "Red Rain" is one of my favourite tracks from this record and is a good example of a band playing together with a lot of energy.

"Sledgehammer" was obviously a big track from that record and was in part an homage to the music I grew up with. I loved soul music and this was a chance to work with some of the brass players who worked with Otis Redding. He was my all-time favourite singer. It was a fun thing to do around a great groove.

Peter Gabriel