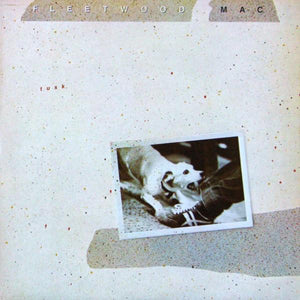 The copy we are selling is similar to the one pictured above.
Sonic Grade
Side One:
Side Two:
Side Three:
Side Four:
Vinyl Grade
Side One: Mint Minus Minus (often quieter than this grade)
Side Two: Mint Minus Minus (often quieter than this grade)
Side Three: Mint Minus Minus (often quieter than this grade)
Side Four: Mint Minus Minus (often quieter than this grade)
A seriously good copy with Double Plus (A++) sound on all FOUR sides - fairly quiet vinyl too
The best sounding tracks are killer here - clear, rich, warm, full-bodied, with all the hallmarks of high-production-value analog throughout
These vintage pressings have the Midrange Magic that's surely missing from whatever 180g reissue has been made from the 40+ year old tapes (or, to be clear, a modern digital master copy of those tapes)
5 stars: "McVie and Nicks don't deviate from their established soft rock and folk-rock templates, and all their songs are first-rate... Because of its ambitions, Tusk failed to replicate the success of its two predecessors, yet it earned a dedicated cult audience of fans of twisted, melodic pop."
100% Money Back Guarantee on all Hot Stampers
FREE Domestic Shipping on all LP orders over $150
This is one of the more controversial albums in the history of pop music -- some people love it, others despise it, and some still don't know what to make of it. You may not put it up there with Rumours, but when you hear these songs on a copy this good it's easy to see why the All Music Guide gave Tusk five big stars!
Tusk suffered from high expectations and disappointed those looking for Rumours II. There is much on this album that compares to the best of Rumours but the weak material somewhat drags the album down as a whole. About three-quarters of Tusk is excellent. I made a 60-minute tape of that material and play it with great pleasure. I could tell you about lots of wonderful qualities the best tracks on the album have, but it would take too long. Sorry!
Sonically, the best sounding material ranks right up there with anything the band ever did, but there are more experimental moments such as What Makes You Think You're The One that are never going to be tracks you demo your system with.
One high point (musically and sonically) is "Beautiful Child," quite possibly the best song Stevie Nicks ever wrote. If you listen carefully and give yourself over totally to the sentiment of the song, and your eyes don't well up, try opening up a vein and letting some ice water pour out. Then try it again. Repeat if necessary. If that doesn't work just give up and go back to the Diana Krall CD you were playing.
These Warner Brothers pressings have the kind of Tubey Magical Midrange that modern records rarely even BEGIN to reproduce. Folks, that sound is gone and it sure isn't showing signs of coming back. If you love hearing INTO a recording, actually being able to "see" the performers, and feeling as if you are sitting in the studio with the band, these are the records for you. It's what vintage all analog recordings are known for -- this sound.
If you exclusively play modern repressings of vintage recordings, I can say without fear of contradiction that you have never heard this kind of sound on vinyl. Old records have it -- not often, and certainly not always -- but maybe one out of a hundred new records do, and those are some pretty long odds.
The bass is deep, tight, and full-bodied. The vocals are silky sweet and the electric guitars have tons of meaty texture. The highs are delicate, the bottom end is superb, and the drums are clean and crisp, but not overly so. The sound is open, spacious, and super transparent - you can easily pick out each vocal line.
What The Best Sides Of Tusk Have To Offer Is Not Hard To Hear
The biggest, most immediate staging in the largest acoustic space
The most Tubey Magic, without which you have almost nothing. CDs give you clean and clear. Only the best vintage vinyl pressings offer the kind of Tubey Magic that was on the tapes in 1979
Tight, note-like, rich, full-bodied bass, with the correct amount of weight down low
Natural tonality in the midrange -- with all the instruments having the correct timbre
Transparency and resolution, critical to hearing into the three-dimensional space of the studio
No doubt there's more but we hope that should do for now. Playing these records are the only way to hear all of the qualities we discuss above, and playing the best pressings against a pile of other copies under rigorously controlled conditions are the only way to find pressings that sound as good as these two do.
What We're Listening For On Tusk
Energy for starters. What could be more important than the life of the music?
Then: presence and immediacy. The vocals aren't "back there" somewhere, lost in the mix. They're front and center where any recording engineer worth his salt would put them.
The Big Sound comes next -- wall to wall, lots of depth, huge space, three-dimensionality, all that sort of thing.
Then transient information -- fast, clear, sharp attacks, not the smear and thickness so common to these LPs.
Tight punchy bass -- which ties in with good transient information, also the issue of frequency extension further down.
Next: transparency -- the quality that allows you to hear deep into the soundfield, showing you the space and air around all the instruments.
Extend the top and bottom and voila, you have The Real Thing -- an honest to goodness Hot Stamper.
Vinyl Condition
Mint Minus Minus is about as quiet as any vintage pressing will play, and since only the right vintage pressings have any hope of sounding good on this album, that will most often be the playing condition of the copies we sell. (The copies that are even a bit noisier get listed on the site are seriously reduced prices or traded back in to the local record stores we shop at.)
Those of you looking for quiet vinyl will have to settle for the sound of other pressings and Heavy Vinyl reissues, purchased elsewhere of course as we have no interest in selling records that don't have the vintage analog magic of these wonderful originals.
If you want to make the trade-off between bad sound and quiet surfaces with whatever Heavy Vinyl pressing might be available, well, that's certainly your prerogative, but we can't imagine losing what's good about this music -- the size, the energy, the presence, the clarity, the weight -- just to hear it with less background noise.
Side One
Over & Over
The Ledge
Think About Me
Save Me a Place
Sara
Side Two
What Makes You Think You're the One
Storms
That's All for Everyone
Not That Funny
Sisters of the Moon
Side Three
Angel
That's Enough for Me
Brown Eyes
Never Make Me Cry
I Know I'm Not Wrong
Side Four
Honey Hi
Beautiful Child
Walk a Thin Line
Tusk
Never Forget
AMG 5 Star Rave Review
Where Rumours achieved greatness through turmoil, its double-album follow-up, Tusk, is the sound of a band imploding. Lindsey Buckingham began to assume control of Fleetwood Mac during the Rumours sessions, but he dominates Tusk, turning the album into a paranoid roller coaster ride where sweet soft rock is offset by feverish cocaine fantasies.
Christine McVie and Stevie Nicks don't deviate from their established soft rock and folk-rock templates, and all their songs are first-rate, whether it's McVie's "Over and Over" or Nicks' "Sara." Buckingham gives these mainstream-oriented songs off-kilter arrangements so they can fit neatly with his nervy, insular yet catchy songs.
Alternating bracing pop/rockers like "The Ledge" and "What Makes You Think You're the One" with melancholic, Beach Boys-style ballads like "Save Me a Place" and "That's All for Everyone," Buckingham subverts pop/rock with weird arrangements and unpredictable melodies, which are nevertheless given accessible productions. Even the hit title track is a strange, menacing threat punctuated by a marching band.
This is as strange as mainstream pop gets, even pushing on the borders of the avant-garde. Because of its ambitions, Tusk failed to replicate the success of its two predecessors (it still went double platinum, though), yet it earned a dedicated cult audience of fans of twisted, melodic pop.