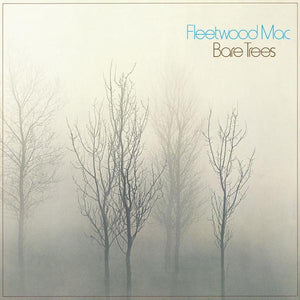 The copy we are selling is similar to the one pictured above.
Sonic Grade
Side One:
Side Two:
Vinyl Grade
Side One: Mint Minus Minus (often quieter than this grade)
Side Two: Mint Minus Minus (often quieter than this grade)
With INCREDIBLE Shootout Winning Triple Plus (A+++) sound or close to it from start to finish, you'll have a hard time find a copy that sounds remotely as good as this vintage UK import - fairly quiet vinyl too
It's the impossibly rare copy that's this lively, solid and rich... drop the needle on the title track and you'll see what we mean
Many copies were gritty, some were congested in the louder sections, some never got big, some were thin and lacking the lovely analog richness of the best — we heard plenty of copies whose faults were obvious when played against two superb sides such as these
"Arguably the first consistently strong album Fleetwood Mac ever recorded [not true, Kiln House is] ... 1972's Bare Trees is also the album where the band finally defines its post-blues musical personality."
100% Money Back Guarantee on all Hot Stampers
FREE Domestic Shipping on all LP orders over $150
This period of Fleetwood Mac, from Kiln House (1970) through Mystery to Me (1973), has always been my favorite of the band; both of those albums would be at the top of my Desert Island list. I grew up on this stuff, and I can tell you from personal experience that it is an absolute thrill to hear it sound so good!
Until not that many years ago we simply were not able to successfully shootout Bare Trees, Fleetwood Mac's wonderful album from 1972. The pressings we were playing just didn't sound very much like Hot Stampers to us. British, German, Japanese, domestic originals, domestic reissues -- all of them left much too much to be desired.
Thankfully we can tell you that the better copies sound a whole lot better now than they did then.
What The Best Sides Of Bare Trees Have To Offer Is Not Hard To Hear
The biggest, most immediate staging in the largest acoustic space
The most Tubey Magic, without which you have almost nothing. CDs give you clean and clear. Only the best vintage vinyl pressings offer the kind of Tubey Magic that was on the tapes in 1972
Tight, note-like, rich, full-bodied bass, with the correct amount of weight down low
Natural tonality in the midrange -- with all the instruments having the correct timbre
Transparency and resolution, critical to hearing into the three-dimensional studio space
No doubt there's more but we hope that should do for now. Playing the record is the only way to hear all of the qualities we discuss above, and playing the best pressings against a pile of other copies under rigorously controlled conditions is the only way to find a pressing that sounds as good as this one does.
What To Listen For
Less grit -- smoother and sweeter sound, something that is not easy to come by on Bare Trees.
A bigger presentation -- more size, more space, more room for all the instruments and voices to occupy. The bigger the speakers you have to play this record the better.
More bass and tighter bass. This is fundamentally a rock record. It needs weight down low to rock the way Martin Birch wanted it to.
Present, breathy vocals. A veiled midrange is the rule, not the exception.
Good top end extension to reproduce the harmonics of the instruments and details of the recording including the studio ambience.
Last but not least, balance. All the elements from top to bottom should be heard in harmony with each other. Take our word for it, assuming you haven't played a pile of these yourself, balance is not that easy to find.
Our best copies will have it though, of that there is no doubt.
One Tough Album (To Find and To Play)
Not only is it hard to find great copies of this album, it ain't easy to play 'em either. You're going to need a hi-res, super low distortion front end with careful adjustment of your arm in every area -- VTA, tracking weight, azimuth and anti-skate -- in order to play this album properly. If you've got the goods you're gonna love the way this copy sounds. Play it with a budget cart / table / arm and you're likely to hear a great deal less magic than we did.
Vinyl Condition
Mint Minus Minus and maybe a bit better is about as quiet as any vintage pressing will play, and since only the right vintage pressings have any hope of sounding good on this album, that will most often be the playing condition of the copies we sell. (The copies that are even a bit noisier get listed on the site are seriously reduced prices or traded back in to the local record stores we shop at.)
Those of you looking for quiet vinyl will have to settle for the sound of other pressings and Heavy Vinyl reissues, purchased elsewhere of course as we have no interest in selling records that don't have the vintage analog magic of these wonderful recordings.
If you want to make the trade-off between bad sound and quiet surfaces with whatever Heavy Vinyl pressing might be available, well, that's certainly your prerogative, but we can't imagine losing what's good about this music -- the size, the energy, the presence, the clarity, the weight -- just to hear it with less background noise.
Track Commentary
The track commentary for this record is extensive. Click on the Tracklist tab above to read all about it.
Other records with individual track breakdowns and plenty of What To Listen For advice can be found here.
Side One
Child of Mine

A real rocker from Danny Kirwan. If the electric piano is rich on your copy and you have some top end and space you are probably off to a very good start.

The Ghost
Homeward Bound
Sunny Side of Heaven

A wonderfully poignant, even melancholy instrumental track by Bob Welch. Not sure if that's him on guitar but the playing is beautiful. The high point of side one.
Side Two
This is where most of the best music on Bare Trees can be found. We like every song on this side.

Bare Trees

If this song doesn't get your blood pumping, you need to turn up the volume another click or two. There is tremendous energy and joy in this song, and it needs to be played loud to get those feelings across.

Sentimental Lady
Danny's Chant
Spare Me a Little of Your Love

This is a tough track to get right. Bad copies can sound hard on Christine's vocals as well as the chorus.

Dust

One of my all time favorite Fleetwood Mac songs. On a good copy this track sounds so sweet. The texture to the voices is right on the money -- neither grainy nor dull.

Thoughts on a Grey Day
Rolling Stone Rave Review
Fleetwood Mac's last two records, Kiln House and Future Games, have between them provided me with perhaps a hundred hours of enjoyment. And that's the ultimate test of a record's worth. Personally, I was never interested in early Fleetwood Mac, the British blues band; but this Fleetwood Mac has little in common with that group except for the drums and rhythm section of Mick Fleetwood and John McVie.
The closest thing I can think of to the kind of music the new Mac plays is moody rock of the middle-period Beatles. Kiln House is similar to Beatles '65 in its dual concerns with vintage rock 'n' roll and muted, romantic pieces. Jeremy Spencer took care of the former area, while Danny Kirwan extended the style best represented by McCartney's "I'll Follow the Sun."
Since Spencer left, the band has been forced to re-orient itself somewhat: Kirwan has become the sole focal figure, and this central role has forced him to deal in the visceral as well as the moody areas. But Kirwan had already shown on Kiln House that he was well equipped to handle both. His "Jewel Eyed Judy," "Tell Me All the Things You Do," and "Station Man" are among the best examples of the soft-hard rock song, with their lovely, silky vocals and smoking guitars. If Kiln House holds up somewhat better than the gentler Future Games, Kirwan's dynamic songs are at least as responsible as Spencer's presence on the former album.
Bare Trees falls somewhere between the last two Fleetwood Macs; that is, it hits harder than Future Games, but its concerns are much more introspective than those of Kiln House. Kirwan has written two melancholic, really elegiac songs based on the bittersweet poem of an elderly woman, "Thoughts on a Grey Day," that closes the album. The first song, "Bare Trees," its title suggested by a line from old Mrs. Scarrot's poem, moves along exhilaratingly, even though its lyric is a metaphor of age and approaching death; perhaps it's the acceptance of the cycle that gives the music a hopeful, almost happy feeling. The second, "Dust," is a great deal more somber, but it retains Kirwan's deft melodic touch, manifesting itself in both the sighing vocal and in the guitar lines that sweep softly alongside it. "Dust" sets the stage for the poem, which is similar in effect to the "Voices of Old People" track on Simon & Garfunkel's Bookends. The group has thoughtfully preceded the poem with about 15 seconds of silence, sufficient time to pick up the tone arm if you're not in the mood.
The rest of Bare Trees isn't nearly so melancholy, nor is it structured to conform to the theme Kirwan has developed. Christine McVie's two songs, "Homeward Bound" and "Spare Me a Little of Your Love" (which sounds like a hit single to me), make it clear that she's become a fine songwriter and a persuasive vocalist–she's somewhere between Sandy Denny and Dusty Springfield, and there's no doubt that she could make it on her own. Bob Welch's two contributions, however, don't approach the power of "Future Games." His "The Ghost" and "Sentimental Lady," while not unattractive in themselves, are the weakest tracks on the album. Both are trite.
As before, it's Danny Kirwan who makes the difference. There's nothing on Bare Trees to equal "Station Man" and "Jewel Eyed Judy," but, aside from "Dust," Kirwan's songs here rock much more than his Future Games material did. He really lets loose on "Danny's Chant," which features tough-guy electric guitar sounds purely for their own sake. His "Child of Mine" is a lyrically disjointed but musically forthright rock 'n' roll song. And Kirwan's instrumental, "Sunny Side of Heaven," shows off his unique electric guitar style to good advantage. Like most outstanding guitarists, Kirwan gets a sound that is more plainly human than mechanical. His guitar tone is piercing but tremulous–powerful but at the same time plaintive, especially in the upper ranges.
With his multiple skills, Kirwan can't help being the focal point. It is his presence that makes Fleet-wood Mac something more than another competent rock group. He gives them a distinctiveness, a sting. He makes you want to hear these songs again.
— Bud Scoppa, June 8, 1972